From: Leicester, England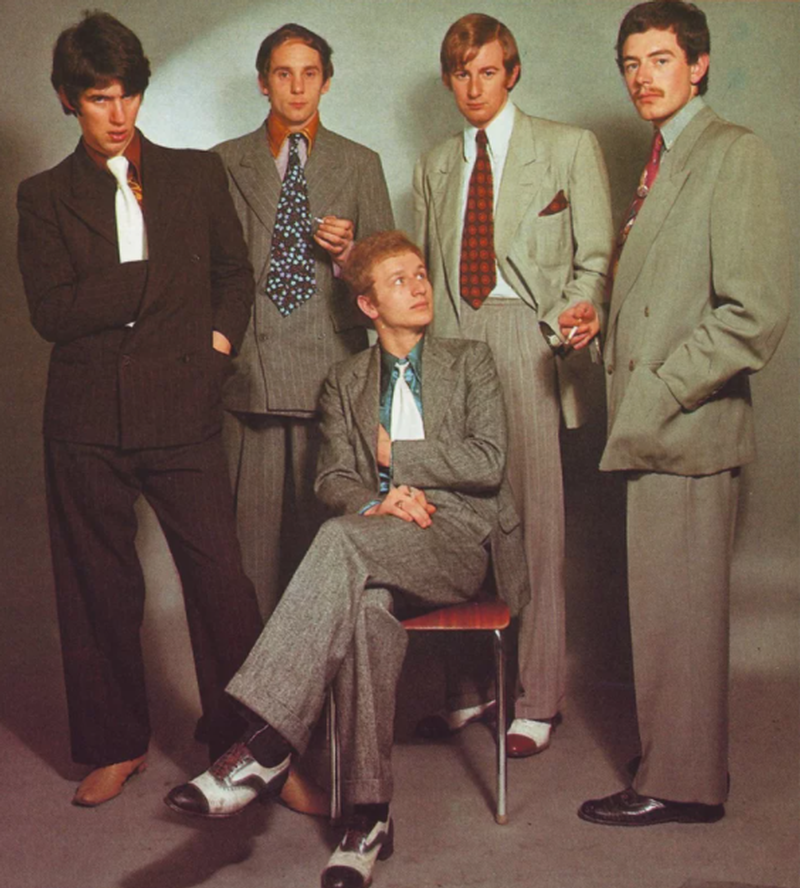 Family is one of those bands that's hard to describe… were they psychedelic? Were they bluesy? Were they progressive? Why didn't they ever make it big in the States??? It's hard to put a finger on exactly what they were, but one thing's for sure, Family was a truly unique and gifted group that was way ahead of their time and still puts your ears on end every time you give a listen!

Family evolved out of a Leicester band called the Farinas in early 1967. Original members included Roger Chapman (vocals), Charlie Whitney (guitar), Rob Townshend (drums), Ric Grech (bass, vocals, violin) and Jim King (saxophone, flute). They moved to London and hooked up with U.S. producer Kim Fowley who convinced them to change their name to Family due to the fact that they regularly wore double-breasted suits during performances, giving themselves a mafia like appearance. Through the Fowley connection, they signed a one-off deal with Liberty Records in the fall of 1967 and released the outstanding single 'Scene Through The Eye Of A Lens', which surprisingly ended up a commercial flop.

The band's debut LP (Music In A Doll's House) was co-produced by Dave Mason of Traffic and is a daringly innovative and diverse work for its time. Brilliant tracks like 'The Chase', 'Winter' and 'See Through Windows', just to name a few, showcase highly complex instrumentation and melodies, as well as Chapman's amazingly raucous vocal dexterity. All songs on the album were originals save Dave Mason's excellent 'Never Like This' (this would end up being the one and only song ever recorded by Family that wasn't written by one of their own). The LP peaked at a respectable #35 in the U.K. and was praised by critics and heavily supported by popular DJs like John Peel. The band was also a hugely popular live act, first playing the leading London clubs along side the likes of Pink Floyd and Tomorrow, and then outdoor festivals in front of large, loyal audiences.

In the spring of 1969, the group released their second LP (Family Entertainment) and then the first of many personnel changes occurred when Grech abruptly left to join Blind Faith, and was replaced by John Weider (bass, violin) who had previously been with Eric Burdon & The Animals. This album rivals the first and houses a slew of incredible songs like 'Hung Up Down', 'Observations From A Hill' and 'Emotions' to name a few. The record was hugely successful in the U.K., climbing to #6, but the band remained virtually unknown in the U.S. Part of this American obscurity may be attributed to a run in they had with famous concert promoter Bill Graham while on their first tour of the U.S., which virtually made them outcasts of that scene. A non-LP single ('No Mule's Fool') was released towards the end of 1969 and this too did well on the U.K. charts, reaching #29 in November of that year. Around this time, King was ousted from the band due to "unpredictable behavior" and was replaced by previous Deep Feeling, Blossom Toes and Eclection member John "Poli" Palmer (keyboards, vibes).

The early 70s ushered in a more straight forward sound and even bigger commercial success for the band. Two LPs released in 1970 (A Song For Me and Anyway) hit #4 and #7 on the U.K. charts, and they also enjoyed three hot selling singles (also only in Britain) during this time. In 1971, Weider left and was replaced by John Wetton (bass, vocals). During the next few years, they released two more commercially successful studio LPs (Fearless and Bandstand) which reached #10 and #15 on the U.K. charts and also for the first time got them charted in the U.S. at #177 and #183.

Before the end of 1972, Palmer had left to form a band with Ric Grech, which ended up going nowhere, and was replaced by previous Remo Four and Ashton, Gardner And Dyke member Tony Ashton (keyboards). Wetton also left the band around this time to join King Crimson and was replaced by Jim Cregan (bass, guitar). In 1973, they released a final LP (It's Only A Movie) and by October of that year had split, leaving behind a solid body of work that any great band would be proud of. As a final note, Ian Anderson of Jethro Tull has praised Family in the past, citing them as being hugely underrated and a major influence on his band... we agree.

Artist information sources include: The book, 'Tapestry of Delights Revisited' by Vernon Joynson.