From: Glasgow, Scotland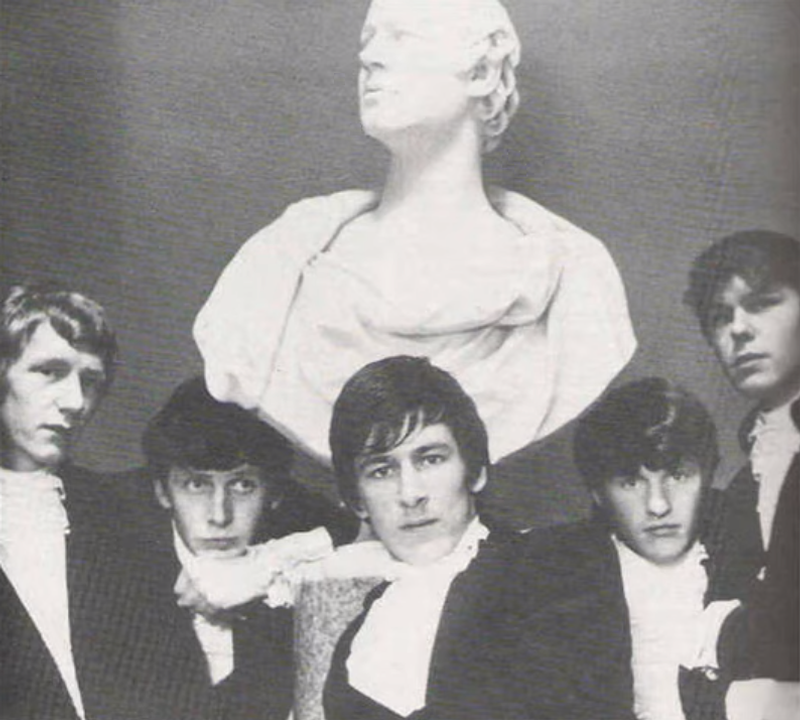 The Poets are considered by many to have been one of the most creative and talented beat groups to come out of Scotland. The band was founded in 1962 by George Gallacher (lead vocals) and John Dawson (bass), who then recruited Alan Weir (drums), Hume Paton (lead guitar) and Stafford Hamilton (rhythm guitar). It wasn't long before Hamilton was replaced by Tony Myles (rhythm guitar) and they then became a popular live act, playing the various halls and clubs throughout Glasgow. They then met their first manager, Alan Singleton, whose family owned a string of cinemas and theaters around town and allowed them to play the Flamingo Ballroom on a regular basis.

By the beginning of 1964, the Poets were one of Scotland's hottest live attractions, playing standing-room only gigs all over the country, with many busloads of teenage fans regularly travelling long distances to be a part of the action. After heading down to London to record some test demos, they were discovered by the one and only Andrew Loog Oldham who offered to manage and produce them, and subsequently got them a record contract with Decca. Their debut single ('Now We're Thru' b/w 'There Are Some') was issued in the fall of 1964 and became a Top 40 hit, peaking at #31 on the U.K. charts.

In early 1965, the band issued a follow-up single (the outstanding 'That's The Way It's Got To Be'), which is an excellent slice of mod-freakbeat that should have been a hit, but was under promoted and therefore didn't sell that well. A third record ('I Am So Blue') was released in the summer of that year, but it too didn't hit the mark. It was around this time that Myles and Weir were replaced by Fraser Watson (guitar) and Jim Breakey (drums), and the group switched to Oldham's newly formed Immediate label for a few more 45s. Unfortunately these records too sold poorly and by the end of 1966, the band had found themselves without a record contract and decided to go their separate ways.

In early 1967, Watson and Breakey resurrected the Poets along with new members Andi Mulvey (lead vocals), Ian McMillan (guitar) and Norrie MacLean (bass). It was this lineup that re-signed with Decca, but Breakley then suddenly decided to call it quits and was replaced at the last minute by Marmalade drummer Raymond Duffy to record their sixth 45 ('Wooden Spoon' b/w 'In Your Tower'), with both sides being nothing less than incredible. Amazingly though, this record also flopped, prompting the band to split again. In late '67, Watson joined another Glasgow band called the Pathfinders and, along with former Poets bandmate Gallacher, recorded some solid material that never made it to vinyl (for further information on this incarnation, please refer to George Gallacher & The Pathfinders here in the TWOS Psychepedia).

In 1970, it was McMillan this time who reformed the Poets yet again with another totally new lineup that included Hughie Nicholson (guitar), Johnny Martin (organ), Joe Breen (bass) and Dougie Henderson (drums), issuing a final single on the Strike Cola label in 1971. This attempt at stardom unfortunately failed as well, causing the group to finally break up for good.

Artist information sources include: The book, 'Tapestry of Delights Revisited' by Vernon Joynson.