From: Marghera, Italy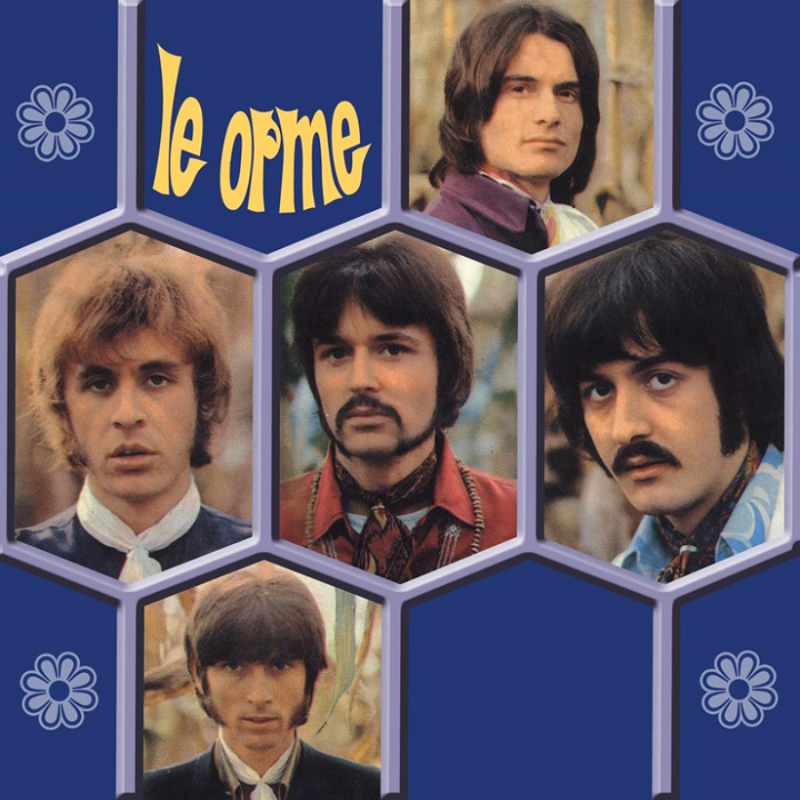 Le Orme (translated to the Footsteps in English) is an Italian progressive-psych band that formed as a foursome in the Venice suburb of Marghera in 1966 with original members Aldo Tagliapietra (vocals, bass, guitar), Nino Smeraldi (guitar), Claudio Galieti (bass) and Marino Rebeschini (drums). They were heavily inspired by the more straight forward sounding Shadows, almost naming themselves le Ombre (the Shadow), but were also driven to create a more complex and orchestrated sound like The Beatles were introducing the world to at the time. The band actually rehearsed for EMI Records (The Beatles' label), but was rejected and settled for signing with the local CAR Juke Box label that then released a first single ('Fiori E Colori' b/w 'Lacrime Di Sale') in 1967. One day after the record's release, Rebeschini left the fold to fulfill a military obligation and was replaced by Michi Dei Rossi (drums).

In 1968, the group gained traction by playing at the Piper Club in Rome and eventually added Tony Pagliuca (keyboards) to the fold later that year. More singles followed until a debut LP titled Ad Gloriam was finally issued in 1969. The album contains material from their earlier singles, but also songs never before released such as the outstanding title track featured here on TWOS. As a side note, the fantastic 'Ad Gloriam' was covered by David Holmes in 2000 and prominently featured in the 2001 film Ocean's Eleven at the end. Later in '69, Galieti was also forced to exit for the military prompting Tagliapietra to replace him on bass, reducing the lineup to a 4-piece once more until founding member Smeraldi quit due to creative differences, thus taking them to a trio. Dei Rossi was then also summoned by the military, but was able to stay in the band and only briefly replaced by Englishman Dave Baker (drums).

The 1970s saw the band become more complex and progressive, influenced by leaders of the prog-rock genre such as Emerson, Lake & Palmer, Yes and Genesis. Over the years, the group has experienced many personnel changes, but has manged to release a total of 20 studio LPs throughout the years, with the most recent being issued in 2019. Tagliapietra, the last founding member of le Orne, finally called it quits in 2009 leaving Dei Rossi as the only member from the early days. The group however continues to record music and tour to this day.