From: San Francisco, CA, USA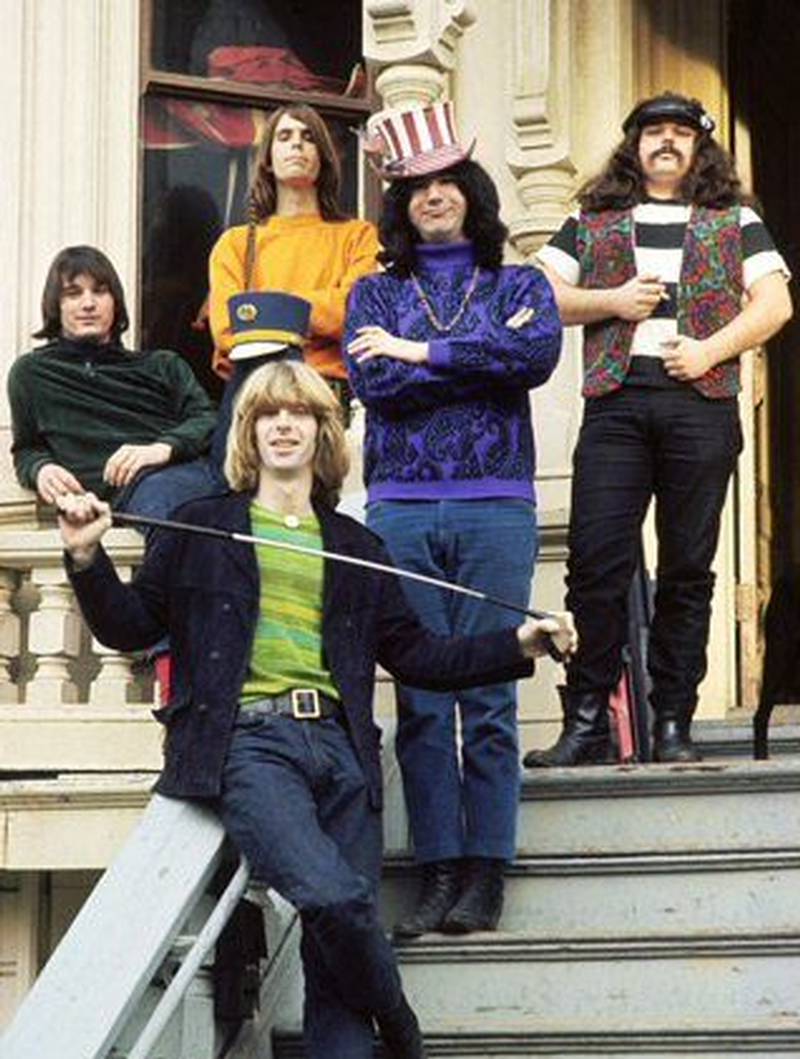 The Grateful Dead is considered by many to have been one of the best and most resilient U.S. rock bands of all time. The group was known for a unique and eclectic style, which fused elements of psychedelia, rock, folk, bluegrass, blues, reggae, country, jazz and gospel. Their music, writes Lenny Kaye, "touches on ground that most other groups don't even know exists". A big reason for the band's long-term success can be attributed to the fact that the members got along incredibly well with each other and remained very close throughout their 30 year journey as an ensemble. This ultra-tight relationship helped create an uncanny, holistic vibe rarely achieved by any other rock group in history. Also known for the ability to masterfully improvise their music during trademark extended live sets, the cohesiveness of the Grateful Dead created a sense that the members were communicating with each other telepathically, on a universal plain all their own.

The band can be traced back to the early 60s when San Francisco native and bluegrass enthusiast Jerry "Captain Trips" Garcia (lead guitar, steel guitar, vocals) befriended Robert Hunter (lyricist), who would eventually become Garcia's poetic writing partner. After a few years of playing banjo in various local bluegrass and folk outfits, Garcia hooked up with Bob Weir (rhythm guitar, vocals) and Ron "Pigpen" McKernan (keyboards, harmonica, vocals) to form Mother McCree's Uptown Jug Champions. By mid-1965, the band had followed Bob Dylan and the Lovin' Spoonful's lead by "plugging in" and renamed themselves the Warlocks. At around this time, Phil Lesh (bass) and Bill Kreutzmann (drums) also joined the ensemble.

The Warlocks got their big break when author Ken Kesey of the Merry Pranksters commissioned the band to play at his now legendary Acid Test happenings, where attendees took heavy doses of then legal LSD and partook in various creative visual and musical presentations. Towards the end of 1965, the group changed their name to the Grateful Dead to prevent conflict with another ensemble already recording under the Warlocks moniker. According to band members, the phrase "Grateful Dead", which has the definition of "the soul of a dead person, or his angel, showing gratitude to someone who, as an act of charity, arranged their burial", was plucked out of a dictionary by Garcia.

The Dead laid down their first tracks at Golden State Records on November 3, 1965. This demo set includes the outstanding 'Mindbender (Confusion's Prince)' and an early version of 'Caution (Do Not Stop On Tracks)', which later appeared on the LP Anthem Of The Sun. They moved into a communal home in the Haight-Ashbury district of San Francisco and continued to feverishly hone their music skills and write original songs. In mid-1966, they issued their first single ('Don't Ease Me In' b/w 'Steelin'') on the obscure, local Scorpio label. Their popularity grew and unique sound developed out of the many psychedelic dances, open-air park events, and closed-street Haight-Ashbury block parties they played. The Dead were not inclined to fit their music to an established category such as pop rock, blues, folk rock, or country-western. Individual tunes within their repertoire can sometimes be identified under one of these stylistic labels, but overall their music draws on all of these genres and more frequently fuses several of them together. Often (both in performance and on recording) the Dead left room for exploratory, spacey soundscapes. Most connoisseurs believe that the Grateful Dead's true spirit was rarely well captured in studio performance.

The Dead finally signed a nationwide record deal in early 1967, cautiously following many of their Bay Area peers like the Jefferson Airplane and Country Joe & The Fish. Many of the San Francisco bands, such as the Dead, were reluctant to "sell out" to the recording industry establishment, but they eventually followed suite and issued their self-titled, debut LP on Warner Bros. in March, 1967. Although the record only includes two original songs ('Golden Road (To Unlimited Devotion)' and 'Cream Puff War'), it's chock-full of highly original, psychedelic covers that provide an ominous preview of what the Dead would soon evolve into. Many hardcore fans feel that this studio LP doesn't properly capture the band's true live essence, but in TWOS' opinion, it's one of the better ones to come close, especially on the 10 minute final track, 'Viola Lee Blues'. The record was recorded in about three days, which pretty much allowed for the band to stand in front of microphones and "do their thing". It was also recorded in L.A. (as appose to the Bay Area) and produced by David Hassinger who had also been involved with Jefferson Airplane's Surrealistic Pillow album.

Their 1968 second LP (Anthem Of The Sun) took many months to complete and tactfully mixed studio jam sessions with sections of previously recorded live concerts. This strategy successfully replicated the Dead's live sound even more so than their first album. David Hassinger was again brought in as producer, but he soon became impatient with the band's seemingly endless experimentation. The final straw was when Weir asked for what he called "thick air" to be added to the mix, which took Hassinger over the edge; he promptly left the sessions never to return. This album also saw the addition of Mickey Hart (drums, percussion) who provided a second set of skins and Tom Constanten (keyboards) who complimented Pigpen with a second set of ivories and some unique psychedelic sound effects.

In mid 1969, the group issued their third studio LP (AOXOMOXOA), which was originally planned to have the title "Earthquake Country". The title of the album is a palindrome created by Robert Hunter and cover artist Rick Griffin. According to the audio version of the Rock Scully memoir Living with the Dead (read by the author and former Dead co-manager himself), the title is pronounced "OX-OH-MOX-OH-AH" and the words "GRATEFUL DEAD" on the front of the album, written in large, flowing capital letters, can also be read "WE ATE THE ACID". This LP abandons the prior quest to replicate the Dead's live sound, but still manages to emanate a fresh creative aura throughout. Album tracks like 'St. Stephen', 'Cosmic Charlie' and 'Dupree's Diamond Blues' feature a groovy, hypnotic vibe which was to become their signature sound throughout the remainder of the band's existence. The band next released a seminal live, double LP in late '69 simply titled Live Dead to close out the decade, which was recorded at Bill Graham's Fillmore West earlier in the year.

The early 1970s saw the Dead take on a less psychedelic and more stripped down, country-folk sound as heard on the seminal studio LPs Workingman's Dead and American Beauty. Constantine had left the fold by this time as they began focusing more heavily on their musical roots. In the spring of 1973, Pigpen tragically passed away at age 27 from a gastrointestinal hemorrhage caused from years of excessive drinking. Keith Godchaux (keyboards) had already joined the group in 1971 due to Pigpen's failing health, along with his wife Donna (vocals). This lineup continued into 1979 until the Godchauxes left. Keith was then replaced by Brent Mydland (keyboards, vocals).

In 1987, the Dead released their twelfth studio LP, In The Dark (the first since 1979's Go To Heaven), which surprisingly became their best selling record to date, reaching #6 on the U.S. charts. The single 'Touch Of Grey', which the band had already been performing live since 1982, became their biggest hit by far peaking at #9 on the U.S. charts. In 1990, Mydland tragically passed away of a drug overdose and was replaced by Vince Welnick (keyboards, vocals), who remained with the band until Jerry Garcia's death, which also marked the end of the Dead in 1995. Throughout their three decade career, the Dead were an incredible band to see live (TWOS was lucky to see them twice in the 80s). As one fan put it, "there is nothing, I mean nothing like a Grateful Dead concert…and there never ever will be".

Artist information sources include: An article by Jason Ankeny at All Music Guide. Artist photo courtesy of Herb Greene.