From: San Fernando Valley, CA, USA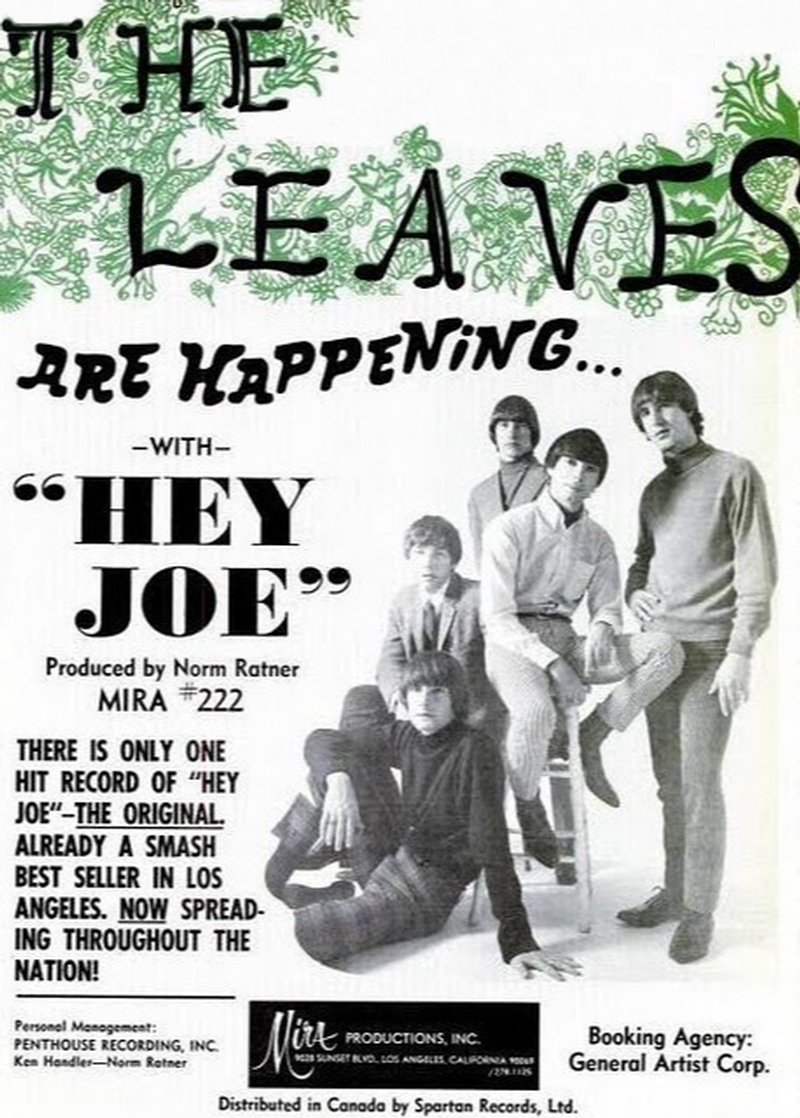 This L.A. area band was founded in 1963 by Jim Pons (bass) along with his California State Northridge fraternity brothers Bill Rinehart (lead guitar), Robert Lee Reiner (rhythm guitar) and Jimmy Kern (drums). Originally called the Rockwells, they were heavily inspired by The Beatles and began by playing their songs along with surf and dance music at parties. Their first actual show was in the school gym with Captain Beefheart And His Magic Band. It wasn't long before John Beck (vocals, saxophone, harmonica) was added to the mix and Kern was replaced by Tom Ray (drums).

In 1965, the group got their big break when they were given a full-time residency at Ciro's on the Sunset Strip. It was at this time that they changed their name to the Leaves and had posters made with themselves and a pot leaf saying "The Leaves Are Happening". It was there where they were also discovered by popular singer and actor Pat Boone, who got them their first record contract with Mira Records.

The Leaves' first single ('Too Many People') was a local hit in Los Angeles, but failed to break nationally. They then released 'Hey Joe, Where You Gonna Go?' in November of '65, which was actually the first time this song was issued as a single; however, they were dissatisfied with the sound, and pulled it. They then issued a second version of it in early '66, which flopped. Rinehart then left and was replaced by Bobby Arlin (lead guitar). It was this lineup that cut a TWOS featured third version of the song using Arlin's fuzztone, which became a hit reaching #1 in L.A. and peaked at #31 on the Billboard Hot 100 in May, 1966. A full length LP titled Hey Joe soon followed about a month later to take advantage of the single's success, but it only crept up to the #127 spot despite containing some outstanding album cuts like 'Back On The Avenue' and 'War Of Distortion', along with a cover of Boyce & Hart's 'Words' that was yet to be made a hit by the Monkees.

The group appeared on TV shows including American Bandstand, Shivaree, Shebang, and also briefly in a 1967 movie titled The Cool Ones, which starred a young Roddy McDowall. They also received a residency at the famed Whiskey a Go Go for a stint. They then signed a contract with Capitol Records and a second LP (All The Good That's Happening) followed in 1967, which includes the outstanding 'Lemmon Princess'. Unfortunately the record didn't sell well and the band broke up soon after its release with Pons leaving to join the Turtles.

Artist information sources include: The book, 'Fuzz, Acid, and Flowers Revisited' by Vernon Joynson.