From: London, England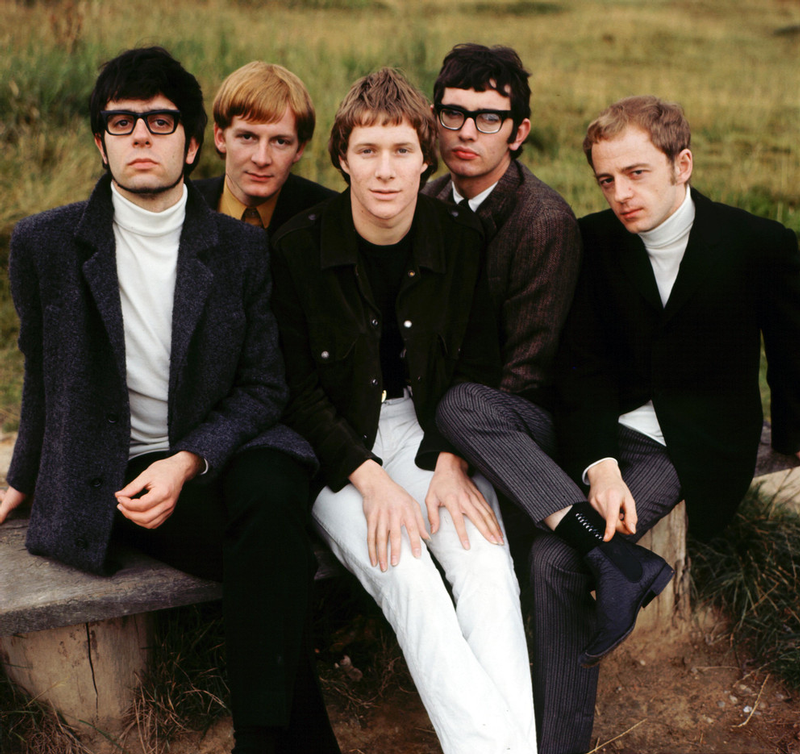 Manfred Mann was a beat group that successfully rode the first wave of British Invasion bands that stormed the beaches of America in 1964. Known primarily for their #1 smash 'Do Wha Diddy Diddy', the group covered an extremely wide range of musical styles, from rock and pop to jazz and blues. They successfully covered Bob Dylan compositions and had a mild affair with psychedelia before abandoning all pop directions to form an experimental jazz outfit that, when all was said and done, journeyed into the land of progressive rock. Despite their schizophrenic musical identity, all forms of melody they attempted met with at least mild critical acclaim. Their reputation in England was always strong due to their instrumental prowess and the soulful delivery of vocalist Paul Jones. In the U.S., the group was judged mainly on their pop credentials, but kept a steady profile through the end of the 60s, well beyond many of their contemporary British Invasion compatriots.

Forming in London in 1962 during the British blues revival, the Mann-Hugg Blues Brothers, as they were originally known as, became fixtures in the London Club scene. Original members included Manfred Mann (keyboards), Mike Hugg (drums), Mike Vickers (guitar, saxophone, flute), Paul Jones (lead vocals, harmonica) and Dave Richmond (bass). Shortly after The Beatles took the U.K. by storm, the group was signed to the His Master's Voice label and changed their name to Manfred Mann in 1963, at the suggestion of their producer (one of the few band names to be identical to a band member's name).

Their first couple of singles went nowhere, but success finally came when they were asked to contribute the theme song for the pop music TV show Ready Steady Go. The rollicking '5-4-3-2-1' matched The Beatles' energy and rose to #5 on the U.K. charts. Richmond left the band at this point and was replaced by Tom McGuinness (guitar, bass), who remained with the group for the rest of the decade.

Manfred Mann became huge stars with the 1964 world wide #1 hit 'Do Wah Diddy Diddy', which had earlier been a minor hit for the U.S. soul group the Exciters. They followed that up with 'Sha La La', another cover that reached #12 in the States. Like the Animals, Manfred Mann concocted radio-friendly pop singles but showed their true colors on their albums. They composed jazz and blues workouts that are jarringly different from their bouncy singles, which have caught many a casual listener by surprise.

By mid 1965, the group began covering Bob Dylan songs: 'With God On Our Side' was a misstep, but 'If You Gotta Go, Go Now' became another U.K. hit. Meanwhile, their albums delved into heavier jazz-themed workouts ('Abominable Snowman', 'Bear Hugg') and Chicago Blues ('Smokestack Lightning', 'Call It Stormy Monday'). They were also prone to including an original composition or an obscure pop song like Bachrach's and David's 'My Little Red Book', which inspired a punkier version by the Los Angeles band Love.

By late 1965, Jones began making plans to go solo, but agreed to remain with the group until a suitable replacement could be found. In early 1966, Richmond left and was replaced by Jack Bruce, who had recently left the Graham Bond Organization. During this period, they had a sizeable hit on both sides of the Atlantic with 'Pretty Flamingo' featuring Bruce on backing vocals. His stay with the band would be brief however, and he soon left to form Cream in the summer of 1966. With Jones' departure, the group was close to disbanding. EMI, not believing Manfred Mann could survive without Jones, dropped the group and signed Jones to a solo deal. Few groups recover from losing a lead singer, but Manfred Mann was determined to press on. Several lead vocalists were considered, including Long John Baldry, Wayne Fontana, and Rod Steward before the group finally settled on former Band Of Joy singer Mike D'Abo. Former Paddy, Klaus, & Gibson member Klaus Voorman (bass) was also added to the fold. As a side note, Voorman's biggest claim to fame was his association with the pre-fame Beatles and designing of their Revolver LP cover, for which he won a Grammy Award.

Now signed to Fontana (Mercury in the U.S.), the band headed back to familiar territory with the recording of another Dylan song ('Just Like A Woman'), which ranks as one of his more dismal covers. Shel Talmy was brought in to produce their next album titled As Is. This one and the follow up LP (Soul Of Mann) were U.K. only releases that saw the band venture toward a more psychedelic feel. Despite some fine originals by Mike Hugg, the band generally relegated them to B-sides, not yet comfortable with their own writing skills.

The group got some creative relief in writing the soundtrack for the 1968 film Up The Junction. A wonderful period piece, "Junction" was the perfect vehicle for Manfred Mann to stretch out creatively. While other bands were often hired to bang out a quick batch of soundtrack songs that may or may not have anything to do with the actual film, Manfred Mann took a great deal of care in creating the music for the film. A soundtrack album was released in both the U.K. and the States, and is now considered to be one of their more psychedelic and cohesive efforts. During this time, Mike Hugg produced the ultra-cool psych outfit the Cherry Smash, which featured his brother Brian. Mike D'Abo wrote several hits for the Immediate label including 'Handbags And Gladrags' (a hit twice over by Chris Farlow in 1968 and Rod Stewart in 1974), and 'Build Me Up Buttercup' (a hit for the Foundations in 1968). Despite D'Abo's talents as a song writer, Mann played it safe on the singles, choosing outside writers that offered trite pop songs like Tony Hazard's 'Ha Ha Said The Clown' and Randy Newman's vaudevillian 'So Long, Dad'.

Having heard 'Mighty Quinn' from Bob Dylan's famous Basement Tapes, the group smartly released it as a single in mid 1968. One of the best songs that they had released to date, it was ironically to become their last big hit, charting at #1 in England and #10 in the U.S. Subsequent singles like 'My Name Is Jack' and 'Ragamuffin Man' kept them in the charts (in the U.K. at least) until early 1969.

A shift in the rock landscaped caused Manfred Mann to dissolve and reform as an experimental jazz-rock group featuring Mann and Hugg. Calling themselves Manfred Mann Chapter Three, the group cut two respectable albums in 1969 and 1970 before calling it quits again. The "Chapter Three" moniker prompted the Paul Jones era to be referred to as "Chapter One" and the Mike D'Abo years as "Chapter Two" in the bands history. In the 70s, Mann went on to form Manfred Mann's Earth Band and broke through with two huge hits in 1975 by issuing outstanding covers of Bruce Springsteen's 'Blinded By The Light' and 'Spirit In The Night'.

Article researched and written by Matt Williamson and Paul Moews.