From: Los Angeles, CA, USA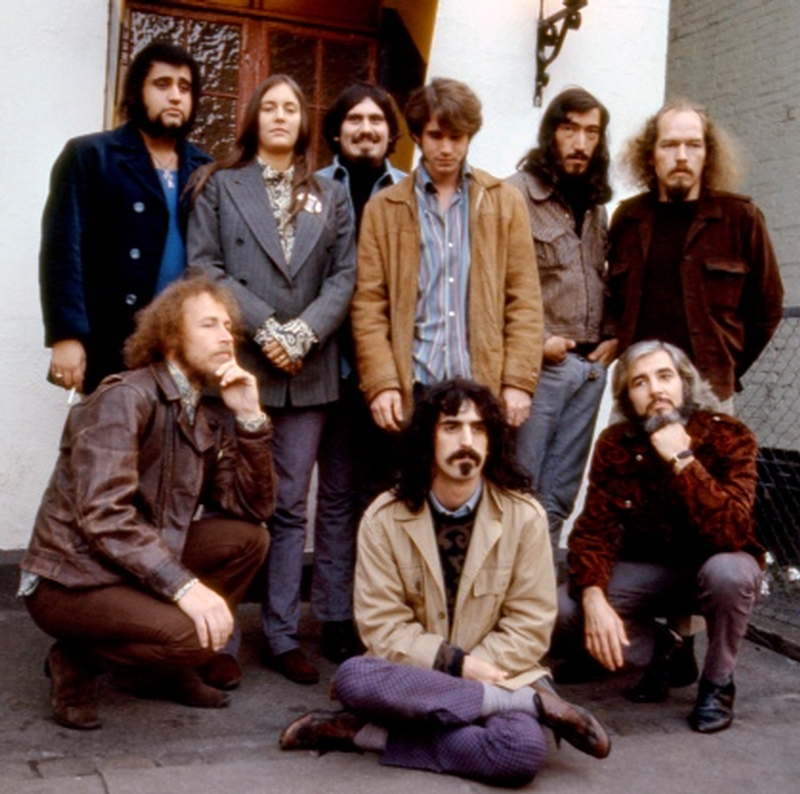 The Mothers Of Invention was an unconventional L.A. progressive rock band best known for being led by the now legendary musician and composer Frank Zappa (lead guitar, vocals). The group evolved out of the Soul Giants in 1965 when frontman Ray Collins (lead vocals) asked Zappa to take over as lead guitarist. Other original members included Jimmy Carl Black (percussion, drums, vocals) and Roy Estrada (bass). The band first renamed themselves the Blackouts, then Captain Glasspack & The Magic Mufflers before settling on the Mothers, coincidently on Mother's Day. It wasn't long before the newly formed ensemble began gaining attention within the burgeoning Los Angeles underground music scene under the management of Herb Cohen. In early 1966, the group was discovered by leading record producer Tom Wilson while hearing them perform 'Trouble Every Day', a song about the summer of 1965 Watts riots. Wilson had earned acclaim as the producer for Bob Dylan and Simon & Garfunkel, and was notable for being one of the few African Americans working as a major label pop music producer at this time. Wilson signed the Mothers to the Verve division of MGM and insisted that they officially rename themselves as the less-abrasive sounding Mothers Of Invention.

With Wilson as producer, and additional band member Elliot Ingber (guitar) now on board, the Mothers Of Invention, augmented by a studio orchestra, released their groundbreaking debut LP Freak Out! in the summer of 1966, which after Dylan's Blonde On Blonde, was the second rock double album ever released. The record mixed R&B, doo-wop, musique concrete and experimental sound collages that brilliantly captured the "freak" subculture of late 60s Los Angeles. Although Zappa was somewhat dissatisfied with the final product, Freak Out! immediately established him as a radical new voice in rock music, providing an antidote to the "relentless consumer culture of America". Most compositions on the LP are Zappa originals, which set a precedent for the remainder of his recording career. He had full control over the arrangements and musical direction, and engineered most overdubs as well. Wilson provided the industry clout and connections, and was also able to supply the group with the financial resources needed. After a short promotional tour following the release of Freak Out!, Zappa met Adelaide Gail Sloatman, who he reportedly fell in love with in "a couple of minutes". Frank and Gail would eventually marry in the fall of 1967, purchase an awesome Laurel Canyon estate, have four children and remain together until Zappa's passing in 1993.

Turning back to late '66, the Mothers Of Invention recorded a follow-up LP (Absolutely Free) that was finally issued in the late spring of 1967 with production credit again going to Tom Wilson, although by this time Zappa was in clear control of most facets of the recording. Also in late 1966, the band played in New York City and was eventually offered an extended contract at the Garrick Theatre in the spring of 1967, which prompted them to relocate there for about six months. Their shows became a combination of improvised acts showcasing individual talents of the band, as well as tight performances of Zappa's music. Everything was directed by Zappa's famous hand signals and guest performers and audience participation became a regular part of the shows. While in the Big Apple, the Mothers recorded a second LP (We're Only in It For The Money), which was eventually released in the spring of 1968 and is widely regarded as the pinnacle of the group's late 60s work. By this time, Ingber had left the fold, but quite a few new members had since been added: Don Preston (keyboards), Billy Mundi (drums, vocals), Bunck Gardner (woodwinds), Ian Underwood (piano, woodwinds) and Euclid James "Motorhead" Sherwood (saxophone). The album was produced by Zappa, who would take on that responsibility for all future Mothers and his solo records. We're Only In It For The Money features some of the most creative audio editing and production for that time, with many of the tracks ruthlessly poking fun at the flower power craze. The LP's front cover art was intended to be a "direct negative" parody of the Beatles' classic Sgt Pepper's Lonely Hearts Club Band album photo, which was designed by Cal Schenkel who Zappa had recently met in New York. Unfortunately, MGM/Verve got cold feet over this plan and insisted that the Mothers' photo be banished to the inner gatesleeve in fear of a Beatles lawsuit. This controversial circumstance of course initiated a lifelong collaboration in which Schenkel would go on to design numerous covers for both the Mothers and Zappa solo works.

The Mother's next LP (Cruising With Ruben & The Jets) was issued in late 1968 and is very different from its predecessors in that it contains a collection of well-crafted 1950s doo-wop songs that listeners and critics at the time were not sure was a satire or a tribute. The album is quite original and eclectic, with highlights that include 'How Could I Be Such A Fool', 'I'm Not Satisfied', the incredibly catchy 'Jelly Roll Gum Drop' and the outstanding ballad 'You Didn't Try To Call Me'. It should also be noted that around this time, both Charles Guarnera aka Buzz Gardner (trumpet, flugelhorn) and ex-Factory member Lowell George (rhythm guitar, vocals) were brought into the fold. During the spring of 1969, the Mothers released a double-LP (Uncle Meat) of previously unissued material more attune to their past releases, which was actually recorded back between the fall of '67 and spring of '68. In late 1969, Zappa disbanded the original Mothers Of Invention citing financial strain as the main reason. Remaining recordings of the original Mothers from this period were compiled on the LPs Weasels Ripped My Flesh and Burnt Weeny Sandwich, both of which were released in 1970 after the breakup.

Later in '70, Zappa pulled together a completely new version of the Mothers with members Aynsley Dunbar (drums), George Duke (keyboards), Ian Underwood (woodwinds, keyboards) and Jeff Simmons (bass, rhythm guitar), along with three members of the recently defunct Turtles: Jim Pons (bass), Mark Volman (vocals) and Howard Kaylan (vocals). As a side note, Volman and Kaylan, due to persistent legal and contractual conflicts, adopted the stage names "The Phlorescent Leech and Eddie", or now better known as "Flo & Eddie". This incarnation of the Mothers debuted on Zappa's 1970 solo album Chunga's Revenge, which was followed by the double album soundtrack to the 1971 movie 200 Motels, featuring the Mothers, the Royal Philharmonic Orchestra, Ringo Starr of The Beatles, Theodore Bikel, and Keith Moon of the Who.

In late 1971, Frank Zappa suffered two serious setbacks with the first occurring while performing at Casino de Montreux in Switzerland. The Mothers' equipment was destroyed when a flare set off by an audience member started a fire that burned down the building, which was immortalized in Deep Purple's classic song 'Smoke On The Water'. After a week's break, the Mothers played at the Rainbow Theatre in London with rented gear, and during the encore, an audience member pushed Zappa off the stage and into the concrete-floored orchestra pit. The band thought Zappa had been killed, but he survived suffering serious fractures, head trauma and injuries to his back, leg, and neck, as well as a crushed larynx, which ultimately caused his voice to drop a third after healing. This accident resulted in an extended period of wheelchair confinement, making touring impossible for over six months. Meanwhile, the Mothers were left in limbo and eventually formed the core of Flo & Eddie's band as they set out on their own.

Frank Zappa focused on big band and orchestral music while recovering from his injuries, and in 1973 formed the Mothers final lineup, which included Underwood, Duke, Ralph Humphrey (drums), Sal Marquez (trumpet), Tom Fowler (trombone), Bruce Fowler (bass) and Ruth Underwood (xylophone, percussion). The final album using the Mothers as a backing band, 1975's Bongo Fury, was a collaboration with Captain Beefheart and also featured Denny Walley (guitar) and Terry Bozzio (drums), who continued to perform for Zappa on non-Mothers releases into the 80s.