From: Philadelphia, PA, USA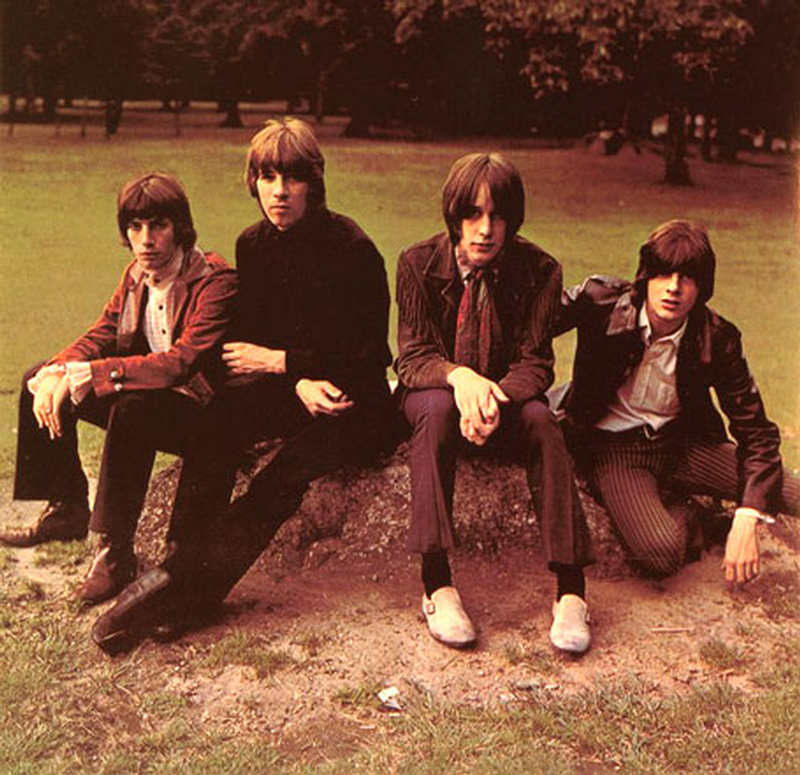 The Nazz was an incredibly under recognized British influenced mod-psych band from Philadelphia that formed in 1967 and remained together for only a few short years. For the time, their music was highly original and still holds up very well to this day. Original members included Robert "Stewkey" Antoni (vocals, keyboards), Thom Mooney (drums), Carson Van Osten (bass) and last but not least, future rock icon Todd Rundgren (guitar). It should be noted that many now consider the Nazz to have had one of the best rhythm sections in 60s rock with Mooney's excellent drum styling being closely compared to Keith Moon of the Who.

As the story goes, Rundgren and Van Osten were playing together in a group called Woody's Truck Stop when they left to form the Nazz. According to one band member, the group's name originated from two sources: a song by the Yardbirds titled 'The Nazz Are Blue' and also from an old record by comedian Richard "Lord" Buckley that mentions repeatedly, "The Nazz Is Comin'!", meaning the Nazarene or Jesus Christ.

The Nazz played their first concert in July, 1967, opening for the Doors. By September of that year, the group had received some financial support from a local record store, which also put them in touch with John Kurland, a record promoter who was looking for a guitar based pop band. Kurland took a liking to the Nazz and signed on as their manager. Unfortunately, he and his associate, Michael Friedman, prevented the band from gigging regularly, believing that a lack of performances would increase demand for the group. The managers were also convinced that the Nazz could be marketed as a sharp, stylish boy band for the teenybopper audience, and helped the quartet refashion themselves in that mode.

By the summer of 1968, the band was signed to SGC (Screen Gems Columbia), a record company tied to Colgems that was in search of another Monkees type act, and thought that the Nazz just might be it. Their debut, self-titled LP was released in October of '68, supported by the outstanding single 'Open My Eyes'. There was even a well produced, color video of 'Open My Eyes' made, which is a great time capsule and fun to watch. Ironically it didn't chart nationally, but the B-side of the 45 ('Hello It's Me') hit #71 with very little promotion. This original, slower tempo version, written by Rundgren, was redone in the early 1970s and became a major hit for him. The album is filled with excellent songs, mostly written by Rundgren, mixing original ballads like 'Crowded' (written by Stewkey and Mooney) with hard rockers like 'Back Of Your Mind'. Surprisingly, the album sold poorly and didn't chart nationally.

By 1969, Rundgren's creative juices were flowing better than ever, giving the band enough material to consider releasing a follow up double LP to be titled "Fungo Bat" (a fungo bat is a type of major league baseball practice bat). By the time the album was released however in the spring of 1969, it had been trimmed to a single record and retitled Nazz Nazz. This diverse record, with all songs written and produced by Rundgren, is just as good or better than their initial release, containing some outstanding ballads such as 'Gonna Cry Today' and high energy rockers like 'Not Wrong Long'. Unfortunately this LP didn't sell well either and the band began to splinter.

Rundgren, already upset that a good portion of his newer, Laura Nyro inspired material had been shelved by the rest of the band, along with the poor reception of their second album, decided to split after their '69 summer tour. Van Osten had also left, so Stewkey and Mooney, wanting to continue on, recruited Craig Bolyn (guitar) and Greg Sempler (bass). This new lineup toured sporadically from 1969 into 1970, filling concert commitments in the southwest, including the Texas International Pop Festival where they shared the stage with Led Zeppelin, Janis Joplin and Canned Heat among others. Nazz finally disbanded when Mooney returned to California and Stewkey stayed in Texas.

It wasn't long however that Stewkey received a call from Rick Nielson and Tom Petersson (of future Cheap Trick fame) asking if he would meet them, Mooney and Craig Myers (guitar) in Rockford, IL to join a band they were calling Fuse. He agreed and they ended up playing around the Midwest for about six months under two monikers: Fuse and Nazz, depending on where they were gigging.

In late 1970, the band decided they would move back to Philadelphia, except for Mooney who returned to California and was replaced by Bun E. Carlos (another future member of Cheap Trick). They then changed their name to the odd sounding Sick Man Of Europe and got as far as an audition with Epic Records, but nothing ever materialized. In 1971, a third LP titled Nazz III was released without the group's knowledge or consent. This album includes all four original band members and contains mostly outtakes from their second record, but still holds up very well on its own. Awesome rockers like 'Christopher Columbus' and 'How Can You Call That Beautiful' are again mixed with excellent balads like 'Only One Winner' and 'Take The Hand'.

In the mid 70s, Mooney hooked up with the ex-These Vizitors Curtis brothers (Mike, Tom and Rick) to form the Curtis Bros. Stewkey eventually retired from the music business around this time to raise a family, but has since reformed the Nazz and still plays live occasionally.

A big thanks to Stewkey of the Nazz for his important contribution to this article.