From: London, England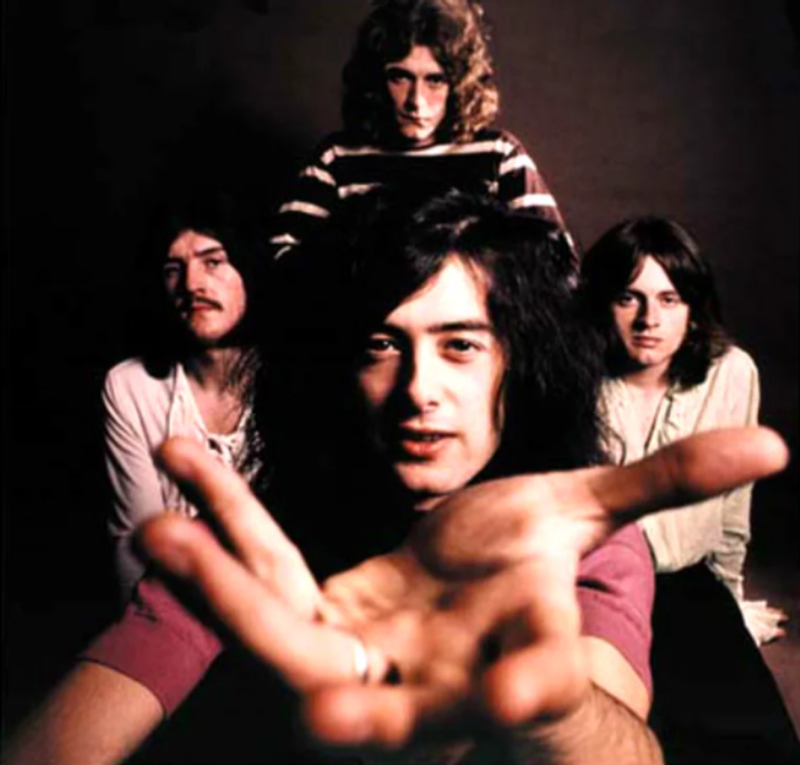 Led Zeppelin is considered by most to have been the best hard rock band of all time, hands down. Their unique blend of guitar-driven blues rock and psychedelia caught on like wild fire in the late 60s and continues to sound as fresh and groundbreaking today as it did back then. Countless other artists have been heavily influenced by Zeppelin over the years and many have attempted to blatantly copy their complex formula, but very few have come even remotely close to getting it right.

The origins of Led Zeppelin can be traced back to the Yardbirds and guitarist extraordinaire Jimmy Page who was a member from 1966 through 1968. Page originally joined the band as a bassist to replace Paul Samwell-Smith, but soon switched to lead guitar, sharing the role with co-member Jeff Beck. After Beck's sudden departure in October, 1966, the group forged on as a quintet, but their commercial success began to sharply wane. Page saw this as an opportunity to move the band in a different direction as he became more interested in the growing popularity of harder, blues-based psychedelic rock bands like Cream and the Jimi Hendrix Experience. In 1967, the Yardbirds' live act became heavier and more experimental, straying away from their recent, unsuccessful pop singles and focusing more on blues standards and covers from groups like the Velvet Underground ('Waiting For A Man') and American folk singer Jake Holmes, whose 'Dazed And Confused' was a live staple of the Yardbirds' last two U.S. tours, and went down so well that Page selected it for the first Led Zeppelin record, on which it curiously appears with Page as the credited writer. Peter Grant had also become the Yardbirds' new manager and supported the move in this direction.

By 1968, Yardbirds members Keith Relf and Jim McCarty were focusing more on a style influenced by folk and classical music, while Chris Dreja was developing a serious interest in professional photography. The band continued to play together however for the first half of that year, but the writing was on the wall for an imminent breakup. On July 7, 1968, the Yardbirds played their final gig at Luton Technical College in Bedfordshire, England and coincidently 12 years later to the day, Led Zeppelin would play their final concert in Berlin, Germany. Although the original Yardbirds were no more, the group had still committed to performing several concerts in Scandinavia in the fall, so McCarty and Relf authorized Page and Dreja to use the Yardbirds name to fulfill the band's obligations. Page's first choice for a new lead vocalist, Terry Reid, declined the offer, but suggested Robert Plant, a then unknown singer, for the position. Plant accepted the role and promptly referred Page to his childhood friend John Bonham to take over for McCarty on drums. When Dreja dropped out of the project to focus full-time on his photography, John Paul Jones (bass, keyboards) contacted Page about the vacant position. Being familiar with Jones' outstanding credentials as a session musician and having enjoyed playing with him in the past on countless recording sessions, Page agreed to bring him in as the final member. The group came together for the first time in a room below a record store on Gerrard Street in London and completed the Scandinavian tour as the New Yardbirds, playing together for the first time in front of a live audience at Gladsaxe Teen Club in Denmark on September 7, 1968.

During the tour of Scandinavia, it became apparent that the band's new members and musical direction called for a name change, so upon returning to England, a serious search began for a new moniker. One account of the group's naming, which has become almost legendary, has it that Keith Moon and John Entwistle, of the Who, had suggested in the past that a possible supergroup containing themselves, Jimmy Page, and Jeff Beck would go down like a "lead zeppelin", a term Entwistle used to describe a bad gig. The group deliberately dropped the "a" in "lead" at the suggestion of their manager, Peter Grant to prevent "thick Americans" from pronouncing it "leed". With a record not yet released, the band made their live debut under the name Led Zeppelin at the Mayfair Ballroom, Newcastle Upon Tyne on October 4, 1968, which was followed by a U.S. concert tour debut on December 26, 1968 in Denver, CO. As a side note, the group was in fact booked as Vanilla Fudge's opening act for this set of shows.

January, 1969 saw the release of Led Zeppelin's first, self-titled LP, which according to the band only took 36 hours to record and £1,750 to produce (including artwork). Ex-Yardbirds member Chris Dreja even chipped in by taking the group's picture, which graces the back of the album cover. The record was an immediate smash and took the world by storm, charting high in a number of countries including #10 in the U.S. and #6 in the U.K. Ground breaking tracks like 'Good Times Bad Times', 'Dazed And Confused' and 'Communication Breakdown' blew people away and raised the bar for other major artists on both sides of the Atlantic. In their first year, Led Zeppelin managed to complete a staggering four U.S. and four U.K. concert tours, and also released their follow up album (Led Zeppelin II) in late 1969. Recorded almost entirely on the road at various North American recording studios, the second album was an even greater success than the first, topping the charts in both the U.S. and U.K. On this record, the band further developed ideas established on their debut album, creating a work that has become even more widely acclaimed and arguably more influential.

For the 1970 composition of their third album (Led Zeppelin III) Page and Plant retreated to Bron-Yr-Aur, a remote cottage in Wales. The result was a more unplugged sound (including one entirely acoustic track, 'Bron-Yr-Aur Stomp', misspelled as "Bron-Y-Aur Stomp" on the album cover), which was strongly influenced by folk and Celtic music, and revealed the band's versatility. The album's rich acoustic sound initially received mixed reactions, with many critics and fans alike being jilted by the turn and taken back by this change of direction from the primarily electric compositions of the first two albums. Over time, however, its reputation has improved and Led Zeppelin III is now generally praised. It has a unique album cover featuring a sort of kaleidoscope wheel which, when rotated, displays various psychedelic images through cut outs in the main jacket sleeve. The album's opening track ('Immigrant Song') was released in November, 1970 by Atlantic Records as a U.S. single against the band's wishes and includes their only non-album track on the B-side ('Hey Hey What Can I Do'). Even though the band saw their albums as indivisible, whole listening experiences and their manager, Peter Grant, maintained an aggressive pro-album stance, some singles were released without their consent. The group also increasingly resisted television appearances, enforcing their preference that their fans hear and see them in live concerts.

In the 1970s, Led Zeppelin reached rock and roll godlike status, issuing one groundbreaking LP after another, dwarfing the success that they had already obtained in the late 60s. They consistently sold out stadium sized venues worldwide and for a few years (1973-75) even flew around in their own Boeing 720B passenger jet, which was nicknamed "The Starship".

Late 1971 saw the release of the band's fourth, officially untitled LP which is generally labeled by most as "Led Zeppelin IV". There was no indication of a title or a band name on the original cover, as the group disdained being labeled as "hyped" and "overrated" by the music press, and in response wanted to prove that the music could sell itself by giving no indication of who they were. The album further refined the band's unique formula of combining earthy, acoustic elements with hard rock and blues emphases. It includes outstanding hard rock numbers like 'Black Dog' sharply contrasted by acoustic tracks like 'Going To California' (a tribute to Joni Mitchell). 'Rock And Roll' is a tribute to the early rock music of the 1950s, while the anthem 'Stairway To Heaven' has become one of the most requested songs in rock history. "Led Zeppelin IV" is one of the best-selling albums in history and its massive popularity cemented the band's superstardom in the 1970s. To date it has sold over 37 million copies worldwide.

Zeppelin's fifth LP (Houses Of The Holy), issued in the spring of 1973, was a dedication by the band to their fans who appeared at concert venues they dubbed "Houses of the Holy". It represents a musical turning point for the group, as they began to use more layering and production techniques in recording their songs. Although it initially received mixed reviews, it has since been regarded by critics as one of the band's finest albums. The LP's concert tour of North America in 1973 broke records for attendance, as they consistently filled large auditoriums and stadiums. At Tampa Stadium in Florida, they played to 56,800 fans which broke the record that had previously been set by The Beatles at Shea Stadium in 1965.

In 1974, Led Zeppelin took a break from touring and launched their own record label, Swan Song, named after one of only five Led Zeppelin songs to never be officially released. In addition to using the label as a vehicle to promote their own albums, the band expanded its roster by signing artists such as Bad Company and the Pretty Things, to name a few. In early 1975, almost two years after the release of their last album, the group issued the double-LP Physical Graffiti, which was their first release on the Swan Song label. It consists of 15 songs, eight of which were recorded in 1974, and the remainder being tracks previously recorded, but not released on earlier albums. A review in Rolling Stone magazine referred to Physical Graffiti as Led Zeppelin's "bid for artistic respectability", adding that the only competition the band had for the title of "World's Best Rock Band" were the Rolling Stones and the Who. The album was a massive fiscal and critical success and shortly after its release, all previous Zeppelin albums simultaneously re-entered the Top 200 album chart and the band embarked on another North American tour, again playing to record-breaking crowds.

The spring of 1976 saw the release of another studio LP titled Presence, which was recorded during Robert Plant's recuperation from injuries he and his wife had received from a car accident in the summer of 1975. The album received lukewarm reviews from most critics and is one of the lowest sellers in the band's catalogue (three plus million copies). Page however contends that it is his favorite Zeppelin album and Plant has stated that it is the album that sounds the most "Led Zeppelin" of all their LPs. Plant's injuries prevented the group from touring in 1976, so instead, they finally completed the concert film The Song Remains The Same, which had actually been recorded during three nights of concerts at Madison Square Garden in July, 1973 during the band's Houses Of The Holy LP concert tour of North America. The film premiered in New York on October 20, 1976 and also received a mediocre response, especially in their home country of England.

In 1977, with Plant fully healed, the band embarked on another tour of North America again setting attendance records with 76,229 people buying tickets to their Pontiac Silverdome show in the spring of that year. This tour was cut short however, when news came that Plant's five year old son Karac had died from a stomach virus. The rest of the tour was immediately cancelled and their concert on July 24, 1977 at Oakland Coliseum was to become the last U.S. live appearance of Led Zeppelin. 1978 saw the band in the studio once again recording what was to become their last LP of new material (In Through The Out Door), which was released in the late summer of 1979. In contrast to previous Zeppelin albums, this record features much greater influence on the part of Jones and Plant, and relatively less from Bonham and Page. Much of this can be attributed to Page's heroin addiction and Bonham's heavy alcohol use, which caused the band to split into two separate factions, Plant-Jones and Page-Bonham. Tragically, Bonham's alcoholism caught up with himself and the band on September 25, 1980 when he was found dead from vomit asphyxiation. Rather than trying to replace the irreplaceable, the band smartly decided to call it quits stating, "we wish it to be known that the loss of our dear friend, and the deep sense of undivided harmony felt by ourselves and our manager, have led us to decide that we could not continue as we were."

In 1982, the surviving members of the group released a collection of outtakes from various sessions throughout Led Zeppelin's stellar career, titled Coda. Over the years, the surviving members have reunited at various times, including Live Aid in 1985, an Atlantic Records 40th Anniversary concert in 1988, and for a one-off benefit concert held in memory of Atlantic music executive Ahmet Ertegün in late 2007. The two latter shows also rightfully featured John Bonham's son Jason on drums. In recent years, reunion tour rumors continue to surface, but nothing to date has come to fruition…yet.