From: London, England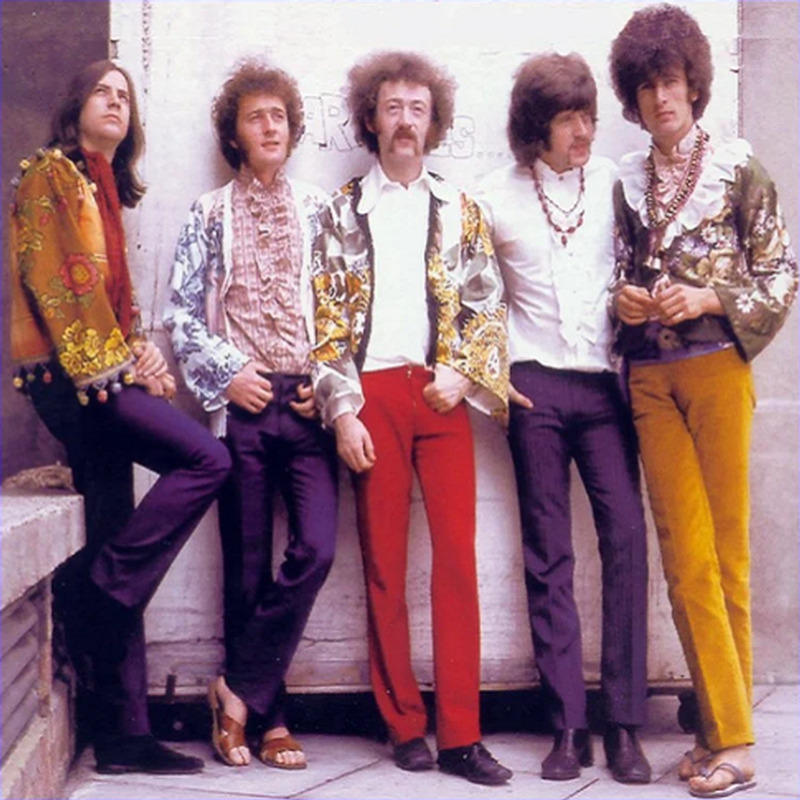 In the mid 1960s, the Pretty Things (nicknamed the Pretties) was an outstanding R&B-mod group and hugely popular in the U.K., but they never gained a strong foothold nor received even close to the same amount of appreciation in the U.S. as did similar bands of the time like the Kinks and Rolling Stones. To this day they are considered by many to be one of the few truly great British Invasion groups that, for whatever reason, never hit it big in America.

The band was formed by Dick Taylor (lead guitar) and Phil May (vocals, harmonica) after meeting at the London Central School of Art in 1964. Taylor had previously been a member of the Rolling Stones in 1963, but quit because he wanted to play lead guitar rather than bass. Before long, Taylor and May had recruited Brian Pendleton (rhythm guitar), John Stax (bass) and finally Viv Prince (drums) to round out the group. They named their band after one of their biggest influencers, Bo Diddley, and his blues tune 'Pretty Thing'.

The Pretties were a smash right out of the gates with their first three singles 'Rosalyn', 'Don't Bring Me Down' and the self-penned 'Honey I Need' becoming big hits not only in the U.K., but also making a huge impact in Europe, Australia and New Zealand. The group was known for its wild stage antics and edgy lyrical content, with their 1965 single 'Midnight To Six Man' helping to define the British mod lifestyle. Around this time, the first of what would be many personnel changes over the years began to take place with Prince leaving in 1965, replaced by Skip Alan (drums). That year they also released two primarily R&B LPs, their self-titled debut, which went to #6 in the U.K. and Get The Picture?, which also sold quite well.

In 1966, the band began to move away from R&B to a less raw more poppy sound, releasing three singles, the second including the surreptitiously drug laced track 'L.S.D.' on the B-side, which more overtly references British sterling (historically nicknamed "£sd") than the then lesser known hallucinogen. Late that year also saw the departure of Pendleton, who was not initially replaced. In early 1967, Stax also quit and was replaced by Wally Waller (bass). At around this time, they also became a 5-piece again by adding John Povey (percussion, vocals) into their fold.

May, 1967 saw the released of their third LP (Emotions), which continued their move towards a more poppy and psychedelic sound. At around this time, they also created a band pseudonym/alter ego named Electric Banana to help supplement their income, and released a self-titled LP on the lesser known De Wolfe label under that moniker. This and subsequent Electric Banana LPs/tracks, although quite good, have a more exploitive vibe and were mainly written to appear in low budget film soundtracks.

During the latter half of 1967, the band switched from Fontana to Columbia Records and dove head first into psychedelia with the issue of their outstanding tenth single ('Defecting Grey' b/w 'Mr. Evasion'). Their eleventh equally good, if not better 45 ('Talkin' About The Good Times' b/w 'Walking Through My Dreams') was released in early 1968. These records ushered in a roughly two year period of extremely creative and outstanding songs for the band, peaking with the late 1968 release of the classic psychedelic LP and first rock opera S.F. Sorrow. This album is excellent from start to finish and is considered by many to be one of the best British psychedelic records of the 60s. The LP was recorded at the famed Abbey Road Studios and was produced by Norman Smith, who also produced the classic Pink Floyd album The Piper At The Gates Of Dawn and had engineered most of The Beatles recordings up until 1966. S.F. Sorrow also reportedly helped inspire the Who's Pete Townshend to write the double LP, rock opera masterpiece Tommy (there are a few eerie similarities). This period also saw the temporary departure of Alan, who was replaced by former Tomorrow and Aquarian Age member John "Twink" Alder (drums). Twink not only plays drums on S.F. Sorrow, but is also featured on the 1969 Electric Banana LP Even More Electric Banana and on the What's Good for the Goose motion picture soundtrack. The band not only wrote the theme song for the film, but is also featured in a lengthy psychedelic nightclub scene where they play three classic Electric Banana songs in pretty much their entirety.

Before the release of S.F. Sorrow, founding member Dick Taylor left the Pretties to become a producer and was replaced by Peter Tolson (guitar, vocals). Unfortunately S.F. Sorrow, as outstanding as it is, was a commercial flop and forced the band to look in other directions to support their income. Enter one Philippe Debarge, an eccentric French millionaire who was a huge fan of the Pretties and at the time was offering up big money to jam with them so he could live out his rock and roll fantasies. In a money crunch, the Pretties accepted Debarge's proposal and cranked out an outstanding bunch of original tracks, including a few Electric Banana alternate versions. The set was eventually burned to acetate, but never officially released until 2009 by UT Records/Ugly Things. Most of the songs are excellent on this record, making it very apparent that the Pretties were truly trying to make some magic happen for Debarge.

The latter half of 1969 saw the departure of Twink who was replaced by the returning Skip Alan (drums). Waller also left at around this time and was replaced by Stuart Brooks (bass, vocals). It was this lineup that recorded and issued the summer of 1970 LP Parachute. The album was highly praised by critics and awarded "1970 Album of the Year" by Rolling Stone magazine, but it too was surprisingly a commercial bust. Overall, the record has a more straight forward hard rock sound than their previous psychedelic efforts. Track highlights include 'The Good Mr. Square' and 'She Was Tall, She Was High', both of which remind one of The Beatles Abbey Road LP.

Following the disappointing commercial failure of Parachute the band briefly split, but was reformed in late 1971 by manager Bill Shepherd after hearing and being impressed by said record. Shepherd got them signed to Warner Bros. and they issued the LP Freeway Madness in 1972. They were then picked up by Led Zeppelin's manager Peter Grant who signed them to Zeppelin's Swan Song Records and issued the 1974 LP Silk Torpedo, which was the first album issued on the newly formed label and the first Pretties release to chart in the U.S.

Overall, the Pretties are considered by most to be an underrated band that should have made it bigger than they did. Although not as active as they were in the 60s and 70s, the group continues to release LPs and occasionally tour to this day.

Artist information sources include: The book, 'Tapestry of Delights Revisited' by Vernon Joynson.