From: San Francisco, CA, USA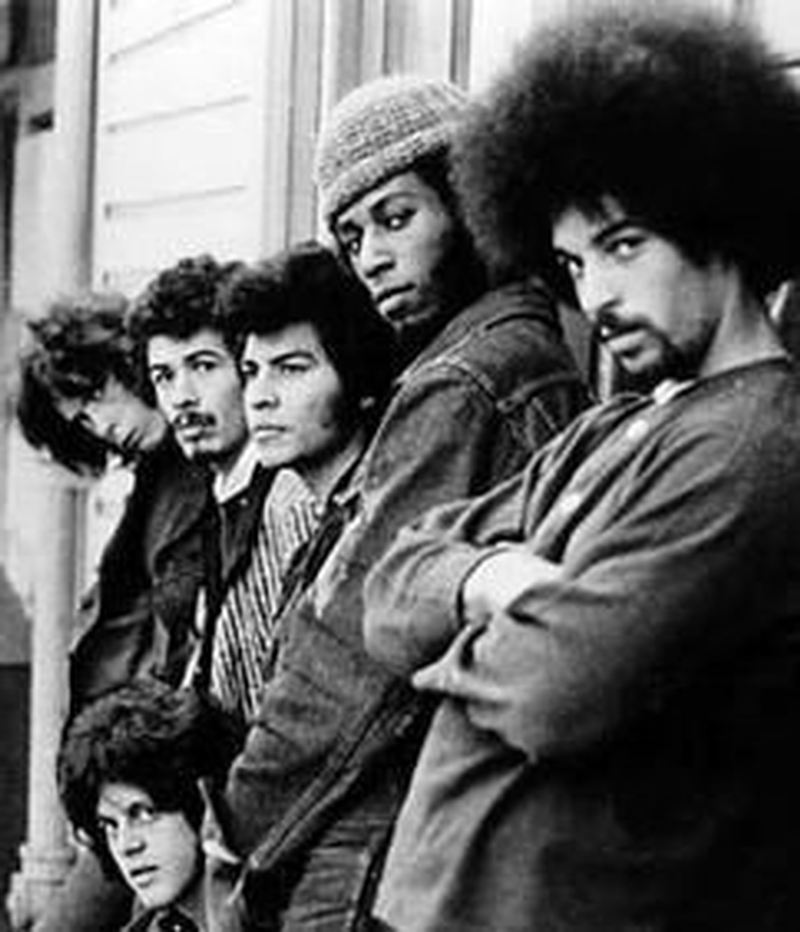 Out of all of the successful 60s bands to come out of the San Francisco bay area, Santana is considered by most to be one of the more eclectic and unique, highlighting their sound with a Latin flare driven by their Mexican American headmaster, Carlos Santana (lead guitar, vocals, maracas). Over the years, Santana has managed to evolve the group's sound multiple times, keeping their music in the mainstream and high on the charts throughout several decades.

Carlos first formed the group in 1966 as the Santana Blues Band with the help of his friend Tom Fraser (vocals, rhythm guitar). Other original members included Sergio "Gus" Rodriguez (bass), Danny Haro (drums), Michael Carabello (percussion) and Gregg Rolie (keyboards, vocals). They played their first gig on March 1, 1967 at a place called the Ark in Sausalito, CA and soon garnered the attention of super promoter Bill Graham pretty much right out of the gates. The group suffered a minor setback however when Graham billed them to play his Fillmore Auditorium for three weeks in a row, but they had to cancel each time due to Carlos being hospitalized for tuberculosis. They were then promptly fired by an irate Graham in mid June, 1967 when they showed up late for a show. They were also snubbed by Chet Helms and the Family Dog at the Avalon Ballroom when they auditioned to play there, being told that they would never make it in the San Francisco music scene playing Latin fusion and suggested Carlos keep his day job washing dishes at Tick Tock's Drive-In. They eventually secured a gig in late June playing at a local street fair, billed alongside mostly lower tiered area bands. Soon after that, Rodriguez, Haro and Carabello split the scene and were soon replaced by Dave Brown (bass), Don Wehr (drums) and Marcus "The Magnificent" Malone (percussion). Wehr didn't last long either and was then replaced by Ron Harper (drums), while Fraser also left, scaling them back to a quintet.

In late 1967, the Santana Blues Band finally secured a legitimate weekend billing at the Matrix nightclub, but right after that, Harper left and was replaced by Bob "Doc" Livingston (drums). It is this lineup that would play together for the rest of the year and throughout 1968. With a now stabilized unit, the group sharpened their skills while tirelessly working their way up through the local clubs and theaters, including the Straight Theater, Avalon Ballroom, and finally making it back again to the Fillmore in the spring of 1968. By the end of 1968, the band had officially shortened there name to Santana and was becoming one of the strongest acts in the Bay Area, consistently headlining what was now the Fillmore West (the original Fillmore Auditorium had closed), along with other leading venues. That year's New Year's Eve saw them share a billing at Bill Graham's Winterland Ballroom with the Grateful Dead, Quicksilver Messenger Service and It's A Beautiful Day.

As 1969 rolled around, an unfortunate personnel change occurred when Malone was arrested and then convicted of manslaughter, and replaced by previous percussionist Carabello. About a month later, Wehr also left the fold and was replaced by Mike Shrieve (drums). In April, 1969, Jose "Chepito" Areas (percussion, timbales, trumpet) was added to supplement the band with some brass and a thicker sound. Alberto Gianquinto (piano) and Rico Reyes (vocals, percussion) were also invited in to support some of their gigs, but neither were official members at the time and only played with them occasionally. It was this lineup that in May went into the studio to record their debut, self-titled LP, which was completed in about a month and issued on the Columbia label in the latter half of August, 1969 soon after their seminal performance at the Woodstock festival on the 16th of that month. The record includes some truly unique, outstanding tracks including the smash hit 'Evil Ways' which was released as a single in late 1969 and shot up the charts to #9 on the Billboard Hot 100. This success in both the studio along with their live appearances in New York fully cemented Santana as a heavyweight act, prompting them to play Boston and then nationally.

Santana made their television debut on The Ed Sullivan Show on October 26th, 1969 and continued to tour around the U.S. The spring of 1970 saw the band play in Hawaii and then in the summer, tour the U.K. and Europe. Around this same time, thy recorded their second LP (Abraxas), which was released in August and, similar to their first album, features a classy Latin jazz vibe, punctuated by Santana's amazing guitar licks. Highlights on the record include awesome covers of Peter Green's (Fleetwood Mac) 'Black Magic Woman' and Tito Puente's 'Oye Como Va'. Abraxas soared to #1 on the Billboard Top LPs chart along with 'Black Magic Woman' hitting the #4 single spot, anointing the band as one of the hottest acts of 1970. They promoted the record on other national TV shows including the Dick Cavett Show and The Tonight Show with Johnny Carson.

In November of 1970, the group brought in a seventh official member in Neil Schon (rhythm and lead guitar) who was only 17 at the time, but had already been playing around the Bay Area since 1968. As 1971 rolled around, the group went back into the studio to record their third, self-titled LP, which is often referred to as "Santana III" to distinguish it from the first album (it is also known by some as "Man With The Outstretched Hand"). The album, which houses a similar sound as its predecessors, but with a harder edge to it thanks to Schon's edgy rhythm guitar and biting solos, was released in September and also made it to #1 on the charts. It again includes some great instrumentals and deep tracks, as well as the Top 40 hits 'No One To Depend On' (#36) and the brassy rocker 'Everybody's Everything' (#12). The success of the record prompted the addition of two more percussionists (Rico Reyes and Thomas "Coke" Escovedo). Towards the end of the summer of 1971, another personnel change occurred when Brown was replaced by Tom Rutley (bass). More changes came later that year with Reyes, Areas and then Carabello all leaving the fold thereby bringing the classic "Woodstock lineup" to an end.

The fall of 1972 saw the issue of a fourth studio LP (Caravanserai), which is considered to be a departure from the first three by steering away from rock and focusing more on complex jazz fusion instrumentals. Although considered an artistic triumph, it didn't sell as well (hit #8) and had no singles, initiating what would be a gradual slide in the band's commercial popularity. By this time too, the group had started to become a virtual revolving door of musicians. Schon and Escovedo also left around this time to form Azteca, another Latin rock-jazz fusion band. As a side note, Schon would of course go on to reap huge success as an original and longstanding member of Journey.

More jazz fusion LPs followed into the mid 70s as well as a Greatest Hits album in 1974, which sold over eight million copies worldwide. In the late 70s, they changed direction again, away from jazz fusion and back to a more album orientated rock sound. In 1981, Santana scored a major hit with the Russ Ballard cover of 'Winning', which peaked at #2 and took the group further into a pop-rock direction. For almost 20 years throughout the rest of the 80s and 90s, Santana's popularity waned until the 1999 release of the #1 LP Supernatural, which sold more than 30 million copies worldwide and won a total of eight Grammy Awards, including Album of the Year. A year prior, Santana had been inducted into the Rock and Roll Hall of Fame making the record the highest-selling album of original material released by any artist who had already been inducted. Since the huge success of Supernatural, Santana has released seven more studio LPs, all of which have sold well, including 2014's Santana IV, which brought back the classic "Woodstock lineup". They also continue to consistently perform in front of huge audiences to this day.