From: London, England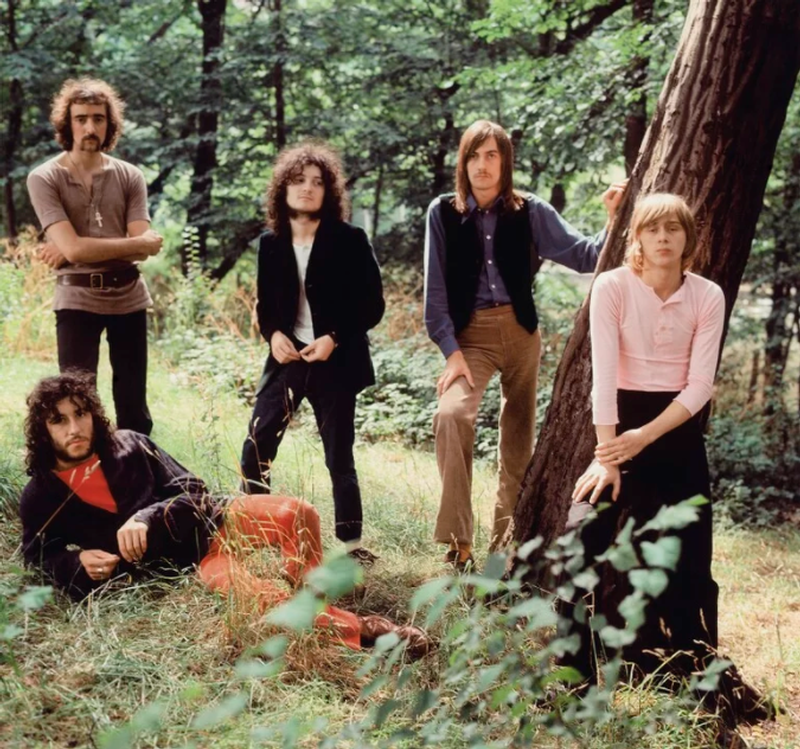 Fleetwood Mac is one of those bands that became hugely popular in the mid to late 1970s under the classic rock genre, with few of their fans ever realizing that they had started out way back in the late 60s as a barebones blues-rock ensemble. The London based group was formed in July, 1967 by Peter Green (guitar, vocals) after he had left John Mayall's Bluesbreakers along with Mick Fleetwood (drums) to start a new band of their own. Green and Fleetwood had also previously played together in Peter B's Looners and then the Shotgun Express with Rod Stewart. Green also wanted John McVie (bass) to quit the Bluesbreakers and join the fledgling outfit, and even named it "Fleetwood Mac" by combining his and Fleetwood's last names as an enticement. McVie initially turned down the offer, sticking with the Bluesbreakers, so Green recruited Bob Brunning (bass) and Jeremy Spencer (guitar, vocals) to close out the original lineup. This version of the band made its debut on August 13, 1967 at the Windsor Jazz and Blues Festival as "Peter Green's Fleetwood Mac Featuring Jeremy Spencer". Brunning only played a handful of gigs with the group and within weeks of this show, McVie agreed to replace him as permanent bassist.

Fleetwood Mac's debut, self-titled LP was issued on the Blue Horizon label in early 1968 and is a no-frills blues record. The album was hugely successful in the U.K. hitting #4, even though it did not have any singles on it. Soon after, the band did release two singles: 'Black Magic Woman' (later a big hit for Santana) and 'Need Your Love So Bad'. The band's second LP (Mr. Wonderful) was released in the summer of '68 and like the first is an all-blues album, but was recorded live in the studio with mic'd up amplifiers and a PA system, rather than plugged into a soundboard. This method provided the ideal environment for producing a raw style of blues music, and gave it an authentically vintage sound. They also added horns and featured a friend of the band on keyboards, Christine Perfect of Chicken Shack, prior to her marriage to John McVie.

Shortly after the release of their second album, Fleetwood Mac added Danny Kirwan (guitar, vocals), then just eighteen years old, to their lineup after Green had become hugely impressed with his unique, self-taught style of playing in his former band Boilerhouse. Green had also been frustrated with Spencer's reluctance to contribute to his songs, so bringing in Kirwan's already mature, signature vibrato added a new dimension to an already complete band. With Kirwan now in the group, they issued their first soon to be #1 single in Europe ('Albatross') and also a second U.S. LP (English Rose), which contains half of Mr. Wonderful, along with new songs from Kirwan. A third European album titled The Pious Bird Of Good Omen was also released at this time, which is a collection of singles, B-sides, and a selection of some material the band had collaborated on with Eddie Boyd.

When the band traveled to the U.S. in January, 1969, they recorded a slew of songs at the soon-to-close Chess Records studio with some Chicago blues legends, including Willie Dixon, Buddy Guy and Otis Spann. These tracks would prove however to be Fleetwood Mac's last all-blues recordings, as they began moving in a more commercial rock and roll direction. Along with their change of music style, the band left the all blues Blue Horizon label and signed with Immediate Records, releasing the U.K. and European hit single 'Man Of The World'. Immediate was in bad shape at this time however, so the group shopped around for a new deal, and even though The Beatles wanted the group on Apple Records (Mick Fleetwood and George Harrison were brothers-in-law), their manager Clifford Davis decided to go with Warner Bros. (through Reprise Records), the label they have remained with ever since.

Fleetwood Mac's first LP for Reprise (And Then Play On) was issued in the fall of 1969 and is a very good psych-rock effort. Although the initial pressing of the album's U.S. release was the same as the U.K. version, it was soon altered to contain the outstanding track 'Oh Well', which still receives airplay on classic rock stations to this day. Other great tracks on the record include 'Like Crying', 'My Dream' and 'Underway'.

By the end of 1969, Green was in poor mental health after taking too much LSD while in Germany. His last hit with Fleetwood Mac was the incredible, hard-driving 'The Green Manalishi (With The Two-Prong Crown)'. This track was released as a single only (b/w the excellent 'World In Harmony') in early 1970 as Green's mental stability deteriorated to the point that he wanted to give every penny of the band's money to charity. Other members of the group did not agree with this over generous philosophy, and subsequently Green decided to leave.

After Green's departure, the band continued to move in a more progressive rock direction, adding Christine McVie (keyboards, vocals) as an official member, who was now married to John. This lineup issued the LP Kiln House in the fall of 1970 and continued on until early 1971 when Spencer told the rest of the band he was "going out for a magazine", but never returned due to joining a religious cult. Auditions were held after his departure, but the band finally settled on U.S. guitarist Bob Welch through a recommendation of a mutual friend (Judith Wong who was the wife of Jethro Tull's bassist, Glenn Cornick). With Welch on board, the group issued the LP Future Games in the fall of 1971, which ushered them into the early 70s with open arms. This was the beginning of what is now considered Fleetwood Mac's "Welch era", which kept them rolling strong into 1974.

The Welsh era finally came to a close when he left the band and moved to Paris in early 1975. The group was now in desperate need of a guitarist again and a chance meeting between Fleetwood and Lindsay Buckingham (guitar, vocals) in California sparked a quick friendship and brought Buckingham into Mac's fold. Buckingham brought along with him his then girlfriend Stevie Nicks (vocals) to round off the quintet. This lineup of course became hugely popular, scoring hit upon hit throughout the mid 70s and into the late 80s until Buckingham finally left. The band forged on however taking a brief hiatus in the mid 90s, but hit it big again when the complete '75 lineup reunited in 1997 and issued the LP The Dance, which ended up selling five million copies worldwide. They continue to play to huge audiences to this day, but haven't issued a new studio LP since 2003.

Artist information sources include: The book, 'Tapestry of Delights Revisited' by Vernon Joynson.