From: Glasgow, Scotland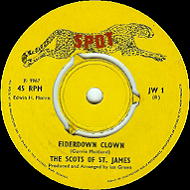 This Scottish band was previously known as the In Crowd and included original members Graham Maitland (rhythm guitar), Jimmy Oakley (lead vocals), Diego Danalaise (bass), Alan Kelly (drums) and Hugh Nicholson (lead guitar). After the group had been playing for a while, Owen "Onnie" McIntyre (guitar, vocals) was brought into the fold. They issued their first single (a cover of Ben E. King's 'Gypsy' b/w 'Tic Toc') on the Go label in 1966, but after the record failed to chart, several significant personnel changes occurred with Stewart Francis being added as a second drummer, Danalaise being replaced by Alan Gorrie (bass), and Nicholson being replaced by ex-Poets member Norrie Maclean (lead guitar). As a side note, Nicholson would go on to play in the Poets and then later with Marmalade.

In the fall of 1967, a second 45 ('Timothy' b/w 'Eiderdown Clown') was released on the Spot label with the outstanding B-side being written by Gorrie and Maitland. The group followed up their second record with a tour of Germany where they were well received, but by this time, Oakley wasn't getting along with the rest of the lineup so he was replaced by Hamish Stuart (lead vocals). It was at this time that the band changed their name to Hopscotch and ended up issuing a few more singles in 1969. In the 1970s, McIntyre, Gorrie and Stewart would go on to reap big success in the Average White Band.

Artist information sources include: The book, 'Tapestry of Delights Revisited' by Vernon Joynson.