From: Champaign, IL, USA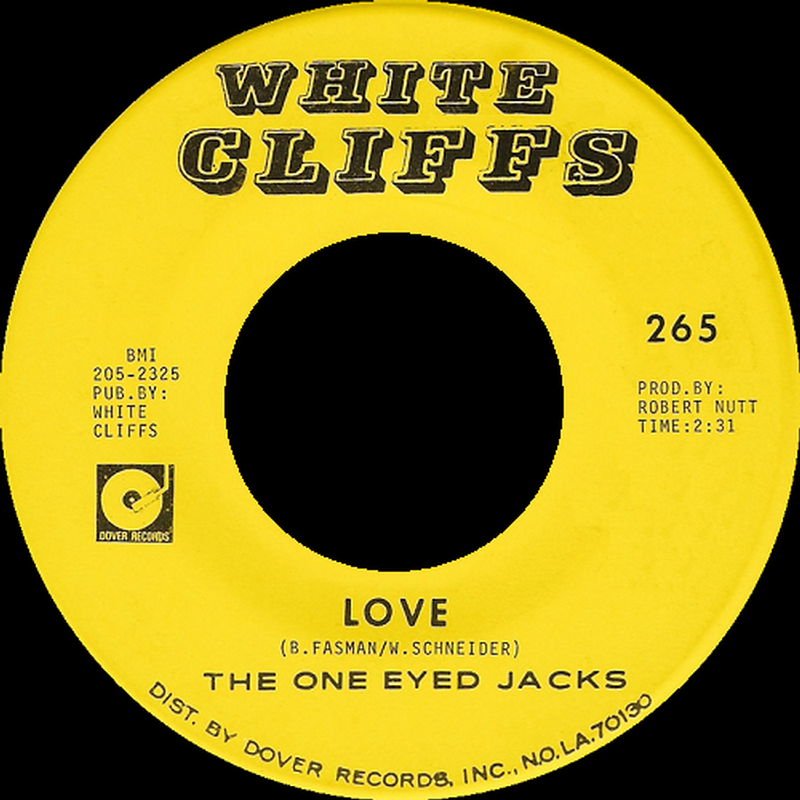 The One Eyed Jacks is considered by many to have been one of the most popular and talented late 60s pop-rock live acts of the Midwest. Unfortunately, they had difficulty creating a hit record which has since kept them in the shadows of obscurity. They formed at the University of Illinois, Champaign in 1966 and were originally a frat band made up of Sigma Alpha Epsilon members that played for beer. The group was originally comprised of Budd Carr (lead vocals), George Harvey (guitar), Barry Fasman (keyboards), Bill Schneider (bass), Bob Amran (saxophone) and Bill Gedzun (drums).

1967 saw the band issue their first single ('Die Today' b/w 'Somewhere They Can't Find Me') on the Chess subsidiary label, Lake Side. The group's next 45 (the outstanding 'Love' b/w 'Sun So High') came out later that year on the small White Cliffs label and are both excellent slices of vocal-laden psych pop. By around this time, the One Eyed Jacks had become a popular live act around the Chicago area and played on the same bills as the Buckinghams, Cryan' Shames, New Colony Six and American Breed. They also opened up for major acts like the Doors, Jefferson Airplane, Hollies, and Paul Revere & The Raiders. It was during this period that Gedzun was replaced by Rick Joswick (drums).

Through the combined efforts of their managers and booking agents, Irving Azof and Robert Nutt and popular Chi-town DJ Art Roberts, the group was signed to the legendary New York based Roulette label run by Morris Levy. The first Roulette record ('California's Callin'' b/w 'Together We're In Love') was issued in 1969 and produced by Dick Marx, who ran a big jingle music production company in Chicago and is singer Richard Marx's father. It was at around this time that Carr was kicked out of the band and replaced by Mike Murphy (lead vocals). The One Eyed Jack's second and last Roulette 45 ('Sky Of My Mind' b/w 'Getting In Your Groove') was issued later that year and produced by Ron Haffkine (who later produced Dr. Hook). Unfortunately, both records failed to chart, which prompted the band to go through more personnel changes with the replacement of Fasman and Harvey with Doug Livingston (keyboards) and Tom Kelly (guitar).

The group didn't last long with the new lineup and after they finally broke up, Kelly eventually became a famous songwriter, co-penning hit tunes for successful female artists such as Madonna, Cindi Lauper and Pat Benatar. Murphy also achieved success in becoming the lead singer and rhythm guitarist of REO Speedwagon from 1973-76.