From: Blackpool, England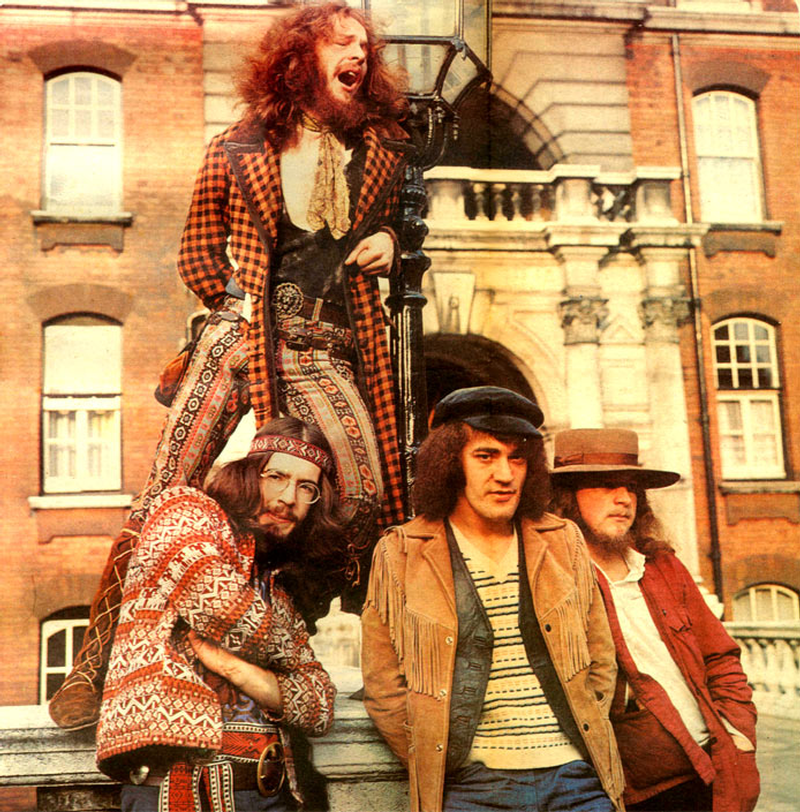 Out of all the bands that formed in the late 60s and rose to stardom in the 70s, there were very few that were as original and eclectic as Jethro Tull. Their unique fusion of blues, jazz, British folk, classical and hard-rock, coupled with complex and borderline nonsensical lyrics has over time proven to be one of those rare amalgamations which is appreciated at multiple levels; from the casual music listener to the hardcore progressive rock enthusiast. Most of the band's success (and uniqueness) can be credited to charismatic front man and true musical genius Ian Anderson (flute, acoustic guitar, lead vocals), who over the past five plus decades has written and produced the vast majority of their material.

The origins of the group can be traced all the way back to 1962 in Blackpool, England, where Anderson formed his first ensemble named the Blades. By 1964, they had evolved into a 7-piece soul-blues band called the John Evan Band (later The John Evan Smash), named after pianist and drummer John Evan. At this point, future Tull drummer Barriemore Barlow was also a member.

In 1967, the band relocated to the London area in search of more bookings, basing themselves in nearby Luton. They also travelled to Liverpool; however, money was short and within days of the move, most of the band had quit and headed back north, leaving Anderson and Glenn Cornick (bass) to join forces with Mick Abrahams (lead guitar) and his friend, Clive Bunker (drums), both from the Luton-based band McGregor's Engine. At first, the new group had trouble getting repeat bookings and took to changing their name frequently to continue playing the London club circuit. Band names were often supplied by their booking agents' staff, one of whom, a history enthusiast, eventually christened them Jethro Tull after the 18th century agriculturist. The name stuck because they were using it for the first time when a club manager actually liked their act enough to invite them back for a return performance. They were then signed to the blossoming Ellis-Wright agency and became the third band managed by the soon-to-be Chrysalis Records empire.

Their first single ('Sunshine Day' b/w 'Aeroplane') was released in February, 1968 on MGM and was written by Abrahams and produced by Derek Lawrence, while the flip side was co-written by Len Barnard and Anderson. It is interesting to note that on the label of the 45, the group's name was misspelled "Jethro Toe" making it a collector's item. In the fall of '68, they issued their debut LP titled This Was, which has a strong blues-rock feel to it, but is also quite jazzy in spots with songs like the excellent, Abrahams penned 'Move On Alone'. Also included on the album is the Rahsaan Roland Kirk jazz piece 'Serenade To A Cuckoo', which gives Anderson a showcase for his growing prowess on the flute, an instrument which he started learning to play only six months before the release of the album. The overall sound of the group at this time was described in Record Mirror newspaper by Anderson as "a sort of progressive blues with a bit of jazz".

Following Tull's first album, Abrahams left after a falling out with Anderson and formed his own band, Blodwyn Pig. There were a number of reasons for his departure: he was a blues purist, while Anderson wanted to branch out into other forms of music; Abrahams and Cornick did not get along; and Abrahams was unwilling to travel internationally or play more than three nights a week, while the others wanted to grow their success by playing as often as possible in an effort to build an international fan base. Guitarist Tony Iommi, from the group Earth (which would soon change their name to Black Sabbath), took on guitar duties for a short time after the departure of Abrahams, appearing in 'The Rolling Stones Rock And Roll Circus' (in which the group played 'A Song For Jeffrey') in December, 1968, but it turned out to be a one time only arrangement and Iommi returned to Earth after the performance. David O'List, of Attack and Nice fame, also briefly played lead guitar for the band, but didn't stick either.

After auditions for a permanent replacement guitarist in December, 1968, Anderson chose Martin Barre, a former member of the Motivation, the Penny Peeps, and Gethsemane, who was playing with Noel Redding's Fat Mattress at the time. Barre was so nervous at his first audition that he could hardly play at all, and then showed up for a second audition without an amplifier or a cord to connect his guitar to another amp. Nevertheless, Barre would become Abrahams' permanent replacement on guitar and the second longest-standing member of the band after Anderson. This new lineup released the LP Stand Up in the summer of 1969, the group's only U.K. #1 album. Written entirely by Anderson, with the exception of the jazzy rearrangement of Bach's 'Bourée', it branched out further from the blues, clearly paving a new, more eclectic direction for the group. It should also be noted that other budding progressive bands of the time, especially Family, influenced Anderson and aided in honing his unique style of songwriting and musicianship. It was during sessions for Stand Up that the band recorded one of their best-known songs ('Living In The Past), which was originally issued only as a single in May, 1969 and ended up peaking at #3 on the U.K. charts.

In early 1970, John Evan (keyboards) joined the band and they issued their third LP (Benefit) that spring. Most people consider this album to be the most psychedelic Tull album by far, with loony songs like 'Play In Time', 'Son' and 'With You There To Help Me'. Cornick left following Benefit, and formed the band Wild Turkey. He was replaced by Jeffrey Hammond, a childhood friend of Anderson who's name appears in the songs 'A Song For Jeffrey', 'Jeffrey Goes To Leicester Square' and 'For Michael Collins, Jeffrey And Me'. Hammond was often credited on Jethro Tull albums as "Jeffrey Hammond-Hammond", a reference to the fact that Hammond's mother's maiden name was also "Hammond" (no relation to his father obviously).

In the spring of 1971, Jethro Tull issued their best known work, the LP Aqualung. On this album, Anderson's lyrics include strong opinions about religion and society. Though consisting of distinct tracks, there is a common narrative thread leading some rock critics and connoisseurs to label it as a concept album. The lyrics of the record's title song feature a disreputable tramp, wandering the streets and "eyeing little girls with bad intent" (it should be noted that most of the lyrics to this song were actually written by Anderson's wife at the time named Jennie). The focus of another classic track on the album ('Cross-Eyed Mary') is about a young prostitute who operates from near a school. 'My God' (actually written before the LP Benefit and already a staple of the band's live act before Aqualung's release) is a full-frontal assault on ecclesiastic excesses: "People what have you done/locked Him in His golden cage/made Him bend to your religion/Him resurrected from the grave..." In striking contrast, the gentle, acoustic 'Wond'ring Aloud' is a love song. The title track and the hard-driving 'Locomotive Breath' remain staples of U.S. classic rock stations and, to this day, are rarely left out of any Tull concert.

By mid 1971, Bunker had quit the group due to their heavy touring schedule and his wish to spend more time with his family. He was replaced by Barriemore Barlow (drums). Later that year, Anderson, due to disagreeing with the assessment from some music critics that Aqualung had been a concept album, decided to give them "the mother of all concept albums", including the preposterous idea that the lyrics had been written by an eight year old boy named Gerald "Little Milton" Bostock. The album (Thick As A Brick) consisted of a single track running over 43 minutes long (an innovation previously unheard of in rock music), split over the two sides of the LP, with a number of movements melded together and some repeating themes. The first movement, with its distinctive acoustic guitar riff, received some airplay on rock stations at the time. Thick As A Brick was also the first Tull album to reach #1 on the U.S. charts (the following year's A Passion Play being the only other) and is considered by TWOS to be by far their best work. The album's lineup (Anderson, Barre, Evan, Hammond, and Barlow) would then remain intact until the end of 1975.

By the mid 70s, Tull became a revolving door of musicians, save Anderson and Barre who remained as the band's only continuous, long lasting members. The group continued releasing strong, commercially successful LPs throughout the decade, the best being Minstrel In The Gallery (1975), Songs From The Wood (1977) and Heavy Horses (1978). During this period, the group was at its most popular, issuing a studio album every year, all of which went either gold or platinum. Their records were flying off of the shelves and they were booking and selling out huge auditoriums all over the world.

In the early 1980s, Tull moved in the direction of synthesized, electronic rock, a genre that was highly popular at the time. Anderson recruited Scottish keyboardist Peter-John Vettese in 1982, who became a huge contributor on the LPs The Broadsword And The Beast (1982), Anderson's first solo album Walk Into Light (1983) and finally Under Wraps (1984). Although record sales had begun to drop along with the band's overall following, all of these records are quite good and shouldn't be overlooked. In 1987, the band saw a resurgence in popularity with the release of their LP Crest Of A Knave. This album saw a return to their more classic, 70s style sound and fans, new and old alike loved it. In 1989, the record won a Grammy award for "Best Hard Rock/Metal Performance Vocal or Instrumental".

Throughout the 1990s the band continued performing live and issuing LPs, although new material studio efforts were less frequent. Their last studio album ('The Jethro Tull Christmas Album') was released in 2003 and was very well received by critics and hardcore fans alike, again returning them back to their late 60s/early 70s glory days. The group finally decided to call it quits in 2012 when Anderson and Barre decided to go their separate ways.