Sweet Thursday
From: London, England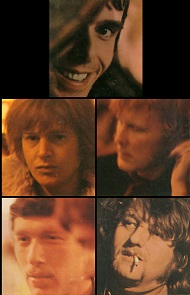 This short-lived U.K. group is best known for including iconic session musician Nicky Hopkins (keyboards), who in the late 60s worked very closely with the likes of the Kinks, Rolling Stones, Jeff Beck and even The Beatles. Other members included Jon Mark (guitar, vocals), Alun Davies (guitar, vocals), Brian Odgers (bass, woodwinds) and Harvey Burns (percussion).

The band formed in the latter half of 1968, signed to the U.S. based Tetragrammaton label and issued their debut single ('Getting It Together' b/w 'Mary On The Runaround') that November. An LP then followed in the summer of '69, which includes the trippy 'Molly'. Unfortunately, Tetragrammaton went bust soon after the album's release preventing a tour and prompting a premature breakup. Although the group was British, ironically neither their 45 nor LP were originally released there.

After the band dissolved, Hopkins joined Quicksilver Messenger Service as a full-fledged member. He also worked closely with the Steve Miller Band and Jefferson Airplane around this time, even appearing with the Airplane at the Woodstock festival. Davies also became extremely successful, collaborating with Cat Stevens on his most famous releases throughout the 1970s.

Artist information sources include: The book, 'Tapestry of Delights Revisited' by Vernon Joynson.