From: Clevedon, New Zealand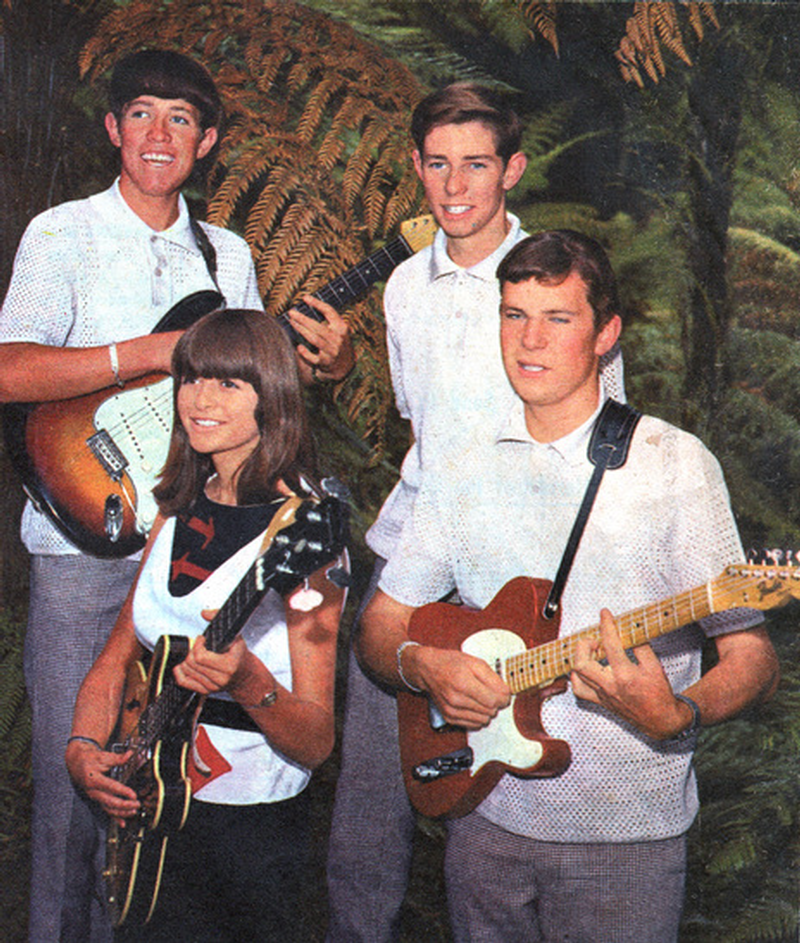 Named after their hometown of Clevedon, New Zealand just outside of Auckland, this family outfit formed in 1963 with siblings Ron (lead guitar, vocals), Gaye (bass, organ, vocals) and Graham Brown (drums), along with their school friend and neighbor Milton Lane (rhythm guitar). The band members were really all just children when they started, with the Brown brothers' sister Gaye being the youngest at the wee age of 10. They quickly built up a strong local following playing mainly Shadows pop and folk covers that were accentuated by their strong, 4-part vocal harmony.

In 1965, the group started gigging regularly at many of the top Auckland venues, eventually receiving a residency at the Surfside Ballroom. It wasn't long before they were discovered by big-time area promoter and record company owner Benny Levin, who quickly signed them to his Impact label. They issued their first 45 in 1966 ('How You Lied' b/w 'Rooftops And Chimneys'), which made little impact and prompted Lane, who also worked hard on his family farm, to quit after becoming burnt out from the rigorous daily rehearsing and gigging. It didn't take long to find his replacement, Rob Aicken (bass, guitar), who was already a big fan of the band and took over the bass responsibilities from Gaye, allowing her to focus full-time on the keyboards. They then began playing harder edged British rock covers from the likes of the Animals, Kinks and Yardbirds, and recorded the latter band's track 'Lost Woman', which was released on the B-side of their second single in the spring of 1967.

Later in '67, the group auditioned for a popular local TV dance show called The We 3, beating out all of the area's top outfits to become the program's featured band that made a weekly appearance. Two more Impact singles followed between late 1967 and early 1968, with the second including a very respectable cover of the Small Faces' 'Up The Wooden Hills To Bedfordshire'. The band was then approached by an Australian promoter to go on a four month tour performing for military troops in Vietnam, but this unfortunately fell through after the Tet Offensive occurred. The group did however end up relocating to Australia where they shortened their name to the Cleves and started playing the top clubs in Sydney. It wasn't long before they were spotted by a local talent agent who got them an appearance playing in an episode of the 1969 action TV show Riptide, which starred American actor Ty Hardin. This in turn helped get them signed to the Festival label, where they issued a few more 45s.

In 1970, the band wrote and performed the music for an obscure short film titled Michael, which was directed by now famous movie maker Peter Weir. Later that year, they began work on a prog-psych, self-titled LP, which was issued on the Infinity Label in 1971. Graham Brown then got married, prompting him to leave the fold and be replaced by Ace Follington (drums). This lineup then relocated to the U.K. where they changed their name to Bitch and issued three more singles before finally calling it quits in 1973.

Artist information sources include: The book, 'Dreams, Fantasies, and Nightmares From Far Away Lands Revisited' by Vernon Joynson and a band biography on the AudioCulture website.