From: San Francisco, CA, USA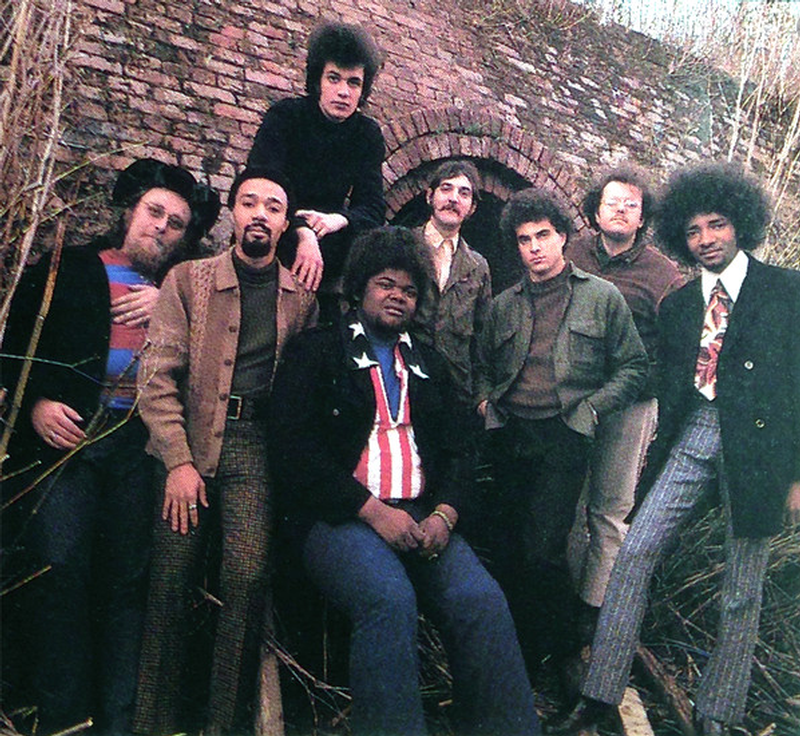 The Electric Flag (originally dubbed the American Music Band) was formed by Mike Bloomfield (guitar) in the spring of 1967 after leaving the Butterfield Blues Band. He wanted to form and lead a diverse group of professional musicians that would feature what he called "American Music", combining blues, rock, soul, psychedelia and jazz into a fresh new sound. Bloomfield first recruited a couple of friends he knew from his Chicago days, Barry Goldberg (organ) and Nick Gravenites (vocals), and set up shop in San Francisco. Next came Harvey Brooks (bass) who Bloomfield had played with in Bob Dylan's backup band while recording his pivotal 1965 LP Highway 61 Revisited. Rounding out the group was established session musician Buddy Miles (drums) and a fabulous horn section consisting of Herbie Rich (baritone saxophone), Pete Strazza (tenor saxophone) and last but not least, Marcus Doubleday (trumpet).

Before playing live anywhere, the group first recorded the soundtrack for the early Jack Nicholson written drugsploitation film The Trip, which stars a young Peter Fonda. This album is quite unusual to say the least, containing mostly spaced-out, complex instrumentals all penned by Bloomfield. The band finally made a trial-by-fire live debut appearance at the Monterey Pop Festival in June, 1967 and was very well received. Following Monterey, the Flag toured the northeastern U.S. and then performed in the San Francisco area while starting work on an LP for Columbia Records. Though they were a critical success, the group remained largely unknown to the general public due in part to their inability to complete an album in a timely manner.

By early 1968, Buddy Miles had also become a dominant force within the band, and he and Bloomfield started to butt heads over their direction. It wasn't until the spring of 1968 that they finally released their debut LP, appropriately titled A Long Time Comin'. The album was one of the first to create a "big band" rock and roll sound similar to, but predating both Blood, Sweat & Tears and Chicago. The record did fairly well, peaking at #31 on the U.S. charts and features the outstanding Gravenites penned 'Groovin' Is Easy', which was also issued as a single about six months earlier.

In May of 1968, only about a month after the issue of A Long Time Comin', Bloomfield called it quits due to an ongoing conflict with Miles over control of the band. Later that year, he went on to join up with Al Kooper and Steven Stills with whom he co-created the landmark Bloomfield, Kooper & Stills Super Session LP. Goldberg also left the fold, giving Herbie Rich organ responsibilities on top of his saxophone duties. The Flag continued with Miles at the helm, bringing in Hoshal Wright (guitar) to replace Bloomfield. The band soon got to work on a second LP, which was issued in December, 1968 and titled An American Music Band. Although the album only peaked at #76 on the U.S. charts, it's a rock solid follow up and in some people's opinion, superior to the band's initial release. The record definitely has a cooler, jazzier, more seamless melodic vibe to it, with track highlights that include 'Nothing To Do', 'See To Your Neighbor' and 'Soul Searchin''.

By mid-1969, the band had broken up (Miles had already began involving himself in other projects, including session work for the Jimi Hendrix Experience). They did however reunite with Bloomfield in 1974 and released an LP ('The Band Kept Playing'), but it sold poorly and they soon split for good.

Artist information sources include: The book, 'Fuzz, Acid, and Flowers Revisited' by Vernon Joynson.