From: Cambridge, England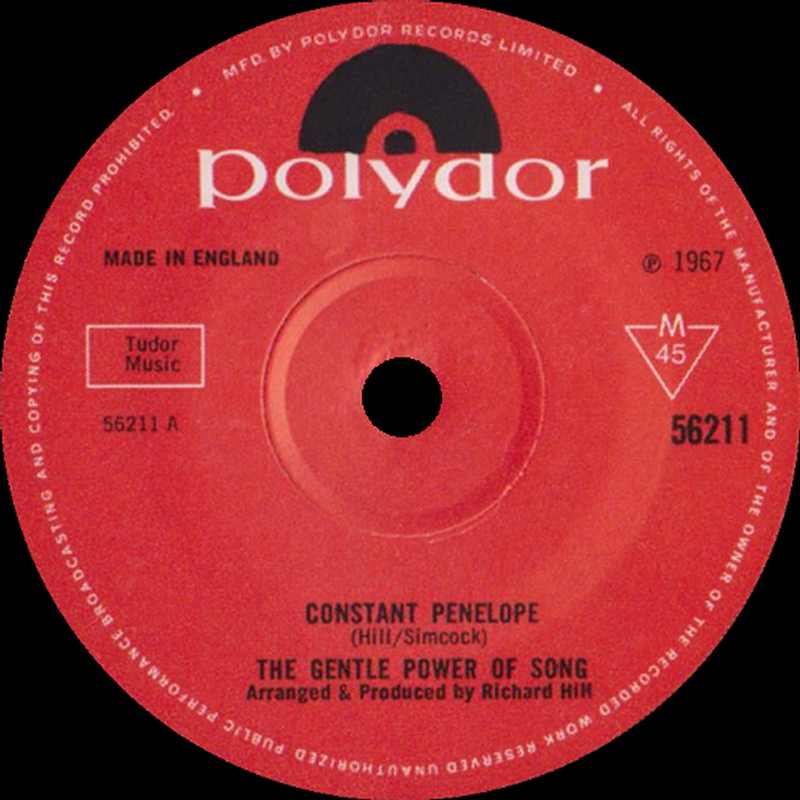 Originally called the Fab Cab (short for fabulous cabaret), this choral ensemble was formed in 1966 by a group of students from Caius College in Cambridge, England. Original members included Hugh Dibley (tenor vocals), John Potter (tenor vocals), David Sloan (baritone vocals), Marcus Bicknell (baritone vocals), Chris Johns (bass vocals) and Alan Fairs (bass-baritone vocals). They honed their chops playing mostly covers, including a lot of Beatles and even the Batman TV show theme song, replacing "Batman" with "Fab Cab" (making it their theme song of course).

In the spring of 1967, they played an event called the May Ball at Caius College and were discovered by Richard Hill, who changed their name to the Gentle Power Of Song and ultimately got them a record deal with Polydor. They issued their debut single ('Constant Penelope') in November of '67, which is very unique with interesting harmony, well placed French horn, original time changes and even a bit of trippy fuzz guitar! As on all their records, the instrumentation was provided by session musicians and produced, arranged, and co-written by Hill. Their first LP (Peace) was released about a month later and includes a collection of straight laced Christmas carols.

In 1968, the ensemble issued a second LP titled Circus, which includes mostly covers of Beatles, Beach Boys and Association tunes, but also a handful of originals including 'Constant Penelope'. Around this time, Potter left the fold and was replaced by Robert Kirby (tenor vocals), but they couldn't keep it together and eventually called it quits later in the year. Kirby went on to develop a successful career as an arranger of string sections for a slew of famous musicians including Nick Drake, Elton John and Elvis Costello.