From: Southampton, England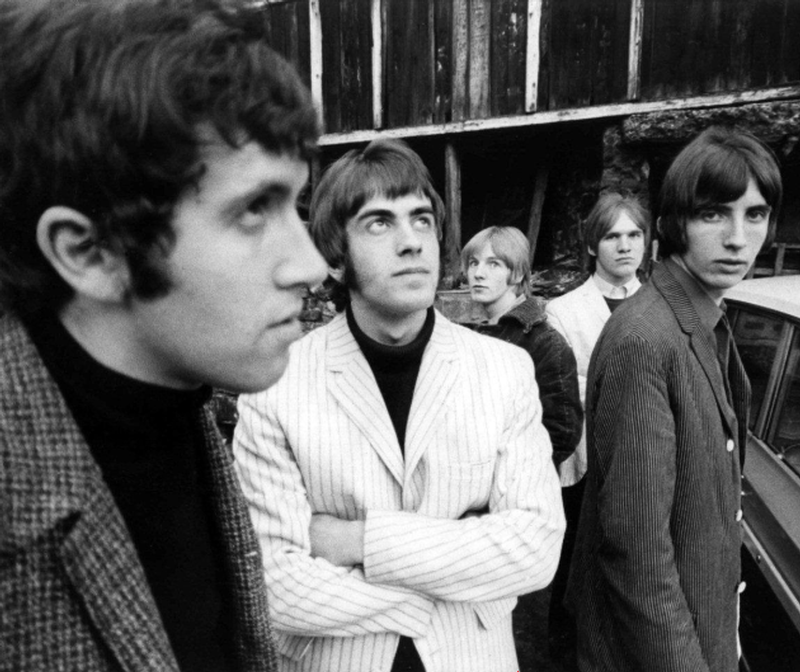 French for "lily flower", the Fleur De Lys (or Les Fleur De Lys as they were originally known) is considered by many to have been one of the most talented and underrated U.K. underground mod-psych bands of the mid-late 60s. One of the main reasons for their continued obscurity is a confusing past, which is peppered with a slew of personnel changes and songs released under band pseudonyms. The only member of the group to survive its lineup from start to finish (1964 - 1969) was Keith Guster (drums).

The band formed in Southampton, England during the fall of 1964 with the original lineup of Guster, Alex Chamberlain (organ), Gary Churchill (bass) and Frank Smith (guitar, vocals). They started out playing mostly local spots, but were soon signed to the Immediate label after being discovered while gigging in London. A young Jimmy Page of future Yardbirds and Led Zeppelin fame was assigned as their producer to help them record their first single, a cover of Buddy Holly's 'Moondreams' b/w 'Wait For Me'. Unfortunately, the 45 didn't chart and the band disintegrated, leaving Guster to reform the group with new members Gordon Haskell (bass), Pete Sears (keyboards) and Phil Sawyer (guitar). It was this lineup that recorded the excellent Who cover of 'Circles', which was released in 1966 on the A-side of their second 45, and was again produced by Page. Unfortunately this single also resulted in little commercial success, causing the band to be dropped by Immediate.

The group continued to gig and also added a lead vocalist to their ranks named Chris Andrews. They soon were signed to Polydor in the summer of 1966, but the band again began to splinter when Sears left to join the Sam Gopal Dream (he eventually enjoyed major success as a member of the Jefferson Starship in the mid 70s). Sawyer also bolted to join the Spencer Davis Group, which briefly made the Fleur De Lys a trio before Bryan Haworth (guitar) was added. It was this quartet that released their third single ('Mud In Your Eye' b/w 'I've Been Trying') in late '66.

A chance meeting with producer and manager Frank Fenter soon led to the group backing the young South African singer Sharon Tandy in both the studio and for live performances. As a session ensemble, they also toured Holland with Aretha Franklin, backed Isaac Hayes and recorded an LP with Barney Kessel. It was about this time that Fenter also got the Fleur De Lys to join forces with guitarist and songwriter Peter Lynton to form a psychedelic project called Rupert's People, which released the single 'Reflections Of Charles Brown' b/w 'Hold On'. Both songs were penned by Lynton and the only other member that liked them was Andrews, who promptly split to continue on with Rupert's People, while Fleur De Lys went their own direction as a trio again. It was this lineup that released their outstanding and quite haunting fourth single 'I Can See A Light' b/w 'Prodigal Son' in 1967, with Haworth on vocals. It was also at around this time that they joined forces with William E. Kimber and released the groovy single 'I Like What I'm Trying To Do' under the pseudonym Waygood Ellis.

In the spring of 1968, they issued the outstanding Haskell penned and sung 'Gong With A Luminous Nose' b/w the hard-driving instrumental 'Hammer Head'. "Gong" is based on the famous nonsensical rhyme of Edward Lear and is considered by many to be one of the best U.K. psychedelic songs of the era. It was about this time that they also started work on an LP, but it was never finished and all that was recorded of it was unfortunately lost, and has yet to be found. Later in 1968, Haskell left to join Cupid's Inspiration and then King Crimson, and was replaced by Tago Byers (bass). At about this time, Tony Head (vocals) also joined the group and they switched record labels again; this time to Atlantic. They first released the single 'Stop Crossing That Bridge' b/w 'Brick By Brick (Stone By Stone)', but also issued another 45 under the pseudonym Chocolate Frog, which contains the loungy B-side 'I Forgive You'.

In 1969, Fleur De Lys played as the backing band on John Bromley's solo LP titled Sing, which includes the excellent track 'So Many Things'. At about this time, they also released a final single, 'You're Just A Liar' b/w 'One City Girl'. After little commercial success, Haworth finally called it quits and was replaced by former Scots Of St. James member Graham Maitland (guitar). This lineup was short lived however, and the band soon broke up for good.

Artist information sources include: The book, 'Tapestry of Delights Revisited' by Vernon Joynson.