From: Los Angeles, CA, USA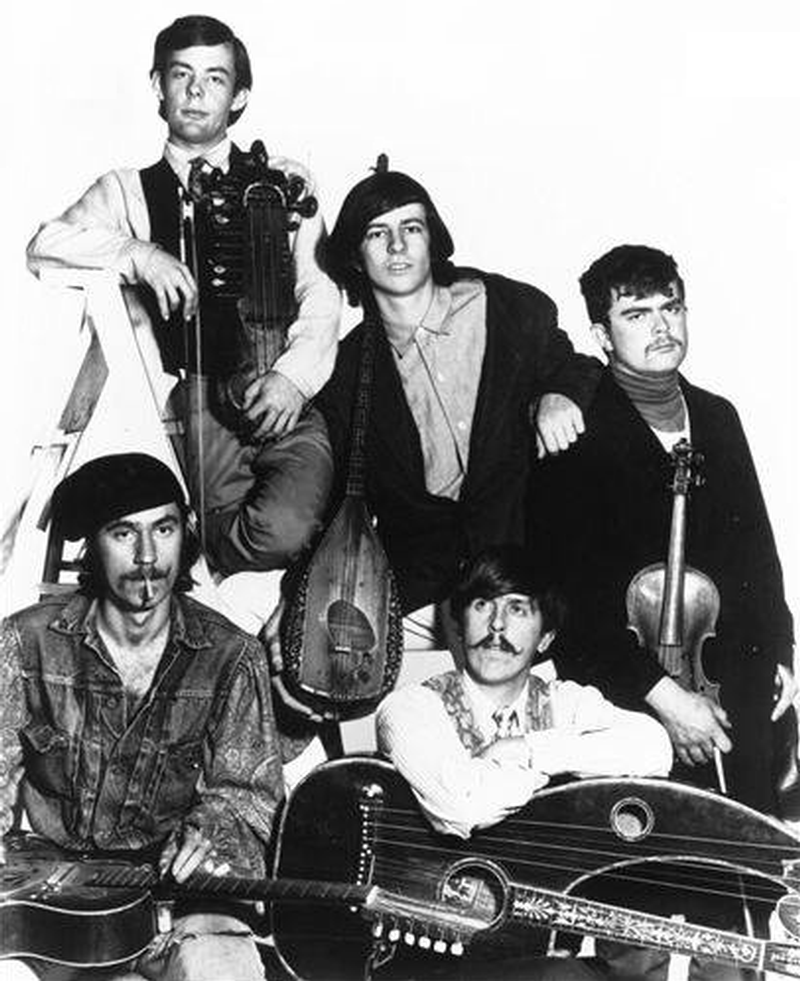 Jimmy Page of the Yardbirds and Led Zeppelin fame once called the Kaleidoscope his "favorite band of all time – my ideal band". They were indeed an outstanding ensemble with an incredibly eclectic yet easily accessible sound that is arguably unmatched in the realm of 60s psychedelia. Original members included David Lindley (banjo, fiddle, mandolin, guitar, harp-guitar, 7-string banjo), Chris Darrow (bass, banjo, mandolin, fiddle, autoharp, harmonica, clarinet), Solomon Feldthouse (saz bouzoukee, dobro, vina, doumbeg, dulcimer, fiddle, 12-string guitar), Chester Crill (violin, viola, bass, piano, organ, harmonica) and John Vidican (percussion).

Origins of the group can be traced back to early 1964 and Lindley's first band, the Mad Mountain Ramblers, that performed around the Los Angeles area folk clubs. There he met Darrow, who was a member of a rival group called the Re-Organized Dry City Players. Soon afterwards, the pair joined forces and formed a new group they named the Dry City Scat Band, but Darrow soon left to set up a new rock group called the Floggs. Lindley also began forming his own electric group and in the course of doing so met Feldthouse, who had been raised in Turkey and, on returning to the U.S., had performed flamenco music and as an accompanist to belly dancing groups. Lindley and Feldthouse then began performing as the duo David & Solomon when they met Crill. They invited him to join their band and towards the end of 1966 added Darrow and drummer John Vidican to form the Kaleidoscope.

The band began gigging in clubs and it wasn't long before they scored a contract with Epic Records. They issued their debut single ('Please' b/w 'Elevator Man') in December 1966, which was produced by Barry Friedman (later known as Frazier Mohawk). Their first LP titled Side Trips followed in May, 1967 and showcases the group's musical diversity and studio experimentation. It includes Feldthouse's Middle East influenced 'Egyptian Gardens', Darrow's somber Vietnam War protest anthem 'Keep Your Mind Open', and Lindley's excellent 'Why Try'. As a side note, in an effort to keep his playing in a rock band a secret from his parents, Crill was credited as "Fenrus Epp" in the album liner notes and would continue to adopt various other aliases on future recordings. Later in 1967, the band collaborated with veteran rock and blues greats Larry Williams and Johnny "Guitar" Watson and issued the outstanding psych-soul single 'Nobody'.

When the group played live, songs were many times interspersed with lengthy, exotic stringed instrument solos from Feldthouse or Lindley, and occasionally Feldthouse would bring belly dancers or flamenco dancers on stage to accent the music. They were such adept musicians that they were extremely proficient in playing many different styles of music, including rock, blues, folk, jazz, Middle Eastern and were even not afraid to feature music by Cab Calloway and Duke Ellington in their repertoire. The Kaleidoscope were one of the progenitors of World Music.

In late 1967, the band issued their second LP titled Beacon From Mars, which continues to flaunt their diverse mix of music styles. Highlights on this album include the outstanding Egyptian Candy cover of 'I Found Out', Darrow's laid back 'Life Will Pass You By' and a hard-driving cover of Willie Cobbs' 'You Don't Love Me'. Towards the end of 1968, the Kaleidoscope supported Cream during their U.S. farewell tour.

By the release of the group's third LP Incredible Kaleidoscope in mid 1969, Darrow and Vidican had left the fold and were replaced by Stuart Brotman (bass, vocals), who had previously been an early member of Canned Heat, and Paul Lagos (percussion). Highlights on this album include the outstanding original 'Lie To Me' and a great heavy cover of the traditional song 'Cuckoo'. Later that year, Kaleidoscope contributed two songs ('Brother Mary' and 'Mickey's Tune') on the motion picture soundtrack of Michaelangelo Antonioni's Zabriskie Point.

For their fourth and final LP Bernice, issued in the spring of 1970, Brotman and Lagos were no longer members and had been replaced by Ron Johnson (bass) and Jeff Kaplan (percussion). Highlights on this album include the trippy 'To Know Is Not To Be' and a strung out remake of their 1967 B-side 'Little Orphan Nannie', appropriately titled 'Lulu Arfin Nanny'. Unfortunately, the album was bashed by critics and sold very poorly, prompting the band to split up soon after its release. Lindley became a highly respected session and live musician with Linda Ronstadt and Jackson Browne among others, before forming his own band, El Rayo-X, in the early 1980s. Darrow joined the Nitty Gritty Dirt Band and then formed the Corvettes before becoming a leading session musician and solo performer in his own right.

Artist information sources include: The book, 'Fuzz, Acid and Flowers Revisited' by Vernon Joynson and an article by Richie Unterberger at All Music Guide.