From: San Francisco, CA, USA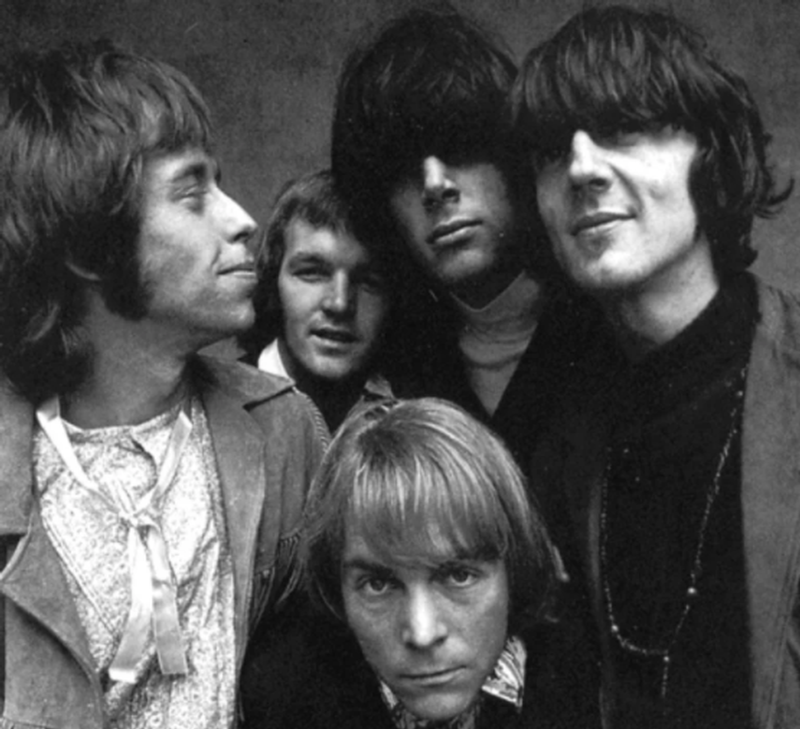 Moby Grape is considered by many to have been one of the best, but also one of the most unlucky and underrated psychedelic rock bands to come out of San Francisco in the late 60s. With all members contributing to singing and songwriting, the group successfully fused elements of rock, folk, blues, country, and jazz into an eclectic style all of their own. They are also credited with issuing one of the best debut albums of the psychedelic era, from both sides of the Atlantic.

The group was formed in late 1966 by Canadian native Alexander "Skip" Spence (guitar, vocals) and Bay Area manager and producer Matthew Katz, both of whom had been previously associated with the Jefferson Airplane, with Spence as the band's first drummer and Katz as their former manager. Jerry Miller (guitar, vocals) and Don Stevenson (drums, vocals) were recruited from the Seattle turned San Francisco ensemble the Frantics (they relocated to the Bay Area in 1965 from a recommendation of soon to be Grateful Dead member Jerry Garcia), while other members Peter Lewis (guitar, vocals) and Bob Mosley (bass, vocals) came from southern California bands: the Cornells of L.A. and the Misfits of San Diego respectfully. Mosley had also been a brief member of the Bay Area band the Vejtables. The outfit's name, selected by Mosley and Spence, came from the punch line of the joke "What's big and purple and lives in the ocean?".

While Miller was their principal lead guitarist, all three axe men were very good musicians and took on that responsibility at various points, often strategically playing off of each other in a guitar form associated with the band called "crosstalk". All band members composed tracks and sang vocals for their outstanding 1967 self-titled LP, with Mosley, Lewis, and Spence generally writing alone, and Miller and Stevenson typically collaborating together. The album has been ranked as high as #121 in Rolling Stone magazine's "500 Greatest Albums of All Time" and noted rock critic Robert Christgau listed it as one of the 40 essential albums of 1967. One of the best tracks featured on the record (Spence's 'Omaha') is currently listed at #95 in Rolling Stone's "100 Greatest Guitar Songs of All Time", with it being described as follows: "On their best single, Jerry Miller, Peter Lewis and Skip Spence compete in a three-way guitar battle for two and a quarter red-hot minutes, each of them charging at Spence's song from different angles, no one yielding to anyone else". As good as the record is though, it only sold modestly well due to it being drastically mismarketed when Columbia Records simultaneously released five supporting singles and hosted elaborate press parties that included fuzzy purple folders and lavender Clematis flower pedals falling from the ceiling, giving the impression that the band was being over-hyped, especially to the hippie counter-culture who was their primary audience. To make matters even worse, the album's front cover is just plain ugly, with Stevenson flipping the bird, which was originally unnoticed by record executives and would end up being airbrushed out of subsequent releases.

Moby Grape is also considered to have been one of the best and tightest live acts of the San Francisco scene, playing regularly at all the major local venues including the Fillmore Auditorium, Avalon Ballroom and Winterland. The group also made an appearance at the Monterey Pop Festival, but was not included in the film documentary of the event that followed due to managerial and legal disputes instituted by Katz when he reportedly demanded a staggering one-million dollars for the right to use their footage. According to Peter Lewis, "(Katz) told Lou Adler they had to pay us a million bucks to film us at the Monterey Pop Festival. So instead of putting us on Saturday night right before Otis Redding, they wound up putting us on at sunset on Friday when there was nobody in the place." Jerry Miller recalls that Laura Nyro was given Moby Grape's original position opening for Otis Redding, "because everybody was arguing. Nobody wanted to play first and I said that would be fine for me." In addition to the marketing backlash, band members found themselves in legal trouble for charges (later dropped) of consorting with underage females as the relationship with their manager Katz rapidly deteriorated.

A mediocre follow up LP (confusingly titled Wow) was issued in the spring of 1968, which includes the standout tracks 'He', 'Motorcycle Irene' and 'Rose Colored Eyes'. Marketed alongside the album was a second disc titled Grape Jam, which includes some rather unimpressive live material and features none other than Al Kooper and Mike Bloomfield on keyboards (Kooper's band Blood, Sweat & Tears had opened for the Grape in 1967). These records were panned by critics prompting the outfit to temporarily go their separate ways by the end of 1968. It wasn't long though before they reformed without Spence, who had degenerated into severe mental illness, and issued a third studio LP in early 1969 simply titled Moby Grape '69, which is a noticeable improvement from their previous effort and includes some great songs, including 'Captain Nemo', 'Going Nowhere' and Spence's awesome 'Seeing'. Soon after its release, Mosley shocked the group when he quit to join the Marines! A fourth LP (Truly Fine Citizen) was then issued in the summer of 1969 by the remaining three members with Bob Moore on bass, and includes the excellent title track. This record made little commercial impact, prompting the group to break up again.

In 1971, all five original members reunited and issued the disappointing LP 20 Granite Creek on Reprise Records. After a few disastrous live appearances to support the album, Spence quit again leaving the remaining members to play on for a few more years before calling it quits again. Another reunion occurred in 1984 when all members save Spence got back together and issued the LP Moby Grape '84, which was produced by Katz on his San Francisco Sound label and was to be their last studio effort to date. The band has reunited on several occasions since however, with TWOS being lucky enough to see them at the 40th Anniversary of the Summer of Love in San Francisco back in 2007. In summary, the story of Moby Grape can unfortunately be best described by author and editor Jeff Tamarkin who once said that "the Grape's saga is one of squandered potential, absurdly misguided decisions, bad luck, blunders and excruciating heartbreak, all set to the tune of some of the greatest rock and roll ever to emerge from San Francisco. Moby Grape could have had it all, but they ended up with nothing, and less."

Artist information sources include: The book, 'Fuzz, Acid and Flowers Revisited' by Vernon Joynson and an article by Richie Unterberger at All Music Guide.