The Music Machine
From: Los Angeles, CA, USA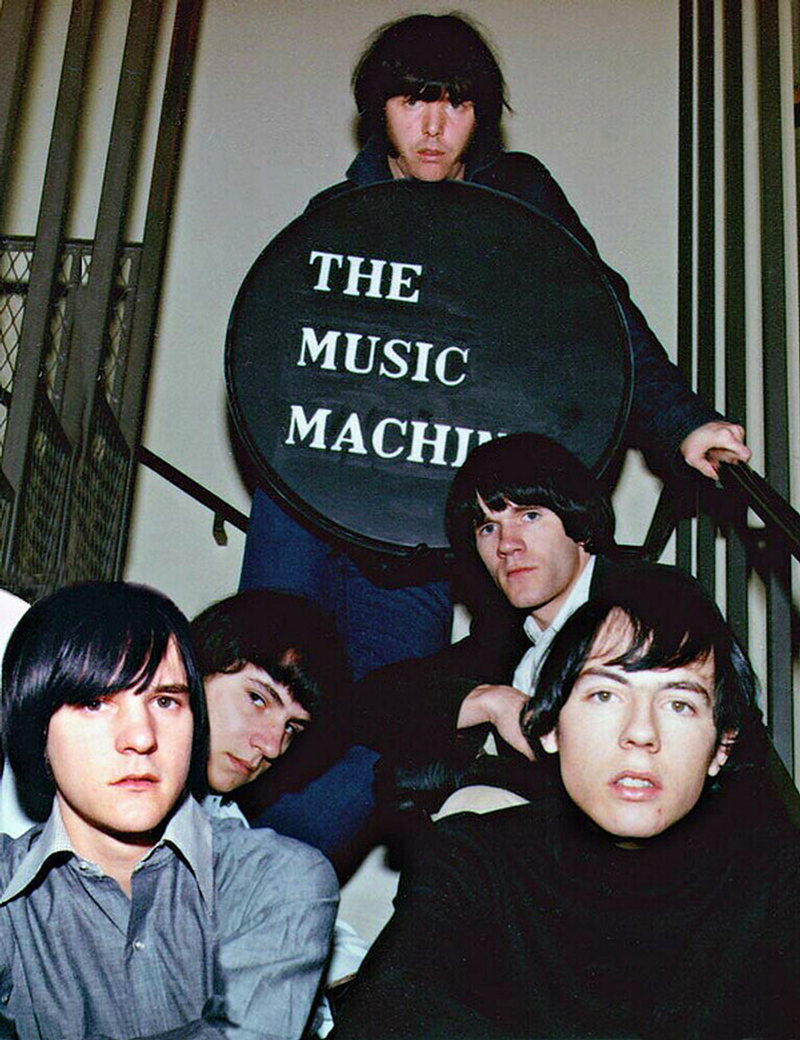 The Music Machine was an L.A. based garage-psych band fronted by singer-songwriter Sean Bonniwell (lead vocals, rhythm guitar) that is best known for scoring a Top 20 hit with the hard-edged Talk Talk' in 1966. The group's sound was defined by fuzz-toned guitar instrumentals, and a Farfisa organ, uniquely tuned lower in comparison to more conventional musical acts. The band is now considered influential proto-punk pioneers, and although their success was brief, they are still recognized for establishing one of the more aggressive and rebellious musical stances of the era.

The nucleus of the ensemble was formed in 1965 when ex-folk singer Bonniwell, who was playing at the time in a group known as the Wayfarers, began jamming with Keith Olsen (bass, vocals) and Ron Edgar (drums) in a hotel in Orange County, CA. Olsen had previously performed in Gale Garnett's backing band. It wasn't long before the three formed a folk rock group named the Raggamuffins, and recorded four songs that didn't get released at the time. Bonniwell and Olsen were enthusiastically experimenting while the group arranged strict rehearsing regiments in Bonniwell's garage. The band purchased supplies for a homemade fuzz-tone switch, and, under the instruction of Bonniwell, they tuned their instruments a key lower than what was typically performed with their contemporaries. In addition, the Ragamuffins dressed in noire, sported dyed-black hair, and a single leather glove to present a unified image of the band, and later become influential on prototypical punk groups.

Auditions were held in early 1966 to expand the group, resulting in the recruitment of Mark Landon (lead guitar) and Doug Rhodes (organ), who was previously a session musician for the Association. To reflect on the new line-up, Bonniwell changed the group's name to the Music Machine, a moniker expressing the extremely large quantity of original songs Bonniwell was composing. The ensemble built a name for themselves by performing in the L.A. clubs, and with Bonniwell as the de facto leader and creative force of the band, the Music Machine began to develop a blend of proto-punk and psychedelia, with a repertoire that revolved around Bonniwell's self-penned material and covers. The band's sound was highlighted by the oddly striking and punkish vocalization of Bonniwell, with an energized technique influenced by early rock and roll. The Music Machine's sound was made all the more unique by Landon's wiry guitar playing, Olsen's reverberate bass sound, and cymbal-punctuated drumming of Edgar, which gave the band a heavier, harder-edged sound than many of their contemporaries.

The band caught the attention of record producer Brian Ross who recorded their first two tracks which were issued on their first 45 (the raucous 'Talk Talk' b/w 'Come On In') in late 1966. 'Talk Talk' of course became a big hit peaking at #15 on the Billboard Hot 100. Following their rising success, the band toured heavily to promote the single, but were then forced to hastily record their debut album right after touring concluded. Bonniwell expressed his disapproval by saying "...we recorded the Turn On album after a 30 day tour. Mark's fingers were literally bleeding. I could hardly speak, much less sing". Nonetheless, their debut album titled 'Turn On' was released on December 31, 1966 on the Original Sound label with seven of the twelve tracks being originals written by Bonniwell. Their follow-up single ('The People In Me' b/w 'Masculine Intuition') didn't do nearly as well as the first, peaking at #66, and was the last record for the band to chart nationally.

There were considerations to initiate a European tour and also accepting a spot at the Monterey Pop Festival, but the group's management amazingly turned down all the offers from festival organizers and instead, the band was overextended as it toured throughout the U.S. on a poorly-planned schedule. After the promotional tour of the U.S., the rest of the original line-up, except Bonniwell, withdrew from group due to persisting internal conflicts. Olsen, Rhodes and Edgar subsequently teamed-up with Curt Boettcher and others to record as part of the Ballroom, Sagittarius and the Millennium.

In 1967, the Music Machine, essentially only Bonniwell at this point, was signed to Warner Bros. and closely renamed the Bonniwell Music Machine to give more prominence to the band's core member, songwriter and vocalist. A self-titled LP was released that year, made up mostly of previously recorded singles with the original line-up. Session musicians were also utilized, but they were disinterested with Bonniwell's experimental sound, and only sought to perform with conventional musical structures. As a result, Bonniwell spent hours overdubbing and mastering recordings, an activity he normally did not want to be a part of, to meet his intended designs. Bonniwell admitted that chemistry with the musicians was inadequate and that he missed his former band-mates. In 1968, Bonniwell continued to issue singles on Warner Bros. using the Music Machine moniker, one song of particular note being the excellent 'To The Light'.

In 1969, a few more 45s were issued, one on the Bell label and the other on Capitol, but neither sold well. A third LP was also recorded but never released, prompting Bonniwell to finally call it quits as the Music Machine. He did forge on to record a final solo album, but it too was commercially unsuccessful. He ultimately took a long hiatus from music and passed away from cancer in December, 2011.

Artist information sources include: The book, 'Fuzz, Acid, and Flowers Revisited' by Vernon Joynson.