From: London, England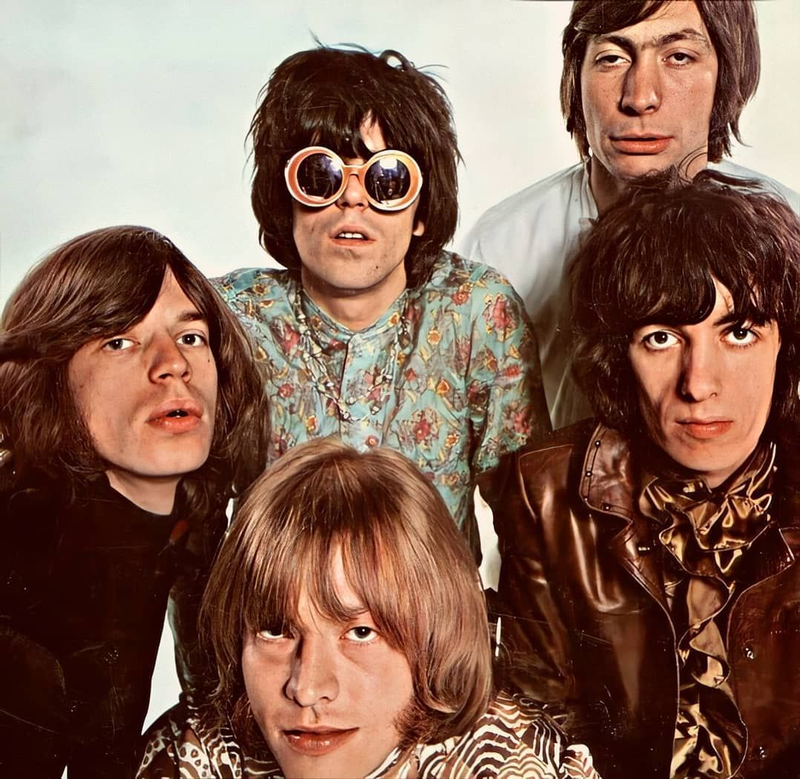 The Rolling Stones (originally named the Rollin' Stones after the Muddy Waters track 'Rollin' Stone') formed in London during the British blues revival of the early 60s. Original members, founder Brian Jones (guitar), along with Keith Richards (guitar), Mick Jagger (vocals), Dick Taylor (bass), Ian Stewart (piano) and Mick Avory (drums) hammered out raw blues-rock and gained notoriety for their crude behavior and scruffy appearance. A few weeks after forming, Taylor left the band and was replaced by Bill Wyman (bass). Taylor would later go on to form the Pretty Things. Soon after, Avory also left the fold and was first replaced by Tony Chapman (drums), but he proved to be unsatisfactory and was quickly replaced by Charlie Watts (drums) a few months later. Avory would later go on to become one of the original members of the Kinks. In 1963, Stewart was removed from the official lineup, but continued to work with the band as keyboardist and road manager until his death in 1985.

In early 1963, The Stones' first manager, Giorgio Gomelsky, booked the band to play at his Crawdaddy Club for what ended up becoming an eight month residency. Andrew Loog Oldham, a young ex-publicist of The Beatles, then signed the band to a management deal with his partner and veteran booker Eric Easton in early May, 1963 (Gomelsky, who didn't have a written agreement with the band, was not consulted). Meanwhile, the Fab Four's George Harrison recommended to Dick Rowe of Decca Records that he should give the Stones a recording contract, which he promptly did. As a side note, it was Rowe who had made the huge mistake of declining to sign The Beatles to Decca. The Stones soon released their first single, a smashing cover of Chuck Berry's 'Come On', which became a respectable hit in Britain, reaching #21. In July, 1963, the Stones embarked on their debut U.K. tour and played their first gig outside of greater London on Saturday, July 13 at the Outlook club in Middlesbrough, where they shared the billing with the Hollies.

After signing the Stones to a tape-lease deal with Decca, Oldham and Easton booked the band on their first big U.K. tour in the fall of 1963. They were billed as a supporting act for several established U.S. stars including Bo Diddley, Little Richard and the Everly Brothers. This experience gave the Stones the opportunity to study their idols at work, which proved to be an important training ground for the young band's stagecraft.

Needing a hit in late 1963, the Stones turned to The Beatles who answered with the song 'I Wanna Be Your Man'. It indeed became a smash (#12 in the U.K.), but not before the outstanding B-side ('Stoned') was withdrawn from U.S. radio for its drug connotations. Just one of many British Invasion bands, the Stones soon began to pull away from the pack and by 1965, they had found their sound and were cranking out #1 mega hits like '(I Can't Get No) Satisfaction' and 'Get Off Of My Cloud'.

By 1966, the Stones branched out with the album Aftermath. New sounds like the sitar laden 'Paint It Black' and the marimba based 'Under My Thumb' fit in well with the artsy landscape of pop music. The early 1967 single 'Ruby Tuesday' (written by Richards and an uncredited Jones) showed more Beatles-like production with such instrumentation as cello and recorder, compliments of Brian Jones. A 1967 drug bust of Jagger and Richards further established the Stones as champions of the counter culture and they quickly put out the single 'We Love You' to thank their fans for supporting them through the ordeal. Featuring Beatles members John Lennon and Paul McCartney on backing vocals, 'We Love You' foreshadowed the experimentation that was to come on their next album.

Although it was critically panned when released in late 1967 and is still considered by many to be an inessential part of their catalog, the blatantly psychedelic LP Their Satanic Majesties Request is an impressive and eclectic album that has gained in reputation over the years. Inspired largely by the Fab Four's Sgt. Pepper's Lonely Hearts Club Band LP, "Majesties" showcases the Stones at their most exploratory. The baroque-pop of 'She's A Rainbow' and the spaced-out masterpiece '2000 Light Years From Home' show the Stones' mastery of melody and experimental sound. Psychedelic guitars shine on 'Citadel' and 'The Lantern' and even Bill Wyman chips in with the pleasant 'In Another Land'.

The release of the single 'Jumpin' Jack Flash' in 1968 heralded the Stones return to more basic, hard driving rock and roll. Their next LP (Beggars Banquet) was the first in a series of four albums that are considered the Stones' golden period. 'Street Fighting Man' and 'Sympathy For The Devil' show a revolutionary side of the Stones while the chauvinistic 'Stray Cat Blues' only adds to their bravado.

By the time their next LP (Let It Bleed) was recorded in 1969, Jones' unreliability due to drug use had reached a breaking point. The ill-fated, never aired TV special The Rolling Stones Rock And Roll Circus was one of his last projects with the band and he was increasingly either absent from recording sessions by choice, or simply not invited to attend. Plans were afoot to tour the U.S. again, and Jones was unable to obtain a working visa. With a growing lack of contribution to the band, he found himself forced out for good after an infamous late-night visit to his rural home from Jagger, Richards and Charlie Watts on June 8, 1969. Jones retreated to his Cotchford Farm home in Sussex, a house formerly owned by Winnie the Pooh author A. A. Milne, drinking heavily in the local pub and planning his comeback with another blues band. However, within a month of his departure, and two days before the Stones were due to play a free concert in Hyde Park, London, he was found dead at the bottom of his swimming pool surrounded by statues of Christopher Robins and Winnie the Pooh. Although his death was officially ruled an accident, some to this day regard the cause of the drowning a mystery.

20 year old Mick Taylor, late of John Mayall's Blues Breakers, was hired as Jones' replacement allowing the Stones to become a vital touring band again. Their most infamous gig happened at Altamont where a Hell's Angels gang member, hired as a security guard, stabbed a patron during the Stones' set as a nervous Jagger asked for calm. By this time, Keith Richards had taken over creative control of the band and the long-awaited Sticky Fingers was finally released in 1971. The jazzy 'Can't You Hear Me Knocking' turned into an FM radio staple, while 'Brown Sugar' and 'Wild Horses' became well-deserved chart hits.

The Stones next release was the double album Exile On Main Street. Considered by many to be the apex of their recording career, "Exile" rambled through 18 tracks blending rock, blues, gospel and country that offered a raw but intimate listening experience. Unfortunately, Richards drug use took its toll as subsequent releases sold well, but were not on par with their late 60s through early 70s material. They still continue to tour and release their unique brand of hard-rock music to this day, fully living up to the majestic title of "Greatest Rock Band in the World". In 2003, TWOS saw them live and up close in Brisbane, Australia, which was an unforgettable experience.