From: San Francisco, CA, USA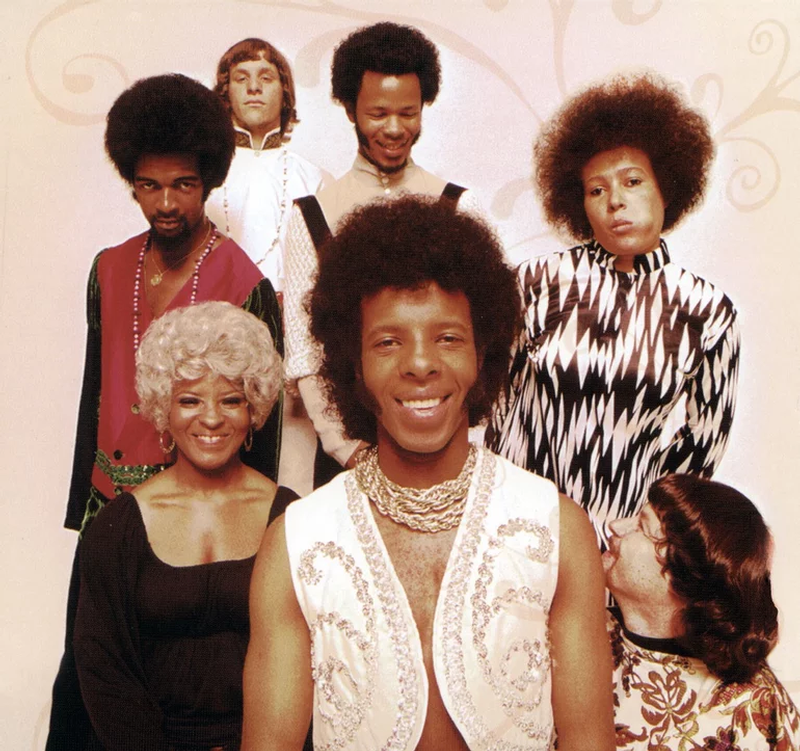 This groundbreaking Bay Area band successfully fused soul, rock and psychedelia into a uniquely funky and commercially successful sound that still appeals to a wide range of audience to this day. The group's genesis can be traced back to Sylvester Stewart (vocals, keyboards, guitar), who's family relocated from Dallas, TX to Vallejo, CA in the 1950s. Stewart took a liking to music at a young age, first studying music composition and theory, learning trumpet and then forming a gospel ensemble with his brother Freddie and sisters Rosie and Vaetta called the Stewart Four. In the early to mid 60s, he became a San Francisco rock radio disk jockey at KSOL, where he took a liking to bands like the Beatles and Rolling Stones. Another popular area DJ named Tom Donahue took a liking to Stewart and recruited him to work at his newly formed Autumn Records label, where he soon became an engineer and producer. It was there that he was exposed to and became a part of the fledgling stages of the "San Francisco Sound", producing records for bands like the Mojo Men, Beau Brummels, and the Great Society.

In late 1966, Stewart changed his name to Sly Stone and formed the Stoners, which included his friend Cynthia Robinson (trumpet). His brother Freddie (guitar, vocals) also changed his last name to Stone and formed the ensemble Freddie & The Stone Souls, which included Greg Errico (drums). At the recommendation of friend Jerry Martini (saxophone), Sly and Freddie joined forces, bringing along with them Robinson and Errico, while adding Martini, sister and keyboardist Rosie (now Rose Stone), sister and backing vocalist Vaetta (now Vet Stone) and Larry Graham (bass, vocals). They were originally billed as Sly Brothers And Sisters, but quickly changed their moniker to Sly &The Family Stone after performing their first gig at Winchester Cathedral in Redwood City, CA.

In early 1967, the group began playing more notable venues around the Bay Area, including the Fillmore Auditorium and Oakland Coliseum. Later that year, they were signed by Epic Records and issued their first 45 ('Underdog' b/w 'Bad Risk') in the early fall. A debut LP (A Whole New Thing) followed a month later, which includes the funkadelic masterpiece 'I Cannot Make It', but failed to chart. The spring of 1968 saw the release of a second LP titled Dance To The Music, which was more commercial than the first and includes the title track, which became a huge hit, peaking at #8 on the Billboard Hot 100. The album also includes the standout track 'Are You Ready'. About five months later, a third LP (Life) was issued and includes the quirky 'Jane Is A Groupie'.

A fourth LP titled Stand! was issued in the spring of 1969, which includes the outstanding title track along with the excellent, hard-driving 'I Want To Take You Higher'. Both songs became huge hits, which helped in getting them booked at the Woodstock festival that summer. In the fall, the band relocated to L.A. and at the end of the year, headlined Winterland with Spirit. In 1970 however, they began to lighten up their touring schedule due to infighting and Sly and the rest of the ensemble getting increasingly involved in heavy drug use. They then began work on a fifth LP (There's A Riot Goin' On), which was eventually issued in late 1971. The album was highly anticipated and entered the Billboard pop and soul Top LPs charts at #1 upon its release, while the album's lead single, 'Family Affair', topped the Hot 100. Unfortunately though, the group couldn't hold it together with both Errico and Graham leaving soon after its release and being replaced by Rusty Allen (bass) and Andy Newmark (drums).

In 1973, the band issued a sixth LP titled Fresh, which was relatively successful, but by this time the drug use had taken its toll, causing missed gigs and members passing out during performances. A seventh LP titled Small Talk was released in 1974 and didn't sell that well. By 1975, the band's gigs were sparsely attended, culminating in an appearance in New York City at Radio City Music Hall with only 1/8 of the seats filled. After a ninth LP titled Heard Ya Missed Me, Well I'm Back flopped, Epic dropped them. In 1979, Warner Bros. signed them and a few more LPs were issued, but neither were commercially successful. The ensemble finally called it quits in the early 80s and after a drug bust in 1987, Sly dropped out of the music business completely. In 2006, the band reunited for a tribute at the Grammy Awards and in 2011, Sly issued his last LP to date titled I'm Back! Family & Friends.

Artist information sources include: The book, 'Fuzz, Acid, and Flowers Revisited' by Vernon Joynson.