From: London, England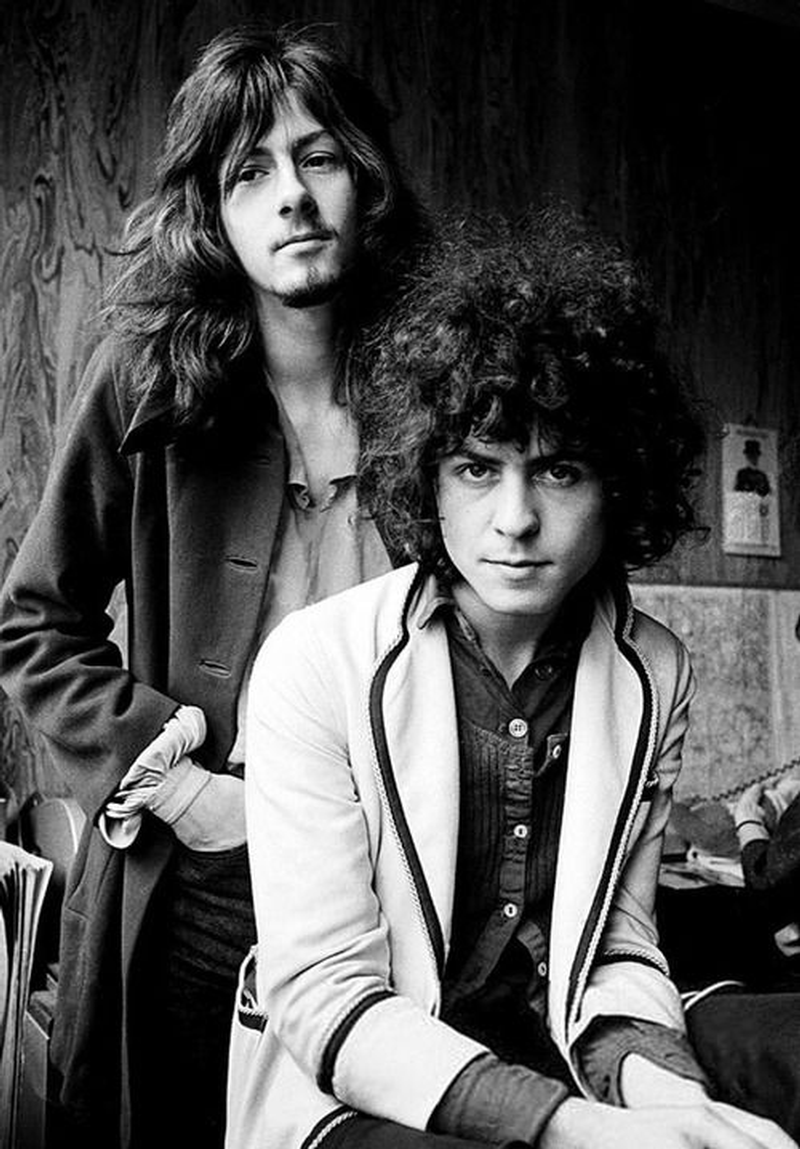 The duo Tyrannosaurus Rex came to be in July, 1967 after singer-songwriter Marc Bolan (vocals, guitar) decided to leave John's Children to form his own psychedelic outfit. He first tried to pull together another electric combo, but when that venture quickly fell through, he and Steve Peregrine Took (vocals, bongos, kazoo, talking drum, gong, percussion, xylophone) decided to go off on their own to form a more simplistic, acoustic based partnership. The combination of Bolan's acoustic guitar and distinctive, high pitched vocal style with Took's bongos and assorted unique percussion earned them a devoted following in the thriving British underground scene, including BBC Radio One disc jockey John Peel who championed the band early in their career and later appeared on record with them, reading stories written by Bolan. Another key collaborator was now famous producer Tony Visconti (David Bowie, the Iveys/Badfinger), who went on to produce all of the band's albums.

In early 1968, the duo signed to the Regal Zonophone label and issued their first 45 ('Deborah' b/w 'Child Star') in April of that year. A debut LP with the long winded titled My People Were Fair And Had Sky In Their Hair... But Now They're Content To Wear Stars On Their Brows soon followed in the summer and includes the standout tracks 'Strange Orchestras' and 'Chateau In Virginia Waters'. A second 45 was then issued about a month later, which includes the excellent 'Salamanda Palaganda' tucked away on the flip side. This song is also featured on their second LP (Prophets, Seers & Sages: The Angels Of The Ages) that was released in the fall of '68. Throughout 1968 and 1969, Tyrannosaurus Rex became a modest success selling records and appearing on British radio. While Bolan's earlier material was of the psychedelic rock/pop genre, by now he was writing dramatic and baroque style riffs with lush melodies and surreal lyrics filled with Greek and Persian mythology. The duo also became regulars on John Peel's Top Gear BBC program, and toured the U.K.'s university student union halls.

I third LP titled Unicorn was issued in the summer of 1969 and includes the outstanding 'Warlord Of The Royal Crocodiles' that had also, previously appeared on the B-side of their third 45. This album was their first to be released in the U.S. and also sold quote well in the U.K., hitting the #12 spot. By this time however, the pair were running in different social circles, with Bolan living the quiet life with his girlfriend and working on poetry, while Took existed at the other end of the spectrum, partying it up heavily in the local club scene. Took also began writing his own songs, and wanted the duo to perform them, but Bolan strongly disapproved. In response to this slighting, Took contributed two songs as well as vocals and percussion to Twink's Think Pink album. Also at around this time, the pair partook in a poorly promoted and rather disastrous tour of the U.S., being matched up with incompatible hard rock and pop bands like the Stooges and Turtles. Upon returning to England, Took left and was promptly replaced by Mickey Finn (backing vocals, drum, bass, finger cymbals).

In the spring of 1970, Bolan and Finn released the LP A Beard Of Stars, which is very strong and includes some well-placed electrical instrumentation along with an overall, lusher sound. Throughout the year, they also toured quite heavily around the U.K. with a few European dates sprinkled in here and there. In the fall of '70, the duo officially shortened their moniker to T. Rex, the origin of which was reportedly due to the fact that Visconti had become tired of writing the full name on paperwork and began using this abbreviation instead. As T. Rex, the band took on a more simplified, electric rock sound and in turn began selling more records to the masses. By the end of the year, Steve Currie (bass) was added to the fold and a few months later, Bill Legend (drums) came on board. In 1971, they scored their biggest hit ('Bang The Gong'), which topped the U.K. charts and was also a Top 10 smash in the U.S. Until Bolan's untimely 1977 death in a car crash, the band road high on the glam rock wave, which it is said they were the creators of and one of its primary influencers and contributors.

Artist information sources include: The book, 'Tapestry of Delights Revisited' by Vernon Joynson.