From: Los Angeles, CA, USA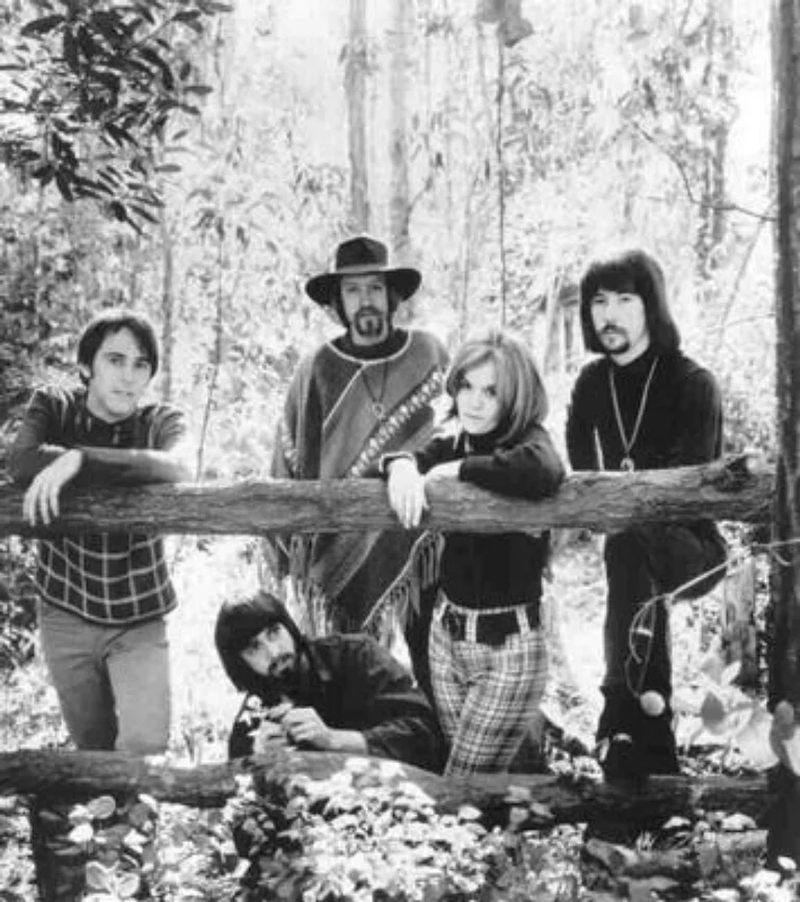 This underrated L.A. band formed in late 1966, evolving out of the folk-rock group the Ashes. They were originally known as the Peanut Butter Controversy, but this moniker was soon changed slightly to the Peanut Butter Conspiracy (PBC). As a side note, The Ashes' drummer was none other than Spencer Dryden of future Jefferson Airplane fame.

Original members of the PBC included Alan Brackett (bass, vocals), John Merrill (guitar, harmonica, vocals), Barbara "Sandi" Robinson (vocals, tambourine), Jim Voigt (drums) and Lance Fent (guitar). Their sound can be best described as a very pleasant mixture of folk-rock, smattered with psychedelic overtones and male and female harmonies, similar to the Mamas & The Papas, but edgier and more progressive. Most of their material was written by Brackett and Merrill, and produced by Gary Usher, who also helped craft now classic Byrds and Chad & Jeremy albums, as well as being instrumental in forming Sagittarius.

In November, 1966, the PBC secured a contact with Columbia Records after releasing one excellent 45 ('Time Is After You' b/w 'Floating Dream') on the local Vault label. Their first single on Columbia ('It's A Happening Thing' b/w 'Twice As Life') was a minor hit, reaching #93 on the Billboard Hot 100 and getting frequent radio airplay. In the spring of 1967, they issued their debut LP titled The Peanut Conspiracy Is Spreading, which is nothing less than outstanding and includes several incredible tracks. During the sessions, Usher recruited session musicians such as Glen Campbell and James Burton to help bolster the sound, which prompted the group to later disavow the album for that reason. After the record's release, Fent left the fold and was replaced by Mike Kollandar (guitar).

In late 1967, they released their second LP (The Great Conspiracy), which is equally as good, if not better than their first and includes several more outstanding tracks. The writing and musicianship on this album is more complex and mature, and was handled solely by the band, which showed that they were really coming into their own. The track 'Too Many Do' received considerable airplay on FM radio at a time when extended, three minute plus recordings were popular. Also at this time, Kollandar was replaced by Bill Wolff (guitar), but both appeared on the LP and can be heard playing together on the tracks 'Too Many Do' and 'Lonely Leaf'.

Throughout the late 60s, the PBC played many high profile live shows, including gigs at San Francisco's Fillmore Auditorium, L.A.'s Whisky a Go Go and the famous Sky River Rock Festival in Sultan, WA. Brackett, Merrill and Robison also collaborated with producer and arranger Stu Phillips, adding their trademark vocals to many of Phillips' movie scores, including Angels from Hell, Run Angel Run, and Beyond the Valley of the Dolls.

After The Great Conspiracy received only modest commercial success, the PBC recorded a new Brackett penned single ('I'm A Fool'), which rose towards the top of the charts in several western cities, including Seattle, Portland, Las Vegas and Oahu, but amazingly, Columbia refused to push it elsewhere, denying it the national attention it deserved. On top of that, Robison was almost killed when the group's tour van she was driving flipped onto its top and spun down the freeway. These two occurrences prompted the band to reflect and make the decision that they wanted out of their contract with Columbia. According to Brackett, "It just wasn't worth dying over, especially when they (Columbia) were not willing to do what was necessary to push us over the top. I'm just happy that I had the 'calling' to have my landlord put a pipe across the inside of our van right behind where the seats were at head height. I thought that it would stop the equipment from coming forward if the van had to stop suddenly. I never dreamed that the van would flip and, when all the equipment shifted to the top, the van just started spinning round and round. I'll never forget it. I was driving a car ahead of the van and when I looked in my rear-view mirror, I saw it spinning and the equipment spewing all over the freeway. Luckily there wasn't a lot of traffic and I backed up so fast I almost lost control of my car. Barbara had a broken wrist and a large cut on her head with blood running all down her face. There was debris all over the road and traffic began backing up for miles. When the rest of the band that was following miles back finally caught up and saw what was happening and why there was such a large traffic jam, it scared them tremendously until they realized that nobody was killed". The lineup on this tour consisted of Ralph Shuckett (keyboards), Michael Ney (drums) and the remaining core of the group: Brackett, Robinson and Merrill.

When the band returned home to Hollywood, they went into the studio to record publishing demos of some songs that Brackett had written while on tour. Dave Burgess, VP of Four Star Publishing, knowing that the group had just quit Columbia said, "That sounds great! Bring in the 8-track!". According to Brackett, "All of a sudden we were making an album and figured, why not?, we were free to do whatever we wanted again. On one session, we used Pete McQueen on drums. Dave wanted us to do a couple of songs written by Dick Monda (Daddy Dewdrop) and then a sweetening session of horns and strings were added to some of the tracks. I had taken a picture of my grandmother wearing earphones which I had plugged into my Teac A1200 and had pushed the 'add' buttons and, with a microphone, she was hearing tape delay bouncing back and forth inside her head. I thought it would make a great cover but my mom said she would sue me if I used the picture so we hired the 'little old lady from Pasadena' to model the same scenario. Something was missing and I suddenly realized what it was. I asked her if her teeth were real and she realized what I was getting at and replied 'I'll take my teeth out for you honey if you give me 50 bucks!'. I gave her the Grant and out they came, and that's what you see on the cover of the LP."

This album (For Children Of All Ages) is much different than their previous two, replacing their signature psychedelic folk-rock vibe with a more gospel rock sound. Unfortunately, the record didn't sell well and with the flower power era coming to a close, the group decided to call it quits in early 1970. Brackett went on to have success as a session musician, producer and singer in a slew of movies and television shows. His new book should be finished soon, covering his time with the PBC and many other bizarre experiences. Robison extensively toured the hotel circuits and prematurely passed away on April 22, 1988. Merrill revived the Ashes, releasing an album in 1970 and remains a musician and singer, gigging around the Los Angeles area.

Since the PBC's breakup, there have been numerous releases of their recordings. Ace/Big Beat issued an awesome CD titled 'Spreading From The Ashes', which contains various hard to find and unreleased recordings, along with a great history of the group written by Alec Palao. Sundazed issued the Columbia recordings remastered along with an unreleased song titled 'Out Of Phase'. 'Children Of All Ages' is being re-released by Revola in 2008 and hopefully a new CD featuring Barbara Robison with many unheard recordings will also be forthcoming soon. A new movie titled 'Hell Ride', produced by Quentin Tarintino, which is due to be released in 2008, will use one of their songs twice in the soundtrack. After that, there are many more recordings penned by Brackett and Merrill that could eventually surface, proving once again that the Peanut Butter Conspiracy keeps on spreading!

A big thanks to Alan Brackett of the Peanut Butter Conspiracy for his important contribution to this article.