From: Belfast, Northern Ireland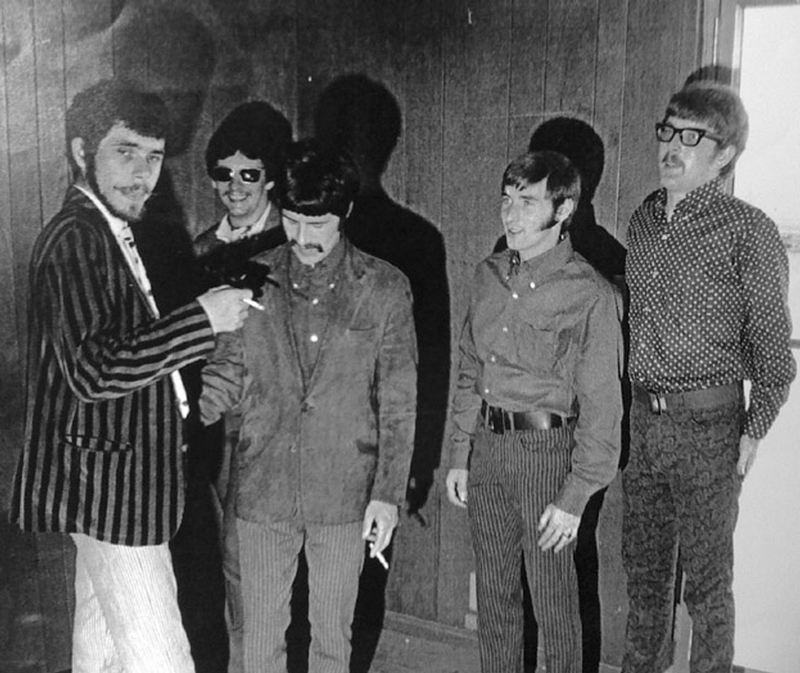 Most people are familiar with the Northern Ireland R&B band Them for including Van Morrison (vocals, harmonica, saxophone) in their most successful early years, although after his departure, the group did briefly dabble well in psychedelia towards the end of the 60s. Plagued with conflicts and a revolving door of personnel changes, the only member that was to remain ever steady from their start in 1964 to a 1972 final breakup was Alan Henderson (bass).

The Belfast band came into existence in the spring of 1964 when then 18 year old Morrison established an R&B club named Rado in the Maritime Hotel and recruited former Gamblers members Henderson, Billy Harrison (vocals, guitar) and Ronnie Milling (drums), along with Eric Wrixon (keyboards) who was still in high school. They were named after the popular 1954 sci-fi horror movie Them and successfully promoted the incarnation with a newspaper advertisement proclaiming "Who Are? What Are? THEM". This creative tagline generated curiosity and jump started an audience at the club. By their third week of residency, the band's spontaneously raw and highly energetic playing style had grown their following to hundreds of fans. It didn't take long for Decca to receive some recordings of the band in action, which prompted them to send iconic producer Dick Rowe over to Belfast to check them out, who then promptly signed them to a two year record deal. It should be noted that at this point, Wrixon's parents, due to him still being a minor, would not sign the contract on his behalf so he was replaced by Pat John McAuley (keyboards). Mellings also left to become a milkman and was replaced by Pat's brother Paul McAuley (drums).

The fall of 1964 saw the issue of the group's first single ('Don't Start Crying Now'), which didn't chart; however, the follow up 45 ('Baby Please Don't Go' b/w Morrison's original 'Gloria'), released a few months later, peaked at #10 on the U.K. charts primarily due to the now classic flip side. A third single ('Here Comes The Night') written and produced by Bert Berns was then issued in the spring of 1965, which fared even better than the second, reaching the #2 spot in the U.K. and becoming their first U.S. hit, peaking at #24. By this time, the band had already began to tour England heavily and made multiple TV appearances on the popular music shows Ready Steady Go and Top of the Pops. It should be noted that they also developed a bad reputation for giving very poor press interviews, being called extremely boorish and rude.

In the summer of 1965, the group issued their first LP (The "Angry" Young Them) and was heavily marketed in America as a part of the British Invasion. Their late '65 single 'Mystic Eyes' subsequently became their second and last U.S. Top 40 hit, reaching the #33 spot. By this time however, Morrison, Harrison and Henderson were the only stable members of the ensemble, with frequent personnel changes occurring on a regular basis and session musicians like Jimmy Page (of future Yardbirds and Led Zeppelin fame) filling in on records. A second LP titled Them Again was released in the spring of 1966 and a supporting tour of the U.S. saw them headline at the Whiskey a Go Go for two weeks with the Doors opening up for and ultimately jamming with them on multiple evenings. They then traveled up to the Bay Area and headlined a few times at the Fillmore Auditorium before heading to Hawaii for some gigs. At this time, the group consisted of Morrison, Henderson, Jim Armstrong (guitar), Ray Elliott (keyboards, saxophone) and Dave Harvey (drums) who found themselves constantly arguing amongst themselves and with their management over money. This prompted an initial milestone breakup with Morrison and Henderson returning to Belfast, while Armstrong, Elliott and Harvey remained in the States. Morrison of course went on to score a hugely successful solo career and is now considered by many to be a rock icon.

In mid 1967, the band regrouped in Belfast without Morrison, who was replaced by Kenny McDowell (vocals), and then relocated to the U.S. at the invitation of record producer Ray Ruff. It was this lineup that issued the psychedelic LP Now And "Them" on the Tower label in the spring of 1968, which includes the awesome 'Square Room' and a great version of the Goffin-King masterpiece 'I Happen To Love You', with the former being previously released by the Electric Prunes. Elliott then left the fold and a second psych LP titled Time Out! Time In For Them followed in late '68. This album is also quite good with highlights including the jazzy 'Time Out For Time In' and 'Waltz Of The Flies'. Unfortunately, neither record sold that well prompting another breakup, with Armstrong, Elliott and McDowell eventually getting back together in Chicago as the Truth in 1969.

In 1970, Henderson reformed Them along with L.A. area lead guitarist Jerry Cole (Id, Animated Egg, T. Swift & The Electric Bag) for a self-titled LP on the Happy Tiger label, which pretty much went nowhere. For a final 1971 LP titled Them In Reality, Henderson brought in ex-Kitchen Cinq alumni Jim Parker (lead guitar) and John Stark (drums), but this too didn't fare well, so the band finally hung it up for good in 1972. It should be noted that Henderson, Harrison and Wrixon did reform Them in 1979 without Morrison and issued an LP titled Shut Your Mouth.

Artist information sources include: The book, 'Tapestry of Delights Revisited' by Vernon Joynson.