From: Baltimore, MD, USA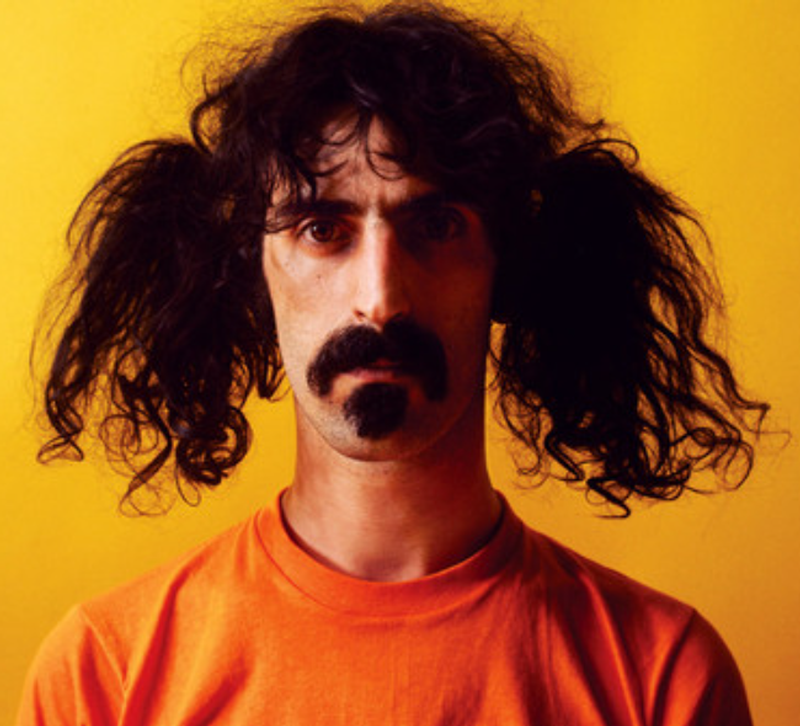 Progressive rock and guitar icon Frank Zappa is considered by many to have been one of the most innovative and stylistically diverse musicians in history. As a self-taught composer and performer, Zappa collected an eclectic mixture of musical influences that led him to write music that has sometimes been difficult to categorize. Zappa successfully composed and produced a vast array and mixture of musical genres including rock, pop, jazz, classical/orchestral, musique concrete, country western and even some rap, releasing over 60 studio albums as a solo artist and with his now legendary band the Mothers Of Invention throughout his 30 plus year career. Zappa is also known and respected for writing and directing feature-length films, cutting edge music videos, and even designing some of his own album covers.

Zappa was born Francis Vincent Zappa on December 21, 1940 in the U.S. east coast city of Baltimore, MD as the eldest of four children within a traditional Catholic Italian family. During his childhood, the family moved often due to his father being a chemist and mathematician who worked in the defense industry. Zappa's father often brought home mercury-filled lab equipment from his workplace and would often give it to young Frank to play with. Zappa exclaimed that as a child he "used to play with it all the time", often by putting liquid mercury on the floor and using a hammer to spray out mercury droplets in a circular pattern, eventually covering the entire floor of his bedroom with them. Zappa was also frequently sick as a child, suffering from asthma, earaches and sinus problems. It has been reported that a doctor once treated his sinusitis by inserting a pellet of radium into each of Zappa's nostrils.

During the mid 1950s, Zappa joined his first band at Mission Bay High School in San Diego, ironically as the drummer, and at about the same time, his parents purchased a record player that helped him develop his unique taste in music. Zappa gained interest in multiple music genres early on, including doo-wop, R&B and classical, paying particular attention to the sounds of drums and other percussion instruments. Zappa's family then relocated again to Lancaster, CA, a small town outside of Los Angeles near Edwards Air Force Base, where his father worked. It was there that he attended Antelope Valley High School and met Don Glen Vliet, who would later change his name to Don Van Vliet and lead the eclectic group Captain Beefheart & His Magic Band. Zappa and Vliet became close friends, sharing an interest in R&B records and influencing each other musically throughout their careers.

Zappa's interest in composing and arranging flourished in his latter high school years and as a senior, he was writing, arranging and conducting avant-garde performance pieces for the school orchestra. After graduating high school in 1958, Zappa briefly attended Chaffey College in Cucamonga, CA for only one semester and maintained thereafter a disdain for formal education, later taking his children out of school at age 15 and refusing to pay for their college. After leaving university, Zappa worked shortly in advertising as a copywriter, which gave him valuable insights into its inner workings and helped him gain some valuable experience in visual presentation that he would later put to use in his album covers, movies and music videos.

Throughout the early 1960s, Zappa wrote and produced songs for other local artists, often working with singer-songwriter Ray Collins (later of the Mothers Of Invention) and producer Paul Buff (later of the Buff Organization ). Buff owned the small Pal Recording Studio in Cucamonga, which included a unique five-track tape recorder he had built himself and gave Zappa the means of experimenting with music production, overdubbing and audio tape manipulation. In March of 1963, Zappa appeared on Steve Allen's syndicated late night television program playing a bicycle as a musical instrument, using drumsticks and a bow borrowed from the show band's bass player. 1964 saw Zappa purchase the Pal studio from Buff and promptly rename it Studio Z. Also at around this time, Zappa started performing in local bars as a guitarist with a power trio coined the Muthers in order to support himself and his studio. Later that year, Ray Collins asked Zappa to take over lead guitar in his band the Soul Giants.

With the help of Zappa's natural leadership, growing guitar prowess and lead vocals, the Soul Giants gained traction and soon changed their moniker to the Mothers (actually named on Mother's Day in 1964). The group increased their bookings further after forging a business relationship with manager Herb Cohen, and gradually gained attention and respect on the burgeoning L.A. underground music scene. In early 1966, the Mothers were discovered by successful record producer Tom Wilson (Bob Dylan, Simon & Garfunkel) when playing one of their staple songs 'Trouble Every Day' during a gig. Wilson promptly took the group under his wing and signed them to the Verve label. Verve insisted however that the outfit officially change their moniker to the less abrasive Mothers Of Invention for their summer of '66 debut LP Freak Out!, which was produced by Wilson and augmented by a studio orchestra. The record immediately established Zappa as a radical new voice in rock music, providing an antidote to the "relentless consumer culture of America". After a short promotional tour following the release of Freak Out!, Zappa met Adelaide Gail Sloatman who was a secretary at the Whisky a Go Go nightclub in L.A. and fell in love with her within "a couple of minutes". The couple ended up marrying in the fall of 1967, had four children and remained together until Zappa's unfortunate passing in 1993.

Turning back to the spring of 1967, the Mothers Of Invention issued a follow-up LP (Absolutely Free) with production credit again going to Tom Wilson, although by this time Zappa was in clear control of most facets of the recording. During the same timeframe, Zappa recorded material for a debut solo LP of orchestral works (Lumpy Gravy), which was originally released on the Capitol label during the summer of '67. Due to contractual conflicts, the album was pulled giving Zappa the opportunity to radically restructure the contents, adding newly recorded, improvised dialogue. After the legal problems were eventually resolved, the album was reissued by Verve in the spring of 1968. Also at this time, the band signed a contract to perform at the Garrick Theater in New York City, which proved successful and lasted about six months, prompting Frank and Gail to relocate there during this stint. It was there that the group recorded the widely regarded and Zappa produced LP We're Only In It For The Money, which was also issued in the spring of '68 on the recently created Zappa-Cohen record label Bizarre (along with its "twin" label Straight), both distributed by Warner Bros.

After moving back to California in the fall of 1967, Frank married Gail and purchased an awesome estate for $74,000 in Laurel Canyon outside of L.A. The compound was complete with a home studio that he named the Utility Muffin Research Kitchen. The property soon became a meeting and living place for many successful L.A. musicians and groupies of the time, despite Zappa's adamant disapproval of their illicit drug use, which he personally steered clear of throughout his life. As a side note, the Zappa estate was eventually sold to Lady Gaga in 2016 after Gail's passing for around $5.3M. It was then sold again in 2021 to Rolling Stones frontman Mick Jagger's daughter Lizzy for a reported $6.5M.

Between 1967 and 1968, in should be noted that Frank collaborated with the Monkees twice, with the first instance being an appearance on their popular television sitcom in the episode 'The Monkees Blow Their Minds', where Zappa dresses up as Mike Nesmith and interviews Nesmith who is dressed up as Zappa. After the interview, Zappa destroys a car with a sledgehammer as the song 'Mother People' plays in the background. Zappa later made a cameo in the Monkees' movie Head where, leading a cow, he tells Davy Jones "the youth of America depends on you to show them the way". Zappa respected the Monkees and at one point asked Micky Dolenz to join the Mothers, but Micky's record company Colgems refused to release him from his contract. It should also be noted that around this time, Zappa influenced other prominent psychedelic rock and roll acts, including the Jefferson Airplane, Jimi Hendrix Experience and believe it or not, even The Beatles (Paul McCartney regarded Sgt. Pepper's Lonely Hearts Club Band as The Beatles' Freak Out!).

The Mother's next LP (Cruising With Ruben & The Jets) was released in late 1968 and is very different from its predecessors in that it contains a collection of well-crafted 1950s doo-wop style songs that listeners and critics at the time were not sure was a satire or a tribute. During the spring of 1969, the Mothers issued a double-LP (Uncle Meat of previously unissued material more attune to their previous releases, which was actually recorded back between the fall of '67 and spring of '68. In the fall of 1969, Zappa issued an acclaimed second solo LP titled Hot Rats that contains a number of outstanding and quite unique instrumentals. Not long after, Zappa disband the original Mothers Of Invention lineup citing financial strain as the main reason. Remaining recordings with the original Mothers from this period were compiled on the LPs Weasels Ripped My Flesh and Burnt Weeny Sandwich, both of which were released in 1970 after the breakup. It should also be noted that shortly after the Mothers split, Zappa appeared on stage with Pink Floyd at a music festival in Belgium for a rather extensive and weird jam session.

Later in '70, Zappa pulled together a completely new version of the Mothers which included three members of the recently defunct Turtles: Jim Pons (bass), Mark Volman (vocals) and Howard Kaylan (vocals). As a side note, Volman and Kaylan, due to persistent legal and contractual problems, adopted the stage names "The Phlorescent Leech and Eddie", or now better known as "Flo & Eddie". This incarnation of the Mothers debuted on Zappa's 1970 third solo album Chunga's Revenge, which was followed by the double album soundtrack to the 1971 movie 200 Motels, featuring the Mothers, the Royal Philharmonic Orchestra, Ringo Starr of The Beatles, Theodore Bikel, and Keith Moon of the Who.

In late 1971, Zappa suffered two serious setbacks with the first occurring while performing at Casino de Montreux in Switzerland. The Mothers' equipment was destroyed when a flare set off by an audience member started a fire that burned down the building, which was immortalized in Deep Purple's classic song 'Smoke On The Water'. After a week's break, the Mothers played at the Rainbow Theatre in London with rented gear, and during the encore, an audience member pushed Zappa off the stage and into the concrete-floored orchestra pit. The band thought Zappa had been killed, but he survived suffering serious fractures, head trauma and injuries to his back, leg, and neck, as well as a crushed larynx, which ultimately caused his voice to drop a third after healing. This accident resulted in an extended period of wheelchair confinement, making touring impossible for over six months. Meanwhile, the Mothers were left in limbo and eventually formed the core of Flo & Eddie's band as they set out on their own.

Between 1971 and 1972, Zappa released two strongly jazz-oriented solo LPs (Waka/Jawaka and The Grand Wazoo), which were recorded during his aforementioned wheelchair confinement, using floating line-ups of session players and Mothers alumni. After his recuperation, Zappa formed and toured with smaller groups of extremely proficient musicians, including Ian Underwood (reeds, keyboards), Ruth Underwood (vibes, marimba), Sal Marquez (trumpet, vocals), Napoleon Murphy Brock (saxophone, flute and vocals), Bruce Fowler (trombone), Tom Fowler (bass), Chester Thompson (drums), Ralph Humphrey (drums), George Duke (keyboards, vocals), and Jean-Luc Ponty (violin).

By 1973 the aforementioned Bizarre and Straight labels were discontinued, prompting Zappa and Cohen to then create DiscReet Records, which was again distributed by Warner Bros. Zappa then continued with a trifecta of outstanding albums: the acclaimed 1973 LP Over-Nite Sensation, the very successful 1974 LP Apostrophe ('), which reached a career-high #10 on the Billboard Top LPs & Tape chart, and last but not least, the incredible 1975 LP One Size Fits All, a jazzy personal favorite of TWOS. Also released in 1975 is the outstanding "Zappa/Beefheart" collaboration LP Bongo Fury, which features a live recording at the Armadillo World Headquarters in Austin from a tour the same year that reunited Zappa and Captain Beefheart for a brief period.

In 1976, the longtime partnership of Zappa-Cohen dissolved when Cohen cashed one of his Warner Bros. royalty checks. Zappa then hired Bennett Glotzer as his new manager. That year also saw the release of the classic LP Zoot Allures. By late '76, Zappa had become upset with Warner Bros. over what he perceived as inadequate promotion of his albums so in 1977, he preceded to provide Warner Bros. with five LPs worth of material to complete his contract: Zappa In New York (a two LP set), Studio Tan, Sleep Dirt and Orchestral Favorites, which were all issued in 1978 and 1979.

Throughout the late 70s, on top of cranking out all of the studio LPs, Zappa also toured incessantly throughout the U.S. and also in Europe where he was even more popular. During this period, Halloween and Christmas concerts became must-see events with audience participation and dance contests being an integral part of the experience. A few notable musicians that played with Zappa during this period included Terry Bozzio (drums, vocals) and future King Crimson member Adrian Belew (guitar, vocals). By mid '79, Zappa had completely divorced himself from Warner Bros. and had started his own label appropriately christened Zappa Records. The first album to be issued on the label was Sheik Yerbouti, which was commercially successful and includes the Grammy nominated track 'Dancin' Fool', which peaked at the #45 spot on the Billboard Hot 100. The next LP issued that year was the rock opera Joe's Garage Act I, which also sold very well. A continuation LP (Joe's Garage Acts II & III) was then released late in the year to close out the decade.

The early 1980s saw Zappa form another label (Barking Pumkin Records) and issue more ground breaking studio LPs: Tinsel Town Rebellion and You Are What You Is in 1981 and Ship Arriving Too Late To Save A Drowning Witch in 1982, the latter of which contains the surprise breakout novelty hit 'Valley Girl', which includes his oldest daughter Moon on vocals and peaked at the #32 spot on the Billboard Hot 100, becoming Zappa's only ever U.S. Top 40 hit. Two more noteworthy studio LPs (Them Or Us and Thing Fish) were released in 1984, but weren't nearly as commercially successful as his previous works. Zappa did however continue to tour extensively all over the U.S. and Europe, with classic performances recorded and released on the You Can't Do That On Stage Anymore series of records and the epic Broadway The Hardway live LP.

As the 80s decade was coming to a close, Zappa strayed away from rock and roll, primarily focusing on jazz instrumentals and classically orchestrated music he was now composing. In 1991, Zappa was diagnosed with terminal prostate cancer presumably caused by the large quantities of mercury he played with as a child. Frank Zappa tragically passed away a few years later in 1993 at the young age of 52. After his death, Zappa was hailed as a genius by conductor Kent Nagano and nominated by Czechoslovakian President Václav Havel to the country's cultural ambassadorship. In 1995, he was finally inducted into the Rock and Roll Hall of Fame and in 1998 honored with the Grammy Lifetime Achievement Award. Whether you can process Frank Zappa's music or not, there is no doubt that he heavily influenced countless musicians and should forever be placed high atop the mantle of rock and roll icons.