From: San Francisco, CA, USA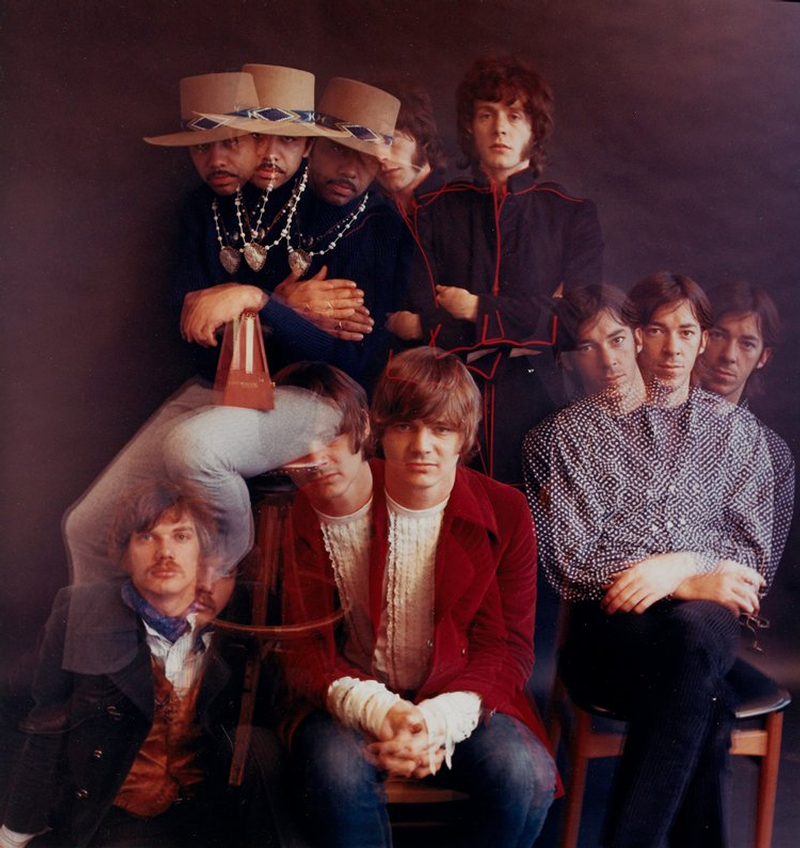 The Steve Miller Band is another one of those groups that is best known for their mega hits/classic rock staples of the mid to late 1970s, with only a minority of their fans fully realizing and appreciating their huge and extremely impressive psychedelic output of the late 60s. Their first four albums are simply fantastic and a must have for any fan of the genre.

Steve Miller (guitar, vocals, harmonica, keyboards) was born in Milwaukee, WI and took to the strings early at age five, encouraged and tutored by virtuoso Les Paul who was friends with the Miller family and frequented their household. After his family relocated to the Dallas, TX area, Miller met and began playing at age 12 in the Marksmen with Boz Skaggs (guitar, vocals) in 1956. In the early 60s, Miller and Skaggs both attended the University of Wisconsin and played together in another band called the Ardells, along with Ben Sidran (keyboards) who joined a few years later. Miller, being a huge blues fan, then relocated to Chicago where he played in bands with Paul Butterfield that featured Junior Wells, Howlin' Wolf, Muddy Waters and Buddy Guy. There he eventually hooked up with Barry Goldberg (of future Electric Flag fame) and formed an ensemble initially called World War Three and then the Goldberg-Miller Blues Band, which ended up played a residency at a blues club in New York City and also issued a single on the Epic label in the fall of 1965.

In early 1966 after spending more time in Chicago and Austin, TX, Miller drove a Volkswagen Bus that his father had given him to San Francisco to check out the budding psychedelic music scene there. After seeing the Paul Butterfield Blues Band and Jefferson Airplane at the Fillmore Auditorium, he was hooked and decided to stay and form his own band there. Originally coined the Steve Miller Blues Band, initial members besides Miller included Tim Davis (drums), Lonnie Turner (bass) and James "Curly" Cooke (guitar, vocals). They initially gigged at venues like the Matrix and Avalon in the latter half of 1966, eventually graduating to the Fillmore in early '67, playing alongside the likes of Moby Grape, Big Brother & The Holding Company and Buffalo Springfield into the early summer of that year.

In early June of 1967, Cooke was replaced by Steve's old friend Boz Skaggs on guitar and vocals, and they also added Jim Peterman (keyboards). They then got a huge break by being invited to play the Monterey Pop Festival later that month. It wasn't too long after that they secured a lucrative, national record deal with Capitol and shortened their name to the Steve Miller Band. They continued playing the major venues around the Bay Area while working on their first LP (Children Of The Future), which was recorded in London and finally issued in the spring of 1968. Although it only charted at #134 and didn't include any hit singles, the album is nothing short of brilliant and in TWOS' opinion, ranks up there with other classic U.S. psychedelic debut LPs from bands like the Doors, Moby Grape and Grateful Dead. The record was produced by Glyn Johns, who had helped engineer The Beatles' "Sgt. Pepper's" album, is of very high sound quality and includes well placed sound effects not typically heard on other Bay Area band LPs.

About six months after the release of their debut album, they issued a follow up LP titled Sailor in the fall of 1968. This album is also excellent and sold much better than the first, reaching the #24 spot on the charts and includes the minor hit 'Living In The U.S.A.', which peaked at #49 on the Billboard Hot 100. Not too long after, Skaggs and Peterman left and were replaced by Glyn Johns (guitar, percussion, vocals), who had produced and engineered their first two LPs, and former Miller bandmate Ben Sidran on keyboards. This lineup released their third LP titled Brave New World in the summer of 1969. This album is also a mind blower and includes a slew of awesome tracks including 'My Dark Hour', which features Paul McCartney of The Beatles, who was credited as "Paul Ramone", playing bass, drums and singing backup vocals.

Later in 1969, Johns left, reducing the group to a foursome. It was this lineup that issued their fourth LP titled Your Saving Grace late that year. This album is also quite good and was co-produced by Nicky Hopkins, who also plays keyboards on the record. More personnel changes then occurred with Sidran leaving and Turner being replaced by former Frumious Bandersnatch member Bobby Winkelman (bass, vocals, guitar). It was this trio that issued their fifth LP simply titled Number 5 in the summer of 1970, which isn't nearly as good as the first four, but does include the stand out track 'I Love You'.

In 1971, Miller tragically broke his neck in a car accident and was laid up for quite some time. It was during this recuperation that Capitol issued the disappointing Rock Love LP (nicknamed "Rock Bottom") without Miller's concurrence. In 1972, the band issued a seventh album titled Recall The Beginning...A Journey From Eden, which is far better than Rock Love, but didn't sell well either. It was then that Miller decided to reinvent his band into a more straightforward pop-rock act with the release of The Joker LP in 1973. The album and the title song of course shot to #1, beginning a string of top selling albums and hits through the rest of the decade and into the early 80s. The Steve Miller Band has gone through a virtual revolving door of personnel changes over the years, but continues to play to large audiences to this day. In 2016 Miller was deservedly inducted into the Rock and Roll Hall of Fame.

Artist information sources include: The book, 'Fuzz, Acid, and Flowers Revisited' by Vernon Joynson. Artist photo by Elaine Mayes.