From: Los Angeles, CA, USA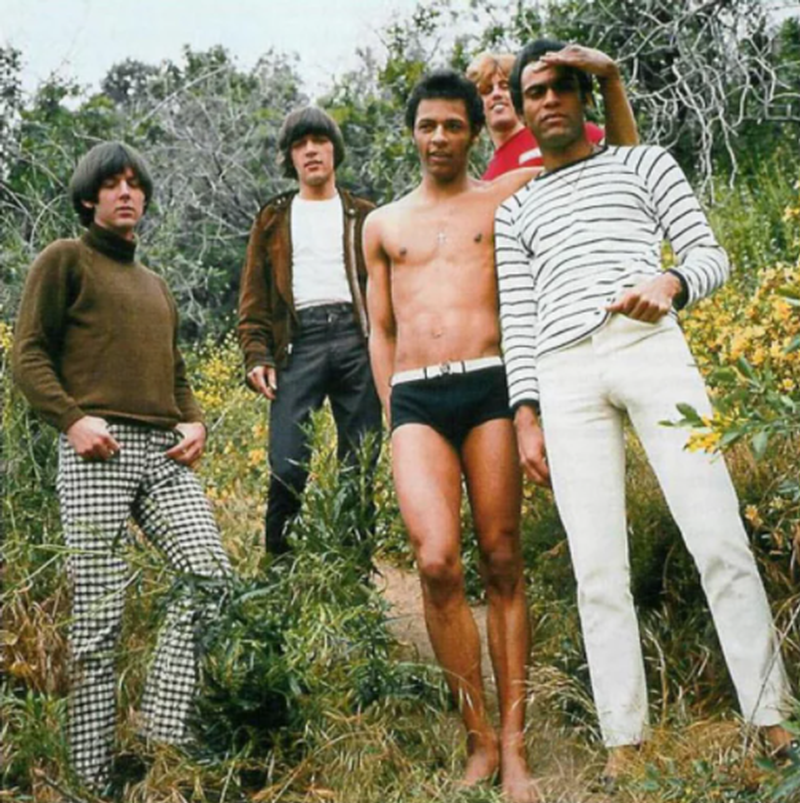 The L.A. based Love is one of the handful of 60s bands that flirted with greatness, creating innovative song structures, writing poignant lyrics, and melding a mix of instrumentation that previously had not been heard. Unfortunately, very few would listen to how good they really were during their existence. Thankfully though, they left a legacy of recordings that continues to be discovered by fans in the generations following the long since demise of the original band. Love also deserves special attention because of a bona fide classic LP they released in 1967 (Forever Changes). This album, one of six released by a band that lasted roughly five years, is almost universally praised and is not only considered one of the best LPs of the psychedelic age, but one of the best rock albums ever made.

The origins of Love start in the early 1960s with Arthur Lee (lead vocals, guitar), a gifted songwriter and musician, who fronted a band called the LAGs with high school friend John Echols. Lee's compositions were good enough to release and his first recording ('The Ninth Wave') was issued in 1963. Lee's writing progressed quickly as his song 'My Diary' was covered by R&B singer Rosa Lee Brooks, which incidentally has a young Jimi Hendrix playing on what is believed to be his first recording. Lee continued writing dance, surf, and pop songs as he learned the music trade as a member of the band the American Four.

By 1965, Lee had formed the Grass Roots with songwriter and musician Bryan MacLean (guitar, vocals), who had previously been a roadie for the Byrds. John Echols (guitar), Don Conka (drums) and John "Fleck" Fleckenstein (bass) rounded out the group. Fleckenstein, who would later go on to play in the Standells, didn't last that long however and was soon replaced by Ken Forssi (bass). They were forced to change their name when another L.A. band released a record as the Grass Roots. New monikers like Summer's Children, The Asylum Choir, Dr. Strangelove and Fist were considered before settling on Love. Lee had been inspired by the Byrds folk-rock direction and MacLean brought several Byrds songs to the band, including their cover of 'Hey Joe'. Their sound was a mix of punk, folk-rock, and psychedelia that could sound at times loud and brash and at other times gentle and melodic.

Love played many Hollywood clubs before moving on to the higher profile Whisky a Go-Go on Sunset strip. During this time they were approached by Elektra Records founder Jac Holzman, who had recently signed the Butterfield Blues Band as their first "rock" act. Looking to further expand their artist roster, Holzman signed Love. Around this time, the unreliable Conka was replaced by Alban "Snoopy" Pfisterer (drums).

Their first single was a strange cover of the Bacharach-David song 'My Little Red Book', which is very punky and sold quite well. Their self-titled debut LP contains this single plus other rocking songs like 'I Can't Explain' and 'Hey Joe', but also offered softer folk-rock numbers like 'Softly To Me' and 'You'll Be Following'. The album, released in 1966, sold a very respectable 150,000 copies, aided no doubt from the relative success of the single.

By late 1966, Love released another punk-garage classic single ('Seven & Seven Is'), which charted even higher (#33) than their debut. For their early 1967 follow up LP (Da Capo), the band added Tjay Cantrelli (flute, saxophone) and former Sons Of Adam member Michael Stuart (drums), which allowed Pfisterer to move to keyboards. These additions helped transform Love's sound into a richer more melodic one. Lee's 'She Comes In Colors' and MacLean's 'Orange Skies' are perfect examples of mellow psychedelia that conjure up colorful imagery amid a backdrop of lost love.

The relative success of the first two albums caused many band members to rest on their laurels a bit, playing live less frequently. It wasn't long before the group got rusty causing a temporary upheaval that saw producer Bruce Botnick bring in session musicians to record their next LP (Forever Changes). This tactic shocked band members back to reality and after recording two tracks with session musicians, they resumed their respective instrumental rolls in the studio. Originally, Neil Young was to co-produce the album, but bowed out when he rededicated himself to the Buffalo Springfield. Due to these misgivings, Arthur Lee took more of a leadership roll, co-producing the album with Botnick. The band worked so efficiently that the album was completed in under 65 total hours. Tracks 'Andmoreagain' and 'The Daily Planet' were two of the standout ballads of the record, while 'You Set The Scene' and 'Live And Let Live' are complex compositions with different movements, some of the most ambitious on the album. Lee penned all of the songs except 'Old Man' and 'Alone Again Or', which were Maclean compositions. The latter became the groups last charting single and is notable for its Spanish-mariachi feel.

Despite the apparent camaraderie built during the making of the album, this lineup would only make one more single together ('Your Mind And We Belong Together'), released in the fall of 1968. With other West Coast bands like the Doors and Jefferson Airplane riding high on the charts, it was a major blow to the band when Forever Changes didn't become hit. Nonetheless, it is universally considered a classic record from the period and is ranked on several top LP lists as one of the best albums of all time. The fact that it was very popular in the U.K. (reaching #24 in the album chart there) was of little consolation.

The disintegration of the group at the end of 1968 left Lee the only remaining member, so he built a new band featuring Gary Rowles (guitar), Frank Fayad (bass), George Suranovich (drums) and ex-Moorpark Intersection member Jay Donnellan (guitar). This new lineup promptly recorded enough tracks for 3 albums. Elektra, which was owed one more album, got to compile an LP out of these sessions which became Four Sail. Though this album surprisingly out-charted 'Forever Changes' in the U.S. and does have its moments of greatness, it was a pale comparison to the consistent beauty of its predecessor. The remaining tracks wound up on the double LP Out Here, their first record on the Blue Thumb label. Though not as sought after, many quality songs such as 'Willow, Willow', 'I Still Wonder', and 'Listen To My Song' are on par with their earlier work. Out Here was also nearly as popular in the U.K. as Forever Changes, charting at #29.

A final Blue Thumb album titled False Start was released in 1970 and is memorable mainly for the guest appearance of Jimi Hendrix on the song 'The Everlasting First'. By this time however, their sound had changed to a more guitar-based rock, but it was too little too late and Lee disbanded the group shortly after and went solo. Love's influence seems to know no boundaries as contemporary bands often cover their songs, keeping this once great band relevant.

Article researched and written by Matt Williamson & Paul Moews.