From: Los Angeles, CA, USA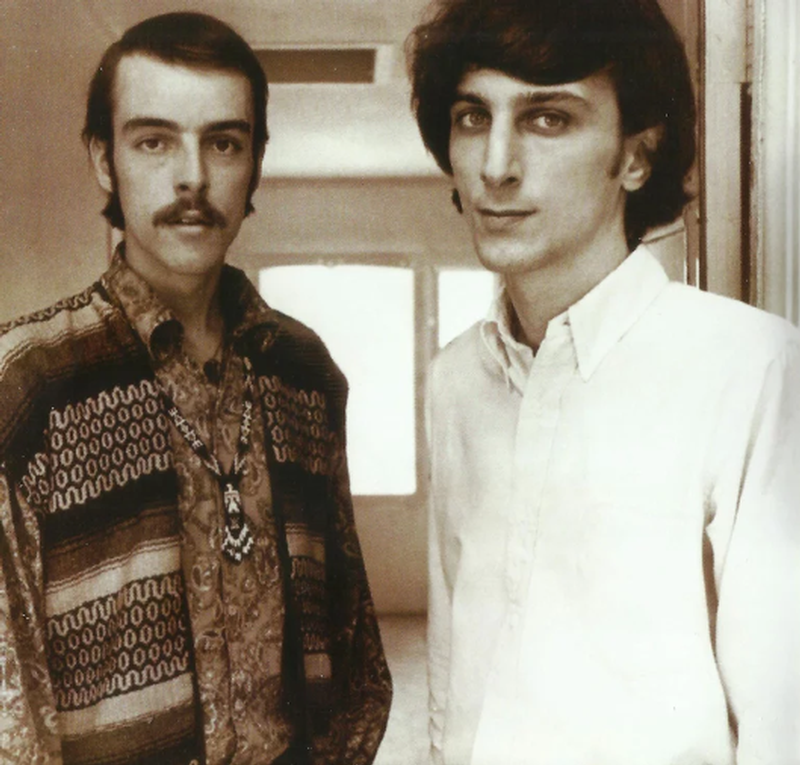 Brewer & Shipley was a folk-rock duo of the late 1960s through 1970s, consisting of singer-songwriters Mike Brewer (guitar, vocals) and Tom Shipley (guitar, vocals). They are known for their intricate guitar work, vocal harmonies and socially conscious lyrics, which reflected the concerns of their generation, especially the Vietnam War and the struggles for personal and political freedom. They are probably best remembered for their hit 'One Toke Over The Line', which spent 14 weeks on the U.S. charts, peaking at #10 in April, 1971.

Brewer, who was originally from Oklahoma, and Shipley, from Ohio, crossed paths numerous times throughout the mid-60s at various coffeehouse gigs before both relocating to Los Angeles and joining forces in 1967. Brewer had already been hired as a staff writer for Good Sam Music, a publishing offshoot of Herb Alpert & Jerry Moss' newly formed A&M Records when Shipley happened by chance to move into a house right around the corner from him. Shipley was then also hired as a writer at Good Sam and they soon began crafting songs together. It was also around this time that Shipley co-sang lead vocals with Ruthann Friedman for an obscure A&M, one off 45 studio project called the Garden Club.

The first song by either one of them to be officially recorded and released was Shipley's 'Time And Changes', issued in the spring of 1967 as 'She's Got The Time (She's Got The Changes)' by the Poor. Tom recalls: "We were hanging out with the Poor in L.A. when we all lived down in the Hollywood flatlands with the hookers, porn book stores, and strip clubs. Jimmy Messina (of future Buffalo Springfield, Poco and Loggins & Messina fame) was my next door neighbor, an indication that everybody who was trying to make it had to live as best they could and be close to where all the business was done. We used to burn a lot of herb with the Poor. That's where we first met Randy Meisner (of future Eagles fame) who was their bass player. They recorded 'Time And Changes' before Michael and I started writing together. I was originally turned on to them by Barry Friedman, now Frazier Mohawk and owner of Puck's Farm outside of Toronto. He lived in Lenny Bruce's old house which was the house behind Michael's on Fountain Avenue. I lived around the corner on Fuller in another house behind a house."

In the fall of 1967, the Nitty Gritty Dirt Band covered Brewer's 'Truly Right' on their second LP titled 'Ricochet'. A second cover of 'Time And Changes' was also issued around this time by the U.K. band the Afex (they however titled it 'She's Got The Time'). The duo's little known 'Comes And Goes' was then covered by Glenn Yarbrough on his For Emily, Whenever I May Find Her LP. Another of their obscure songs ('Sign Of The Queen') was recorded by Noel Harrison for his 1967 album titled Collage.

In 1968, the Poor covered Brewer's 'Feelin' Down'. H.P Lovecraft then recorded an excellent rendition of the duo's 'Keeper Of The Keys'. It was at this time, and because their songs were being so well received, that A&M suggested they issue their own LP, which they did titled Down In L.A. later that year. The album is very good and features Jim Messina (bass) and Leon Russell (electric piano, organ) among others. Even with this newly released album and mutual friends who were starting to make it big in L.A. in bands such as the Association, Byrds, and Buffalo Springfield, Brewer & Shipley disliked their life in Los Angeles and decided to move back to the Midwest were they ended up settling at a farm-like hideaway just outside Kansas City, MO.

Once in Kansas City, the duo left A&M and ended up on Kama Sutra Records where they released their second LP titled Weeds in 1969. This record was recorded in San Francisco, produced by Nick Gravenites and features many notable musicians including Mike Bloomfield (guitar) and Nicky Hopkins (piano).

In 1970, they issued a third LP titled Tarkio, which was named after a regular gig they played in Tarkio, MO. This album was also recorded in the Bay Area, produced by Nick Graventies, but this time featured Jerry Garcia (pedal steel guitar) of the Grateful Dead. It's this record that includes the hit 'One Toke Over The Line', which was actually written as a joke while preparing backstage for a performance. Following airplay of the single, U.S. President Richard Nixon labeled Brewer & Shipley public miscreants. Oddly, the song was performed on the Lawrence Welk Show, a television program known for its conservative, family-oriented theme, by a duo known as "Gail and Dale". At the conclusion of the performance Welk remarked, without any hint of humor, "There you've heard a modern spiritual by Gail and Dale." This led Michael Brewer to comment: "The Vice President of the United States, Spiro Agnew, named us personally as a subversive to American youth, but at exactly the same time Lawrence Welk performed the crazy thing and introduced it as a gospel song. That shows how absurd it really is. Of course, we got more publicity than we could have paid for."

The duo continued to release albums throughout the 70s and toured constantly until 1979, when they finally decided to go their separate ways. In 1987, they reunited and released a few more LPs, the most recent being in 1997. Although they continue to have separate careers, Brewer & Shipley do occasionally play together live to this day.

Artist information sources include: The Brewer & Shipley official website (www.brewerandshipley.com).