From: London, England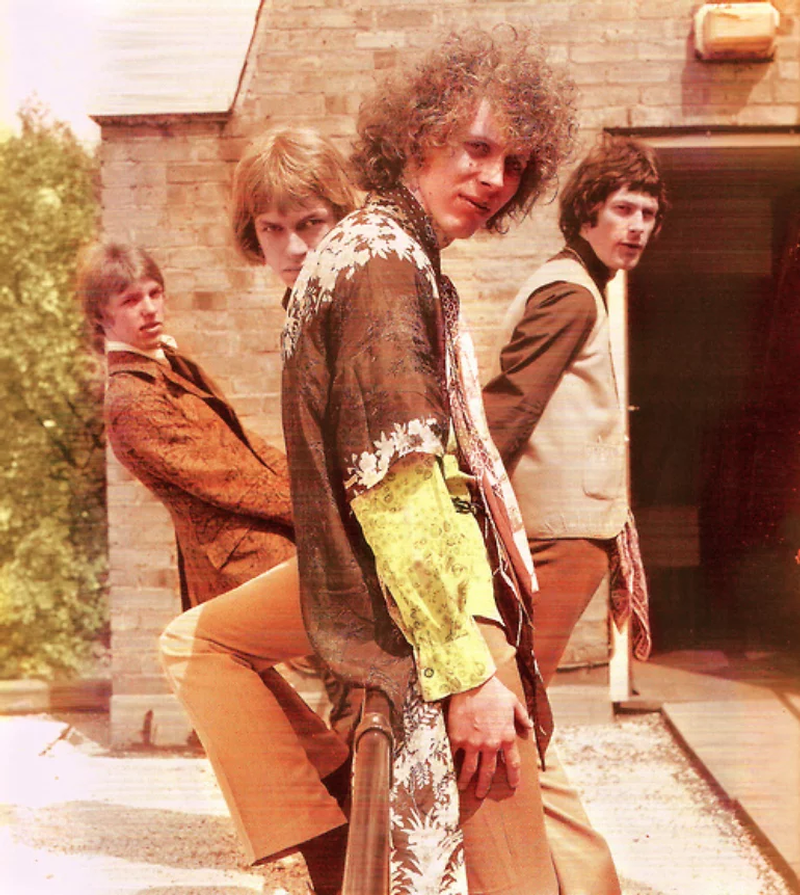 During the height of London's swingin' 60s psychedelic scene, Tomorrow was one of the most popular live acts around, but for some odd reason had a devilishly hard time translating their talent into solid record sales. They played routinely at the UFO Club with other leading bands like Pink Floyd and in at least one occasion, shared the stage with the Jimi Hendrix Experience. In fact, the owner of the UFO, Joe Boyd, would later credit them for being the best act that ever graced his stage. Popular DJ John Peel was also a big fan and featured them in the first airing of his Perfumed Garden radio show. During their relatively short lifespan, members included Keith West (lead vocals), Steve Howe (guitar), John "Junior" Wood (bass) and John "Twink" Adler (drums).

The group evolved out of the mid 60s R&B band the In Crowd and changed their name to Tomorrow in 1967 when ex-Fairies member Twink replaced Ken Lawrence on the skins. In late April of that year, they played the now famous 14 Hour Technicolor Dream event along with most of the area's other A-list psychedelic ensembles of the time. A few weeks later, they released their debut 45 ('My White Bicycle' b/w 'Claramount Lake'), with both sides produced by Mark Wirtz and written by West (under his real name Keith Hopkins) along with his writing partner Ken Burgess. Both tracks are outstanding with the promo side (about publicly shared bikes in the city of Amsterdam) now considered to be one of the flagship songs of the era. At around this time, the outfit (minus Wood who was ill) appeared as the fictitious band the Snarks in the movie Smashing Time, but were more or less nonspeaking extras, and ironically didn't actually perform or have any of their music featured in the film. It should also be noted that in tandem with his obligations with Tomorrow, Keith West was also moonlighting as a solo artist, working with Wirtz on his more poppy "A Teenage Opera" project, which never entirely came to fruition, but garnered a few 45s that sold quite well.

In the fall of '67, Tomorrow issued a second single (the mind blowing 'Revolution'), which this time was penned by West and Howe and should not be confused with the totally different Beatles song of the same title that came out about a year later. As great as it is though, it too surprisingly sold quite poorly like its predecessor. Their stunningly energetic live shows kept them alive into 1968 however, and early that year they issued a self-titled LP which is nothing short of outstanding. Most of the highly original tracks were again written by West (as "Hopkins") and Burgess, with Wirtz taking up production and also playing keyboards. Unfortunately this record too didn't sell that well prompting them to finally call it quits in the spring of '68. Shortly after, Twink and Wood went on to form the Aquarian Age and when that fell short, Twink joined the Pretty Things/Electric Banana, issued a solo LP in 1970, briefly played with Syd Barrett in Stars, and then went on to join the Pink Fairies. West continued his solo career and went into production, while Howe formed the ill-fated Bodast, but then of course later went on to reap huge success with Yes in the 70s.

Artist information sources include: The book, 'Tapestry of Delights Revisited' by Vernon Joynson.